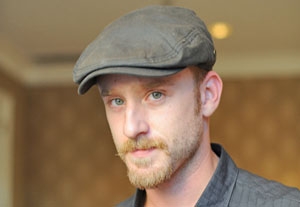 Some roles are hard to shake. Ben Foster ("3:10 to Yuma," "Alpha Dog," "Six Feet Under") found this out the hard way on a recent promotional tour for his new film "The Messenger." At Hunter Airfield Base in Georgia, he started experiencing severe leg pain from an injury he never suffered. His leg "froze up," he says. "I couldn't walk downstairs without limping. It was so strange." Foster plays a soldier recovering from leg and eye injuries after returning from Iraq. "The mind and the imagination are really curious places. I'm sure those things will drift. That's what we do" as actors, he says. "We allow ourselves to believe things. It's just an occupational hazard." He adds, "I definitely need a vacation soon."
Foster's vacation will have to wait, as he is currently shooting a remake of the 1972 Charles Bronson thriller "The Mechanic" with Jason Statham in New Orleans. And still, Foster feels the weight of Staff Sgt. Will Montgomery, a war hero, who is begrudgingly given the position of Casualty Notification Officer, the title character in "The Messenger." Foster, known mostly for playing intense villains, flourishes in his best performance to date.
"The Messenger" differs from other films touching on war in Iraq: It is supported by the Army yet takes no political position, and it is set on U.S. soil. Foster and Woody Harrelson play soldiers who have the worst job in the Army: informing families of the deaths of their loved ones overseas. "There's no such thing as a satisfied customer," Harrelson's character tells Foster's character early in the film.
"We all get notified," Foster explains. "We all at some point have to notify somebody else, and culturally we don't want to talk about it. We live in a youth-oriented world and we don't deal with death. [On set] everyone was telling stories of loss and how we deal with it, how we get notified and how we get back to life afterwards. It wasn't a set full of tears, but it was a set full of people feeling safe enough to be with each other. We became really close, all of us, really fast."
How fast? Foster and Harrelson immediately became "brothers" on the train ride to Walter Reed Army Medical Center in Washington, D.C., Foster says: "It was instant. Twenty minutes in, it was like, 'Let's get up to some trouble.' " The trip to Walter Reed was supposed to be "a research project," allowing the actors to meet injured soldiers and get a tour of the facilities. "The second we walked in, the whole concept about being an actor dropped," he says, "and we were human beings seeing people who had experienced something beyond our abilities to really comprehend."
While there, Foster met a 19-year-old soldier who was missing a leg and had a special request. "He said, 'You better not make a movie like this,' and I'm not going to say the war movie that he named," Foster recalls. "He said, 'Because we won't see it. That's bullshit.' " The soldier took Foster's hand and put it on his leg, so the actor could feel the protruding bone trying to push through the healing skin. "When we left, I wasn't so much shaken; it was just—that's a human being. That's not a military guy. I wiped my face because I was tearing up, and my face started to burn. I realized it was the antiseptic from his wound. You can't leave an experience like that without feeling leveled and feeling like you have to serve that."
Not long after the trip to Walter Reed, director Oren Moverman (who penned "I'm Not There" and "Jesus' Son") changed Foster's character's name from Derek to Will—the name of the soldier with the missing leg. The film has Foster and Harrelson knocking on six very different doors, including Samantha Morton's and Steve Buscemi's, to notify the NoKs—the next of kin. Each one was done in a single shot.
"Nothing was rehearsed," says Foster, who encouraged the director to incorporate into the film some of his own experiences as an Israeli soldier in Lebanon during the first intifada. Moverman "would talk to us separately, Woody and me, and he would talk to the actors inside, who we never met. He encouraged us to go off-book if necessary. He would whisper some questions. He had questions more than directions, which gives the actor ownership in a beautiful way. And we would do it maybe four times, long takes, and it became very easy to get lost."
Foster continues, "The beautiful thing about 'The Messenger' is that it reminds us, as awful or as traumatic or as small or as clumsy as we feel, if we keep our heart open we can still connect, and it's when we shut it down and try to overthink it that it closes. That's its own form of death."   
Outtakes
-Won a Young Hollywood Award for his breakthrough performance in 2006's "Alpha Dog," a Screen Actors Guild Award as part of the ensemble on "Six Feet Under," and a Daytime Emmy in 2003 for "Bang Bang You're Dead"
-Attended the Maharishi School for the Age of Enlightenment and still practices transcendental meditation twice a day
-Appeared with his brother Jon onscreen for the first time in the sci-fi film "Pandorum" earlier this year; he admits, "I wish it had turned out a little better."