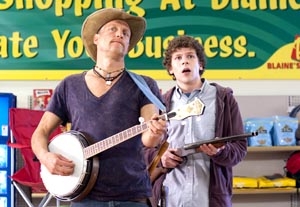 Woody Harrelson is living proof you should never underestimate the dumb guy. If you had to pick one person from the cast of the seminal TV comedy "Cheers" who would go on to becoming a leading man on film, earn an Oscar nomination, and headline blockbusters, it probably wouldn't have been the dopey assistant bartender Harrelson played for eight seasons. Blessed with brilliant comic timing and a deadpan delivery, the actor was so good on the show, it's easy to understand why people had difficulty seeing him as anything else. It didn't help that his character was named Woody Boyd and hailed from the same Indiana city where Harrelson attended college, further blurring the lines of where Woody the character ended and Woody the actor began.
But when the series chose to end its run in 1993, Harrelson proved he was no dummy, taking interesting roles that paired him with some of the greatest directors in film. He made a formidable romantic leading man, competing with Robert Redford for Demi Moore in "Indecent Proposal." He terrorized audiences and courted controversy as serial killer Mickey Knox in Oliver Stone's über-violent "Natural Born Killers." And he proved the adage that there are no small parts, taking on scene-stealing supporting roles in films like "Wag the Dog." Yet when his success reached a professional pinnacle with an Oscar nomination for best actor for his role in Milos Forman's biopic "The People vs. Larry Flynt," Harrelson made his most surprising move of all: He walked away.
Harrelson has made not just a career but a lifestyle out of doing things his way: He forsakes Hollywood to live in Maui, Hawaii, with his wife, Laura (his former assistant), and their three children. He is well-known for his activism but not just for paying lip service: He was arrested in 1996 after planting four hemp seeds to show the inanity of a state law in Kentucky that did not distinguish between marijuana and hemp. He penned an article for the U.K. paper The Guardian in 2002 titled "I'm an American Tired of American Lies," criticizing the Iraq war.
Though he did some small roles in film and appeared on stage, it wasn't until 2002 that Harrelson decided to return full-time to acting. "It was almost like starting at ground zero," he admits. "I mean, I wasn't a complete unknown, but it was a little challenging." He started with small roles in films like "After the Sunset" and "North Country" and continued to take on offbeat projects: He was literally animated in Richard Linklater's rotoscoped sci-fi mind trip "A Scanner Darkly." Soon, Harrelson was more in demand than ever, appearing opposite Will Ferrell in "Semi-Pro" and turning in a small but commanding performance in the Coen brothers' Oscar-winning "No Country for Old Men."
If any further proof is required Harrelson can reach across all genres, one need only look at the multiplexes in the next couple of months. This week, Harrelson headlines the horror comedy "Zombieland," playing a man of few words who wants nothing but survival and a good Twinkie. Gory, hilarious, and completely original, the "zom-com" comes from first-time film director Ruben Fleischer, who knew Harrelson was the man for the job. "Woody was the reason the studio agreed to make the movie," Fleischer says. "Once he got on board, it became real." And though he makes it look easy, Harrelson took the job deadly seriously. "What he brought to the screen was not just what was on the page," Fleischer continues. "He was like, 'If I'm going to do this, I'm going to go big and make a larger-than-life, classic movie character.' He worked with the costume designer to create the wardrobe; the cowboy hat and boots were his idea. He even knew exactly which gun he wanted; it's the one Steve McQueen used in 'Wanted: Dead or Alive.' He had it all figured out."
Harrelson will try to save the world again with another apocalyptic action film due out Nov. 13. In "2012," he plays a man who prophesies the end of the world. That same weekend will see the release of another Harrelson film, "The Messenger," a small indie drama whose entire budget was probably what "2012" spent in one day on craft services. Directed by Oren Moverman, the film stars Harrelson and Ben Foster as Army soldiers working in the Casualty Notification Office, tasked with informing families whose loved ones have been killed in battle. Harrelson is raw and real as a recovering alcoholic—a complete 180 from his other recent roles, as he adeptly moves from busting heads to breaking hearts.
Back Stage:
Ruben says he sort of had to convince you to take the role in "Zombieland." Why were you hesitant?
Woody Harrelson:
It was for a couple reasons. Even before reading it, I remember talking to my agent. He kept calling me, saying, "Have you read it yet?" I was like, "Zombies? Has it come to this, really?" But then I read it, and it was hysterical. Paul [Wernick] and Rhett [Reese], the writers, had a long time to work on it, and they kept making it better and better. I thought it was fantastic, and when I met Ruben, I really liked him. But he was also a first-timer. So I was kind of taking baby steps. Who knew he would be able to knock it out of the park like this?
Back Stage:
He said you had a very specific vision for the character, right from the beginning.
Harrelson:
Definitely. That doesn't always happen, but in this particular instance, I knew exactly what I wanted. I've never spent so much time on wardrobe. It was kind of an incessant process, one fitting after another, and different ideas.
Back Stage:
Shortly after battling the undead, you'll be seen in the indie drama "The Messenger." Do you approach your roles the same way, whether they're dramatic or humorous?
Harrelson:
It actually is the same process. You would look at "The Messenger" and think I would have a different approach, but it's really about whatever it takes to get inside the character's head.
Back Stage:
What's been your most difficult role to date?
Harrelson:
In some ways, I felt like Capt. Tony Stone in "The Messenger" was the most difficult, because I was shooting another movie. I almost couldn't do it because I had "Bunraku" at exactly the same time. It was a delicate dance to get one thing pushed a week and one pulled back a week and frontloading my stuff on "Bunraku" so I could get a little gap of three weeks to shoot "The Messenger" and then go back and shoot the remainder of "Bunraku." And I wanted to do the film right.
Back Stage:
What do you mean by that?
Harrelson:
My main criteria for "The Messenger" was, when a guy from the Army goes to see this, does it appear to him that I'm legitimate? That was something I was nervous about. But I was in good hands with Oren and Ben and the producers. They were so fully immersed in the process, there was no other way but for me to dive in and immerse myself with them. We started with a trip to Walter Reed hospital. That was one of the most powerful experiences I ever had. My heart was wide open from that.
Back Stage:
You're well-known for being vocally anti-war. Was it hard for you to play a character with such a different belief system?
Harrelson:
Well, I'd like to frame it in a different way from "anti-war"; call it "pro-peace." I didn't really have the kind of empathy for what the soldier was going through, just by virtue of the fact that I didn't really know anything about it. Once I met with the soldiers, I can tell you it really flipped the script for me. I'm still pretty adamant that both of these wars going on now are oil wars, which Bush and company felt were important to securing Middle East oil. That notwithstanding, I feel I am against the war but fully supportive of the warrior. I just want to keep an open heart and mind towards them.
Back Stage:
You were pursued for both of these films. Do you ever have to audition still?
Harrelson:
Not so much. I haven't in a long time. The last time I remember specifically was with Jack Nicholson for Jim Brooks in "As Good as It Gets."
Back Stage:
For the Greg Kinnear role? You would have been great!
Harrelson: Yeah, I thought so, too. [Laughs.] But Greg was great, and you can't really argue with Jim's casting. I know there were a lot of other guys who wanted to play it as well, so I don't feel so bad. I think I could have done a better job with my audition; I was just so daunted by the fact I was auditioning with Jack.
Back Stage:
Do you usually audition well?
Harrelson:
I auditioned a lot early in my career, and I did okay. One that was particularly bad; you know how it is when you're young and hungry, you do foolish things. In this particular case, I went on an audition for a daytime soap, which, thank God, I didn't get. But I really fucked it up; I was terrible. I left and was so bummed about it that I went back into the room. The receptionist told me not to, but I overrode her and walked in the door, and the next actor was already in there, and the casting person looks up at me in surprise, and I said, "Listen, if I can get another chance, I'm sure I can pull this off!" It was really bad and embarrassing. That's one I'd like to forget. But hey, what if I hadn't come back in and he'd cast me? Maybe I did the right thing by making a fool of myself. That's the way you have to look at that.
Back Stage:
Starting out, was your plan to do television, or did you want to be a stage actor?
Harrelson:
I was just looking for work. A buddy of mine, Clint Allen, was going to audition for Juilliard, and he said, "If I get accepted, will you move to New York with me?" I said sure, thinking the odds were astronomical. My whole plan was just to get into some regional theater and summer stock and try to slowly work my way east and eventually get to New York. But sure enough, he got accepted, and I went to New York with him.  
Back Stage:
You've said things did not go well at first in New York.
Harrelson:
No. But just as I was about to leave, I got an understudy role in "Biloxi Blues." While I was working on that, I got the part in this Goldie Hawn football movie, "Wildcats." While I was working on that, they fired the guy I was understudying and kept calling, asking when I was going to be back. I kept saying, "I'll be right back and ready to go on stage!" I was 23 and was going to get to be on Broadway, which was my dream!
Back Stage:
What happened?
Harrelson:
This buddy of mine tells me about how they're casting a part in this show, and that the character's name is Woody and he's from Indiana, which is where I had gone to college. I was like, "I really don't want to do television." I wanted to stay with this theater thing, and maybe eventually I'll get to do movies. Well, I went in, and it's obvious what happened. But it's a great lesson about auditioning; since I really didn't care, I was set. I was going to do Broadway. There was no nervousness at all, which is the thing that kills you.
Back Stage:
Even though "Cheers" brought you a lot of success, did you ever worry about getting typecast?
Harrelson:
Well, sure. I was on the show six years before I got a chance to do something else, which was "Doc Hollywood." Michael Caton-Jones cast me, at Michael J. Fox's behest, I'm sure. He made me audition, but I was ready for that audition. I wanted to get out from under being one character, albeit a great one.
Back Stage:
Was it that you couldn't get the auditions or people refused to see you as anything but Woody Boyd?
Harrelson:
Both. I was getting sent for some auditions—not that much—and I wasn't getting the parts. After six years you really start to wonder, "Is this going to be it?" Then I got "Doc Hollywood," and the following summer—I could only do a part during the break—I got "White Men Can't Jump." After that, I got "Indecent Proposal."
Back Stage:
"Indecent Proposal" was a departure for you. Did you have to fight for the role?
Harrelson:
Actually, no. By that point, people wanted me. In fact, I was kind of supposed to do another movie with Johnny Depp that I pulled out of and got into a bunch of trouble. I had to pay like $400,000 to pull out at the last minute. I can't remember what it was called—
Back Stage:
Was it "Benny & Joon"?
Harrelson:
That's it. And it was an interesting part.
Back Stage:
How did you know you were making the right choice?
Harrelson:
I'll be honest; I can't say I knew it. I can just say the people who were minding me were pretty certain.
Back Stage:
Another turning point was "The People vs. Larry Flynt," for which you received a 1997 Oscar nomination. What was that experience like?
Harrelson:
I don't think I've ever worked that hard in my life. Not just acting in it but every aspect, from helping the writing to improvising scenes. For one scene, Milos got me to work with the editor. It was a scene where I talk about violence versus sexuality, how you're allowed to show graphic violence but not nudity. He let me write the scene itself and work on the editing. I was even calling and talking to the agents for some of the pictures in the background, literally negotiating on the phone with agents.
Back Stage:
Yet after that, you did the unthinkable and stepped away from the business.
Harrelson:
I took five years off. I was planning on taking two or three; I'd had a couple kids at that point, and I wanted to just hang with them. And a lot of it had to do with the disappointment of "Larry Flynt," particularly with the campaign Gloria Steinem and whoever was backing her launched.
Back Stage:
You felt her protests led to the film's failure?
Harrelson:
Before it came out, the numbers were off the charts in terms of per-theater average. Then she came out, and her whole campaign was really effective. She went city to city telling people not to see that. And it tanked. I can't tell you how many guys came up to me and said, "My wife just won't let me see it." It was discouraging, and I'd done so many movies in a row, I was just kind of burned out. I wasn't enjoying it. If you're not enjoying this job, there's something seriously wrong.
Back Stage:
What brought you back?
Harrelson:
Good question. I love the job; I just needed some time off. My hiatus was from 1997 to 2002, roughly; it was enough time off. Since I came back, I've just been loving it.
Back Stage:
You mentioned being hesitant about first-time directors, yet things worked out well with Ruben and Oren, wouldn't you say?
Harrelson:
Absolutely. Oren—who knew he would be that great and decisive about the look? He did a clever thing: We would never meet the actors who play the family in the notification scenes before shooting. We never did any rehearsing. Everything that happened was done right in the moment and captured in the moment; he shot it all on a Steadicam. We didn't know where we were going to move when we walked into the house. We didn't even know if they were going to let us in the house. I thought that was clever.
Back Stage:
Are still interested in returning to the stage?
Harrelson: Absolutely. I get back every chance I get.
Back Stage:
Maybe you can finally do "Biloxi Blues." Or—can I make a suggestion?
Harrelson:
Let's hear it.
Back Stage:
"Cat on a Hot Tin Roof."
Harrelson: No way. I did it in college; I played Brick. I remember seeing friends of mine sleeping in their seats. [Laughs.] A couple years ago, I did a production of "Night of the Iguana" in London, and I wasn't really happy with that. After that I said, "I'm never doing another Tennessee Williams; I'm not going to do a Eugene O'Neill. I'm not going to do some play where, at the end of it, if you do your job right, the audience member feels like they've been punched in the stomach." Next time I do theater, I'm just going to do comedy. I want people laughing; that's it.
OUTTAKES
– Recent film roles include "Management," "Seven Pounds," and "Battle in Seattle"
– Made his Broadway debut in Roundabout's 2000 revival of "The Rainmaker"; other stage roles include Sam Shepard's "The Late Henry Moss" and "On an Average Day" opposite Kyle MacLachlan
– Earned an Emmy nomination for reprising the role of Woody Boyd on "Frasier"; also appeared on seven episodes of "Will & Grace" in 2001 as Grace's boyfriend Nathan