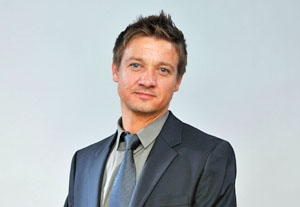 Jeremy Renner humbly downplays his accomplishments, saying he's "maybe lucky." But you'd be hard-pressed to find anyone who can deny what the star of "The Hurt Locker" has done with the role garnering him so much acclaim this year.
It's a virtuoso performance that's already earned him Spirit Award and Gotham Award nominations and a Hollywood Breakthrough Award for best actor.
Renner portrays Staff Sgt. William James in the war thriller from writer Mark Boal, charting the last weeks of an Army Explosive Ordnance Disposal squad's tour during the current Iraq War. James is a bomb specialist who is himself a live wire, creating no small amount of consternation in his new squad mates, Sanborn (Anthony Mackie) and Eldridge (Brian Geraghty).
Renner has played the rogue before, in the 2003 action film "S.W.A.T.," but an earlier, little-seen independent landed Renner where he is today. "Hurt Locker" director Kathryn Bigelow decided he was the one to play Will James after seeing his Spirit Award–nominated lead performance in the 2002 biopic "Dahmer," about serial killer Jeffrey Dahmer. Simply put, Renner has an adroit ability to make the unlikable sympathetic, and that has much to do with how he approaches his characters. "Why we do what we do separates us and makes us very, very specific, and that's the commonality of how I approach every role," he says.
With "The Hurt Locker," he was fascinated by the world of explosive ordnance disposal. "I read the script and couldn't put it down, which normally I fall asleep to," says Renner, noting that he talked with Bigelow on the phone about it for a couple of hours. "We were both pretty convinced that we should do this." He adds, "I kept wondering what drives these guys, and I was just so curious: Who does this job?"
He had plenty of time to figure it out; a year passed before the film went into production. Renner went to Fort Irwin, a U.S. military installation in the Mojave Desert between Los Angeles and Las Vegas, for bomb-suit training and more weapons training (he previously played military and law enforcement in "S.W.A.T." and 2007's "28 Weeks Later"), including how to build and defuse bombs. "I never thought I'd be playing with C-4," he says. "That was pretty interesting, playing with blasting caps and C-4 and det cord and blowing things up. It's kind of fun."
Renner also spent time with Army team leaders who had combat experience or were preparing for it. "They were very gracious and giving with their time and energy," he says. "They taught me a lot. We got to hang out on base a lot and off base, which is even more interesting. As long as I kept asking questions and kept learning and growing, I felt like at least I could approach it as honestly and as truthfully as I could." Bigelow was another frequent collaborator in his queries. "It was just a back-and-forth of constantly digging deeper into the psyche of this interesting human being," says the actor. "And when it came time to shooting, she just kind of let me go."
Character Specialist
Freedom he may have had, but it was a punishing shoot, physically and emotionally. "Every day was tough," says Renner, who donned a real bomb suit weighing in at some 70 pounds during the 2007 summer shoot in the Jordan desert, where temperatures could reach 125 degrees. "The physical kind of went away after the first week, and it just sort of put me in a weird place. I had a love-hate relationship with the bomb suit. Inside of it was actually really quite peaceful. But it took a lot out of me, much more than the physical. I came home and had a very difficult time with what I learned and what I walked away with from being in the Middle East, understanding what our military guys—or a fraction, maybe—of what our military's kind of going through."
Though "The Hurt Locker" is a collection of heart-pounding moments and life-and-death situations, Renner notes there was little tension on the set; the film's suspense came from "a lot of things that Kathryn did, that she's so great at in action, setting up each of these sequences." But he points to a scene late in the film they called "the black-suit man," in which James attempts to disarm a suicide bomber (Suhail Al-Dabbach), as particularly difficult. "Because it affected me personally, I understood why it affected Will James. It put a face to his job," says Renner. "He knows his job is to save lives by risking his life, but now he's confronted with a human, a face."
The film's casting director, Mark Bennett, also singles out that scene: "A filmmaker and an actor who are a little more inclined to manipulating the audience's feelings would've made that a lot sweeter or would have sort of milked that moment for all it was, but the reality is that that moment would have to happen in 30 seconds. What Jeremy does is manage to pack in every possible reaction, every feeling of personal responsibility that you would have in the conflict, in 30 seconds."
Complete Chemistry
Despite the heavy themes, there were unexpected rewards. "Each of these sequences [is] played out in its entirety, so it feels like you're doing a little play," Renner says. "It wasn't chopped up into little bits, so it makes it even feel more real. Obviously we know it's not, but just as an actor, what a joy and treat that is to get in there and experience that." He and his co-stars got on well. Renner calls Mackie and Geraghty "amazing," adding, "They were my crutch, and I hope I was their crutch."
And he can't stop singing the praises of his director, the script, and ultimately the film. "I personally like showing something versus talking about it, doing something versus just having some dumb monologue," Renner says. "And in the script, not just with the character but just the way the script was written, it kind of forced all of us to be more men of action than sit there and talk about it. There's no bitching and complaining or whatever it might be; there's no sort of sneaky message in the film. It is what it is, and people can take what they want from it, and that's, to me, brilliant filmmaking: allowing the audience—forcing them, really—to feel and to think but not telling them what to think or what to feel. With the economy of the words and the abundance of actionable storytelling—I don't know, I feel like there's almost no other way to go do a film now, at this point."    
Outtakes
-Film credits include "Lords of Dogtown," "12 and Holding," "North Country," and "The Assassination of Jesse James by the Coward Robert Ford"; recently starred on the short-lived series "The Unusuals"
-Currently in Boston filming Ben Affleck's "The Town," starring Affleck, Chris Cooper, and Jon Hamm