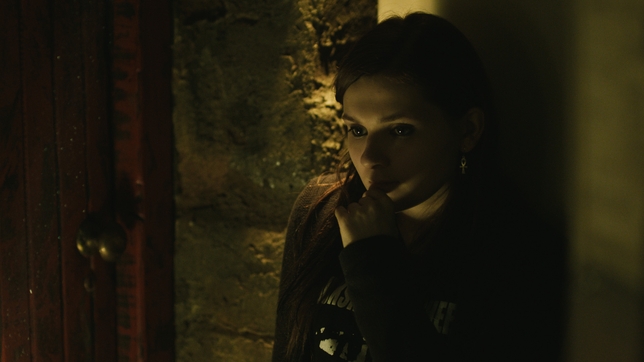 Known best for her starring role in "Little Miss Sunshine," Abigail Breslin is taking a darker turn with her first foray into the horror genre. Breslin stars in "Haunter," a reverse ghost story directed by Vincenzo Natali which opens Oct. 18. Breslin says she's always been a fan of the horror genre and has been wanting to do a horror film since she was 12. When the script for "Haunter" came to her, she jumped at the opportunity, loving both the script and the character. "I'm a horror movie nerd," she says. "Usually the people working on it are kind of nerds like me, so we can just geek out about things and have fun." Although Breslin says she didn't get scared on set, she does get scared watching horror movies. "I get scared watching them even when I'm in them," she says.
Breslin is currently shooting the drama/thriller "Maggie," with Arnold Schwarzenegger, and will also be seen in "Ender's Game" on Nov. 1 with Harrison Ford and Asa Butterfield. Breslin shares some of what she's learned from her versatile career. Most importantly, she says, "Just have fun, because if you're not having fun doing it, then it's not worth it."
Connection is key.
For Breslin, feeling connected to the role is very important when choosing whether or not to do a project. "One of the things that I've learned is to always make sure that when you do something, you really connect to it," she says. "Because if you don't have a real strong connection to the character that you're playing, I don't think that it really turns out as well as when you do." Breslin felt drawn to Lisa "because she's really strong and determined and she doesn't really ever give up on trying to figure out what's going on. She pushes through the whole time and she never stops trying." Once Breslin feels connected to the character, the preparation is pretty easy. She spends a lot of time with the script and talking with the director, but overall she says, "When I connect with something I just feel really close to it and it just kind of comes out."
Pay attention to the details.
As with most films, "Haunter" shot the scenes out of order, so Breslin says, "I was always asking the director and the script supervisor throughout to kind of remember exactly where we were. It was challenging, but we had great people working with us to help point out exactly where we were in that moment."
Everything is an opportunity to learn.
"You learn pretty much every time you get a movie," she says. "And I think it's kind of cool to see how much you've grown and how much you're still learning." Even though she's changed and grown as an actor, Breslin wouldn't change anything. "Everything teaches you something, so I don't think I'd necessarily go back and think 'Oh wow, I wish I'd known then what I know now,' because everything that you didn't know kind of teaches you something, and that's how you learn." Because Breslin's character Lisa is so isolated in "Haunter," Breslin says she learned a lot about acting alone. "It seemed kind of odd to just be alone and kind of reacting off of nothing, but in a way because Lisa does feel so isolated and so alone, it did kind of help to be that isolated in real life as well," she says. But Breslin says that isolation didn't extend to the set. "I'm too talkative and too hyper to keep to myself, but I tried to when it got to like the really serious scenes," she says.
Own the role.
Contrary to the opinion of most actors, Breslin loves auditioning. "I know that sounds like a weird thing, but I do, and I love it because even if you don't get the part, for that 20 minutes that you are in the audition room it's your part," she says. "And you get to do what you want with it and you get to be that character, so I never have a problem auditioning." Breslin thinks the key is to just not think about it too much before going in. "Because you can kind of psych yourself out," she says. "It kind of goes along with the territory [of being an actor]."