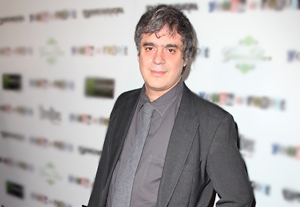 Director Miguel Arteta would like to be known as the man who gives voice to awkward dorks everywhere. "Dorkiness is my realm in which I live, so I celebrate dorkiness," the director of "Chuck & Buck" and "Star Maps" says proudly.
It's been eight years since Arteta's last film, "The Good Girl," which was honored by the National Board of Review. He's spent a lot of that time helming for TV, but his newest feature, "Youth in Revolt," is worth the wait. Actor Michael Cera has never been better as Nick Twisp, a 16-year-old desperate to lose his virginity to the girl of his dreams. That might sound like the pithy premise of a "Road Trip"– or "American Pie"–type jock fest, but "Youth in Revolt" has the substance to back it up, thanks to C.D. Payne's original novel.
Cera's character creates an alter ego reminiscent of Tyler Durden in "Fight Club" named Francois who is everything Twisp is not: impulsive, fearless, sexy, and badass. He spouts lines like, "I want to wrap your legs around my head and wear you like the crown that you are." The entire film is fun and enthralling. Prepare to be reintroduced to Cera, who's best known for "Juno," showing a never-before-seen side of his psyche in his most invested role to date, and Arteta, who has been gone from film for far too long.
Born in Puerto Rico, Arteta says he got into filmmaking at 16 because it's "the best job on earth" and you're not just making "your dreams come true; you're filming your dreams as you see them." The director discusses meeting his heroes, jumping into an empty pool, and "casting on hunch" even when it's an astronaut.
Back Stage
: I heard that Martin Scorsese's "The King of Comedy" and Jonathan Demme's "Something Wild" were very influential to you. You later worked with both directors, right?
Miguel Arteta
: Yes, I love movies about awkwardness and people who are a little dorky, and I think those are two of the best movies about being a dork that are out there. My car mechanic actually introduced me to Jonathan Demme. I gave him a copy of my short film. It was a musical ["Every Day Is a Beautiful Day," which won a Student Academy Award in 1989]. My mechanic was like, "My ex-wife is married to Jonathan's cousin, so I set up an appointment for you to go meet him and show your movie to him." So I couldn't believe it. Jonathan was very gracious and took me on, and he's been a lovely mentor. And for some strange reason, after doing "Chuck & Buck" Martin Scorsese picked me to direct the first pilot that he did for television [ABC's "Elizabeth Street"]. It was like doing a film class. He really gave me a lot of knowledge about film.
Back Stage
: You've worked on some amazing TV series over the past decade, like "Ugly Betty," "The Office," "Six Feet Under," and "Freaks and Geeks." What did directing television teach you about directing features?
Arteta
: That the writing is the key. An actor can make anything interesting, but they ultimately have to have something to say. A scene has to be about something. There has to be a seduction or a fight or an argument. You need good writing, and in television the writers are king. So I've been very blessed to work with people like Alan Ball ["Six Feet Under"] and Mike White ["Cracking Up"] and Greg Daniels from "The Office." These are people who are really thinking about writing.
Back Stage
: I hear Michael Cera was attached to "Youth in Revolt" back before "Superbad" and "Juno" hit theaters. How did you get involved?
Arteta
: Yeah, [Cera] was a co-creator of this movie, no doubt about it. So was Bob Weinstein too, who was very creatively involved. There was a struggle to find a director that both Bob Weinstein and Michael Cera approved. They have very different types of sensibilities. I think I happened to luck out to be one of the few people that both Michael and Bob could work with. Both Michael and Bob helped me rewrite the script, and Michael really helped me cast it and cut it and helped me with some of the music. This is a movie that he really felt deeply about, and I think he's going to be one of those actors that end up directing, like Ron Howard or Woody Allen. He will be out there creating his own world very soon. He's the most confident actor I've ever worked with and one of the smartest people I know and a dear friend.
Back Stage
: The real star of this film is Francois, Nick Twisp's alter ego. How did you, Cera, costume designer Nancy Steiner, and makeup artist Roz Music collaborate to bring him to the screen?
Arteta
: I've always felt that there is a naughtiness behind Michael Cera's eyes and an intelligence that always resides there, and I thought this would be perfect for him to personalize it completely. We watched a lot of French New Wave movies for inspiration. Nancy Steiner very brilliantly made that wardrobe choice a very simple blue [button-up shirt] and white [form-fitting pants]. Roz Music got that mustache just perfectly. Michael had the brilliance of not going the obvious way. Instead of giving him a French accent, which being a French alter ego is what most people would have done, Michael said, "I have to do this in a truthful way. This is a guy inside of me that's telling me to do bad things. He wouldn't speak to me in a French accent. He would speak in my own voice just a little lower." It was lovely how Michael created him. He also loves Malcolm McDowell's eyes. That's why we put those blue contact lenses on him.
Back Stage
: I hear you learned a valuable lesson about casting from filmmaker Samuel Fuller ("Pickup on South Street" and "White Dog") known for low-budget genre movies with controversial themes.

Arteta
: Yes, I did. I'm very, very blessed. I love Sam Fuller. I got to meet him late in his life, and he got in my face with his cigar and said, "Cast on hunch, kid. Cast your neighbor or cast the biggest movie star in the world, but cast on hunch." That's the most important thing, and it really has saved me, because sometimes when you have a little success you can cast some amazing actors, but you have to cast the right actor for the part. I always wait until I really feel the hairs on the back of my neck go up on the idea. It's pure from the gut. Casting shouldn't come from your head. It needs to come from the gut.

Back Stage
: You used three casting directors on this film: Joanna Colbert, who cast "The Good Girl"; Meredith Tucker, who cast "Chuck & Buck"; and Richard Mento. What instructions do you give them?

Arteta
: I've known them forever. They've worked on all my movies, and they're friends of mine. Meredith is in New York. She worked on "The Sopranos," so she really has an idea of all the dayplayers there. Joanna was the head of casting at Universal, and Rich was her assistant many, many years ago, and now they're partners. They know that I'm looking for people who are truthful in their comedy, not broad.

Back Stage
: They also cast your next film "Cedar Rapids," which is being produced by Alexander Payne. Where are you with that now?
Arteta
: It's in the can. We just finished shooting. It was a pleasure working with Ed Helms and Anne Heche and John C. Reilly and Sigourney Weaver. It was a really fantastic cast.

Back Stage
: Going back to "Youth in Revolt," how did you find newcomer Portia Doubleday?
Arteta
: We felt very strongly that it would be good to have a new face. The movie really is about the crazy things we do when we fall in love for the first time, and we felt it would be great to have a new face and that people didn't know. Joanna and Meredith read more than 160 people. I think they showed me almost 100 people in person. It was a tough role because you had to find somebody who seemed like a teenager who really lives in a trailer park with her religious parents and has that reality, but also who could put on the airs of somebody who knows about foreign films and existentialism. That's a difficult mix. It was really clear the moment Portia walked in that she was this girl. Plus, she looks like a little like Anna Karina from the French New Wave movies.
Back Stage
: This was the second time you worked with Fred Willard. Wasn't he in your AFI student film 19 years ago?

Arteta
: Yes it was a film called "Lucky Peach," and I had a producer who knew all the Second City performers, so I got to get people like Ryan Stiles, Paul Dooley, and Fred Willard. I was very, very lucky. Fred was so sweet. He just came and did it. He played the mayor to this little turn-of-a-century town that's getting electricity for the first time. He was wonderful.

Back Stage
: Any other interesting stories behind the supporting cast?
Arteta
: There are a lot of people I always wanted to work with, like M. Emmet Walsh. He's one of my favorites. I've been in love with Mary Kay Place since I was a little boy watching "Mary Hartman, Mary Hartman." I met her through "Six Feet Under," and we became friends. They both did such a beautiful job making that couple come to life. It really was a dream come true. Ray Liotta was in "Something Wild," which, again, was a movie that really inspired me to get off my ass and start directing. And Steve Buscemi is not only one of the best character actors working right now; he's one of the best character actors that have ever been in film history.
Back Stage
: And Buscemi is a filmmaker in his own right. You tend to cast other filmmakers in your films, like Mike White, Chris Weitz, Miranda July, Zak Penn, and Beth Colt.
Arteta
: I love it. I think filmmakers get that it's about mischief, so it's always fun casting a director. They tend to have a fun time.
Back Stage
: And Zach Galifianakis has blown up since you cast him in "Youth in Revolt" because of "The Hangover."
Arteta
: That was Michael's idea. They had done that bit [on Funnyordie.com "Between Two Ferns With Zach Galifianakis"], and they interacted so wonderfully. It's just such an odd pair. I think when you're casting things you want to visualize the two actors in daylight. Would that bring Joanne to light to see Jean Smart and Zach Galifianakis onscreen? Yes. Please, let's get some of that.
I was also very happy to cast an astronaut in the movie. That was really fun. I watched a documentary called "In the Shadow of the Moon," and one of the three men that first went to the moon was Mike Collins. He was the guy that waited while Neil Armstrong and Buzz Aldrin walked on the moon, and then he flew them back to the Earth. He was amazing in this documentary. He had such a presence, so I wrote NASA and asked if I could talk to one of their Apollo 11 astronauts, and I couldn't believe it—they were so nice and cooperative. I called up Mike Collins, and he came and did my movie. His daughter had been in a soap opera, so he understood a little bit about the business, so he came and did us that wonderful favor. He's the old man that sells Zach Galifianakis a beat-up trailer in the movie.
Back Stage
: "Youth in Revolt" is only the first of three books about Nick Twisp's adventures. Is there a miniseries in the works?

Arteta
: I think they're talking about it. I know [producer] David Permut's out there pushing for it, so we'll see what happens.

Back Stage
: You have such incredible casting instincts, having hired Zooey Deschanel, Jake Gyllenhaal, Lupe Ontiveros, and Maya Rudolph before they were well-known. What general qualities do you look for in actors?

Arteta
: I want them to be fearless and to trust me implicitly. I always tell them it should feel like you're jumping into an empty pool chest-first, and if it doesn't feel like that, there's something wrong.