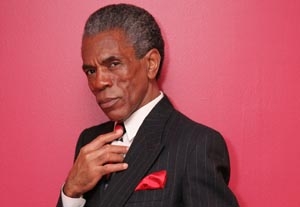 I'm not a Method actor," says André De Shields. "It doesn't serve my bliss." A veteran performer with major credits on Broadway, Off-Broadway, and regionally, De Shields is not impressed with actors feeling great pain onstage though their characters may be in the deepest anguish. For him the most affecting acting comes when the actors experience ecstasy. "The actor who is feeling ecstasy is in service to the pain," he says. "If the actor is feeling pain [as opposed to the character], he's not servicing the pain or the audience, who will not be feeling his pain either."
Whether De Shields is playing a wild, over-the-top Tartuffe in his previous gig, "Archbishop Supreme Tartuffe" (the musical version of the iconic play), or the blind prophet in Euripides' "The Bacchae," his current role in the Public Theater's production in Central Park, his goal is to achieve euphoria. The paths to that emotional pinnacle vary with who the character is and his moment-to-moment needs, but in the end, at least for De Shields, "When I'm acting, I feel no pain." It's that profound exuberance, at once public and deeply private, that makes acting distinct from other careers, he adds. Acting is also a commitment to a lifestyle—"It's infinite, not finite"—and the realization that at no point does the actor ever complete his journey, literally or metaphorically.
The soft-spoken Baltimore native talks about archetypes, Joseph Campbell, and the significant role astrology plays in his own life. He is also very much a craftsman in approaching a role. "The actor shouldn't be doing anything—make any decision or movement or even take a breath—that doesn't respond to the question, 'What do I [as the character] want?' " De Shields says. "It is no sin to be still or appear to do nothing on stage. The actor's nightmare is, 'But I'm not doing anything.' Doing nothing can be the most intense theater an audience can witness as they wait with bated breath for the actor to act." He likens actors to Greek gods who came down from Olympus to answer the significant questions. "We are far removed from Olympus, but actors are the contemporary gods who speak the healing words," he says.
The role he was most proud of was the title character in Mark Medoff's "Prymate," which ran on Broadway in 2004. The character was an animal and had no verbal skills. "Yet he possessed the humanity, humility, and vulnerability of all the characters in the play," recalls De Shields. "He was a dumb beast but able to realize the playwright's point." It was also a career turning point. The actor's first turning point was playing Willy Loman in a 1996 production of "Death of a Salesman" at the Oasis Theatre in Buffalo, N.Y. "Before that I was 'André De Shields, singer and dancer.' After that, I was 'André De Shields, actor.' And when I did 'Prymate,' I was 'André De Shields, distinguished actor.' "
He takes on a role if "my participation will benefit the project or the character," he says. "If my response is yes, I will move on to the next step." As a young actor, however, he says, gaining experience and finding his path as an actor were his criteria.
To Play the King
De Shields majored in English at the University of Wisconsin-Madison. "The most important thing in the '50s was to master the language of the oppressor," he says. "You succeed by understanding the oppressor's language and making yourself understood in that language." Later, when he was based in New York and a working actor, he enrolled at New York University's Gallatin School of Individualized Study, where he earned a master's degree in African-American studies. His thesis centered on the 1793 slave insurrection in Haiti, led by Toussaint Louverture.
During his 40-year career, De Shields admits he has seen major changes in opportunities for African-American actors. "Nontraditional casting, ethnic diversity, inclusion—they're proof of the progress," he says, but there's a way to go. De Shields celebrates the presence of Bill Cosby, Denzel Washington, and Oprah Winfrey on the cultural landscape, yet feels a piece is missing. If African-American stories are not being told consistently on the legitimate stage, you have not achieved cultural literacy, he says, adding that as important a playwright as August Wilson is, he represents only one black voice, and there are many more who need to be heard. "We're not a monolithic civilization," De Shields says. "Wilson is called the black Eugene O'Neill. Why does he need that qualification?" The actor bemoans the absence of theater coverage in African-American publications. He has observed that although movies and
music and television are routinely covered in such publications as Jet and Essence, theater is not.
De Shields has worked fairly steadily as an actor; when he's not acting, he's a "distinguished visiting professor" at colleges and universities across the country. He has not done much television or film and says that's by circumstance and choice: "I chose a life in theater, and what I do is much too large for film or TV." But he believes film is his next step, thanks in part to the alignment of the planets—specifically Saturn's revolution around the sun—suggesting a major shift in his life, he says. In his current role as Teiresias, De Shields is mastering a subtler and smaller style of acting.
The actor is thinking a lot about Teiresias, who appears in a number of Greek plays and spends seven years living as a woman. The character's duality is unexplored and might have resonance for many people, says De Shields, who is toying with writing a solo piece about him. The actor is also tackling a solo show based on his four decades in the industry, which the Alliance Theatre in Atlanta is commissioning.
"And I'd like to write a piece about Ike Turner," he says. "He's more than the man who battered Tina Turner. He invented rock 'n' roll, and I think that story should be told." A role De Shields would love to play is the King in "The King and I." If he could redo his career, De Shields says, "I'd be a recording artist first, and then I could demand what I want to do as an actor. 'Mr. De Shields, what do you want to do now?' and I'd say, 'The King in "The King and I." ' "
"The Bacchae" runs through Sept. 6 at the Delacorte Theater in Central Park. Tickets are free on a first-come, first-served basis. www.thepublictheater.org.