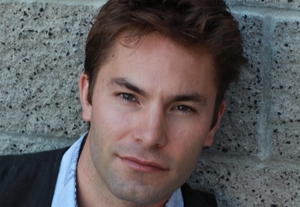 Despite Zack Silva's second-degree black belt in kenpo, a Japanese-Hawaiian form of martial arts, he has yet to play an action hero. He has, however, played good guy Alex Thomas on MyNetworkTV's limited-run series "Desire" and is currently playing the morally ambiguous figure Gavin on FX's crime drama "Terriers."
These nonaction roles are far from the Jean-Claude Van Damme types that Silva fantasized about playing when he was a kid. But his background has served him well even in roles that don't require leaping and kicking. Besides skill and dexterity, martial arts demand plain old showmanship, he says, especially at the kind of demonstrations and tournaments that Silva participated in throughout adolescence. "Doing martial arts gave me a firm foundation, confidence, and strength as a performer," he explains. "The idea of discipline was instilled in me, and I approach acting with the same discipline I learned in martial arts."
Silva, who grew up on Orcas Island, one of the San Juan Islands of Washington state, wanted to be an actor from the time he was in middle school, especially when he had his first taste of action-adventure films. "That solidified my passion," he says. When he read that the comic-book series "Judge Dredd" was being made into a film with lots of computer-generated effects, he panicked, thinking he'd better become an actor before the profession was rendered obsolete by technology.
Silva's road to acting was almost haphazard. Following stints at Menlo College in Atherton, Calif., where he studied business—as a "backup plan," he says—and at Seattle Central Community College, he moved to Los Angeles. His first onscreen credit there was in "When I Die," a documentary about gonzo journalist Hunter S. Thompson. Silva had helped a pal create a memorial event for Thompson and recalled the experience for the doc.
Lucky and Fearless
Silva's first professional acting job was an under-five role on "Days of Our Lives," which he booked after an actor friend on the show put in a word for him. He got his second acting gig—on "Desire"—by crashing the audition. It was a true gamble on his part, but he aroused no suspicion as he signed in and took the sides.
"The actors were filtering through, and I was the last in the office," he recalls. "The casting director's assistant finally comes out and says, 'Who are you?' And I said, 'Zack Silva,' as if to say, 'Don't you know me? Wasn't I on your list?' At that point he says, 'Why are you here?,' and then I bullshit, saying my friend Jason Miller—a made-up person—was going to come down and audition. 'But since he couldn't make it and we're the same type, I thought I would take his place.' He then asked me what agency Jason was with, and I said I'm not sure. I didn't realize that all the guys who were down there had been sent by the same agency. But he said, 'Okay, let's see what you can do,' allowing me to audition. Later that day, I got a call from that agency—I guess the casting director had given the agency my information—saying I had a callback with the director. I then got a screen test and another callback. I got the role." It was one of the three leads.
Silva admits that his lack of experience and his naiveté fed his fearlessness. As much as he wanted to act, the stakes just weren't that high, he says, adding that they become much higher once you land a role. "Desire" was a major learning experience, teaching him the technical aspects of shooting a TV show and the speed required to produce 65 episodes in three months. "Desire" was one of several MyNetworkTV shows that presented a continuing story on a nightly basis—the equivalent of three or four seasons.
"We were doing 22 pages a day and under the gun," he says. "When I came in, I was a raw talent with little technique. Because of the memorization and time frame, I picked up some bad habits. My acting was clichéd, cookie-cutter, not in the moment. We didn't have the time to develop multidimensional characters with arcs."
Nevertheless, Silva is grateful for the career launch. It gained him representation—he's with Affinity Artists Agency and Heresun Management—and led to his regular role on "Terriers," his highest-profile job to date. Even better, the show has earned "excellent reviews from publications that rarely give them to TV shows," he says. "I think FX has the best creative teams on television today."
And Silva has shed those bad acting habits, thanks to a Meisner class and his own determination. Now when he acts, he says, his goal is to find a connection between his own values and those of the character. It's the emotional line that makes it possible "for me to give a crap about what I'm saying." He believes he has found that bond with Gavin. But "it's difficult to determine if the character is a protagonist or antagonist," Silva says. "He seems like a protagonist, but some of the events he's causing aren't all that moral. There's uncertainty. I'm playing him as a moral man who makes mistakes, but I've decided not to be too specific, because I don't know where he's going to end up."
Stay tuned for future developments—in the lives of both Gavin and Silva, who still wants the chance to play a character whose hands are certified lethal weapons.