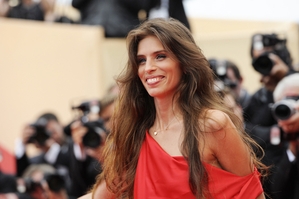 Maiwenn has been in the spotlight in her native France since she was a child. She began acting in films like "Next Year If All Goes Well" and "One Deadly Summer," and she was even more famous as the teenage girlfriend of director Luc Besson ("The Fifth Element"), giving birth to his daughter at age 16. But by 21, she broke up with Besson and resumed life as an actress, including a role in the horror film "High Tension."

Yet Maiwenn, now 36, says she feels like she started her career only a decade ago, when she debuted her one-woman stage show "Le pois chiche" in Paris. She went on to write, direct, and star in the short film "I'm an Actress" in 2004, followed by her 2006 feature film "Pardon Me" and "All About Actresses" in 2008.

"My real passion is to make movies, to direct," she says. "It's good for my ego to be an actress. It's like someone is saying, 'Yes, you're beautiful! Yes, you're doing fine!' But I feel like a child when I'm an actress. When I [direct] a movie, I feel like an adult."

Maiwenn's third film as writer, director, and actor, "Polisse," was the winner of the Jury Prize at Cannes last year and was nominated for 13 Cesar Awards. Now in theaters in New York and Los Angeles, the gritty drama follows the officers of Paris' Child Protection Unit in their exhaustive efforts to protect kids from child molesters, abusive parents, kidnappers, and other predators. Maiwenn spent time with the police before writing the screenplay, which she based on real cases and shot in a verite style to create an unflinchingly realistic examination of the emotional strain and professional stress these men and women face each day.

With the help of a translator, Maiwenn spoke to Back Stage about her method of working with actors, and why the critically lauded movie almost didn't get made at all.

Back Stage: Why did you choose to give yourself such a small, almost silent role as Melissa, a photographer who is embedded with the Paris police?

Maiwenn: It's a way to guide the spectator as an outside eye. The way I'm watching the police in the movie is the way I think that everybody is looking at policemen. The way that I'm observing it is almost a childlike, naïve way of looking at the police, and it's the way most people look at that unit.


Maiwenn in 'Polisse' (Les Productions du Tresor)

Back Stage: You cast famous French rapper Joeystarr in "Polisse" as well as "All About Actresses," and he was nominated for a Cesar Award for both performances. I feel like his story can be compared to American rapper-turned-actor Ice-T, who plays also plays a cop on "Law & Order: SVU."

Maiwenn: I really wanted to write this part for him. It's very exciting to have something in front of you that is so fresh and it's galvanizing to have the feeling that this fresh element is going to burst and be powerful. I felt like I'd hit gold when I worked with him on my last movie. I don't really like to work with actors that work a lot and are very well established already. In a way, I like to nurture talent and have it burst on the scene.

When you're working with very good actors, there's a hint of technique that's sort of [in the way of] the real truth. If I'm able to break that so there's a slight instability that installs itself, that makes me very happy. Because directing actors is manipulation, but what makes me strong and maybe learn something is to never manipulate the intimacy.

Back Stage: Speaking of finding fresh talent, you worked with a lot of child actors in this film. How did you handle the sensitive subject matter with the children?

Maiwenn: I wanted to see every kind of kid, actors and non-actors. I would talk to them about the subject right away and see if they were at ease or not. The first casting, I was talking with the kids alone, then with the parents. I wanted to feel if the parents were okay with my movie. I wanted to feel their confidence.

But it didn't mean that I cast only the kids that were comfortable in front of the camera, because the kids that feel comfortable in front of the camera, it was like they were doing publicity for rape. (acts bright and cheerful) "Hello! I'm in a rape film!" All the kids I ended up casting in the movie, at the casting call they did an audition where they were turned inwards, very introverted. The kids that were being pushed by their parents, I could see it right away at the first casting call. And often, they're not very good actors, so it's not very interesting.

But the child problem was the hugest problem. In France, we have a state organization called La DDAS, which watches and checks on any medium that's going to use children, whether it's theater, or film, or television. I had to make so many script changes to have their agreement – for six months, I wrote and wrote and wrote. They said, "You have to take out this line, this shot, this scene, blah blah blah."

Nobody believed in this film. Nobody wanted to produce the film. Nobody wanted to touch it. They said, "Your subject is off limits. No way." They said, "Why don't you make the same movie with the same scenes, but just make the kids 16?" (laughs) And I said, "No, that's my whole movie!"

At first, when they kept having me rework it, I was pretty upset and depressed. But actually, I think they kind of helped me, because by having to cut and pare down it forces the audience member to travel through the process in a way where they experience much more anxiety and feelings about what's happening on screen. Because I was forced to go through that process, it actually taught me to be a better writer. It's much more powerful to suggest, rather than show and make it really obvious.

"Polisse" is currently in theaters in New York and L.A., and will be available nationwide on Sundance Selects' video on demand platform beginning Friday, May 25.

Daniel Lehman is a staff writer for Back Stage. Follow him on Twitter: @byDanLehman