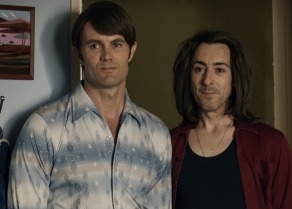 Alan Cumming is not one to sit around. Currently a series regular as Eli Gold on CBS drama "The Good Wife," Cumming has spent his last three hiatuses working on projects a far cry from his buttoned-up campaign manager. "I always run screaming from the offices of Lockhart/Gardner," he says with a laugh. This past summer saw the actor-singer performing a one-man version of "Macbeth," but it's the movie he made during his second hiatus that is really garnering attention this year.
Cumming stars in indie film "Any Day Now" as one-half of a gay couple (Garret Dillahunt plays the other half) fighting a losing legal battle to retain custody of a 15-year-old boy with Down syndrome. What could be a maudlin movie of the week about overcoming adversity is instead, in the hands of Cumming and director Travis Fine, a gritty, decidedly unglamorous portrait of love and the ways in which society tries to regulate it.
Central to the movie's success is Cumming's lead performance as low-rent female impersonator Rudy Donatello. Cumming says he was involved in drafts of the script—which was originally written in the film's time period, the late 1970s—and it was crucial for him that Rudy skirt the usual stereotypes.
"It's more of a dingy little gay bar. Not RuPaul," Cumming says. "And also, [Rudy's] just jobbing around. He's a hustler—not a hustler in that he's shagging for money, but he's hustling to keep that relationship. To play someone like this who has this strength and balls, you have to be really feisty, and I just tried to make it a more rounded portrayal of a gay man."
What separates "Any Day Now" from being lumped with other films about gay men is that at its core, the film transcends sexuality. This isn't a fluffy romantic comedy about boy-meets-boy or a celebration of gay sex. The movie instead shows a universal experience regarding the pursuit of normalcy, however one chooses to define it. For Rudy and his lover Paul, that normalcy involves raising the young boy whose mother allowed them to step in as his guardian while she serves time in prison.
"It's great that we're getting more visibility," Cumming says of the increase in gay-themed films, "but quantity doesn't necessarily mean quality. And it's great to have something that is truthful in terms of showing something a little different. It was such a huge emotional and mental commitment to make for this film. You can have no vanity. I look pretty hellish in this film, but it's about something very primal and I like that."
Even Cumming was surprised at how audiences have been embracing the film, given its subject matter. In the last year, "Any Day Now" has taken home the Audience Award for Best Narrative Feature at the Tribecca Film Festival and the 2012 Outfest, among a slew of other awards (including several wins for Cumming as an actor). "It will be a while before I get a film that completely and totally challenges me [as this one has]," he says. "I'm so excited that it's being embraced the way that it has by audiences. It's a gay Down syndrome weepie! I couldn't be happier with that. It's amazing."