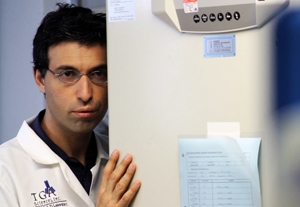 After gaining recognition as an actor, writer, and director at film festivals like Sundance and SXSW, indie favorite Alex Karpovsky prepares to take on Tribeca for the first time, with lead roles in two films that will debut at the fest this year. TFF hosts the world premieres of both "Rubberneck"—which the actor also directed and co-wrote—and "Supporting Characters" on Friday, April 20.

"Supporting Characters" stars Karpovsky and Tarik Lowe, who co-wrote the film with director Daniel Schechter, as best friends and co-editors who struggle to re-cut a movie while balancing their relationships with each other, their girlfriends, and an insecure director (Kevin Corrigan). Schechter and Lowe based the semi-autobiographical film on incidents from their personal lives, crafting a simultaneously offbeat and naturalistic New York story.

Schechter's own experience as an editor is evident in the script, which blends intimate relationships with humorous details of life in an editing room. Karpovsky says he was drawn to the project because he understood and believed its depiction of what he calls the "editing trenches."

"I worked for five years editing karaoke videos, industrial videos, and music videos before I made any movies," Karpovsky says. "I didn't go to film school. That was sort of my mini, crude film school. But I did learn a tremendous amount, and I didn't have to drop $200,000 to learn those lessons. In fact, they were paying me a little bit of money to learn those lessons."

He didn't go to acting school, either. After studying visual ethnography as a grad student at Oxford University in England, Karpovsky began writing and performing monologues and "weird, forgettable performance art" on New York stages. But he says he only became an actor accidentally. When he wrote and directed his first feature film, "The Hole Story," a dark comedy about a karaoke video editor named Alex who aspires to be a film director, he decided it would be easier to cast himself than find an actor to mimic him.

"I wanted to be a writer-director," he says. "I wasn't an actor who wanted to be an actor, who said, 'No one's going to put me anything, so I've got to make my own vehicle.' It was sort of the opposite of that."

"The Hole Story" was a hit on the film festival circuit in 2006 and was followed by "Woodpecker" in 2008 and the Second City improv documentary "Trust Us, This Is All Made Up" in 2009, both of which Karpovsky directed but not did appear in. As an actor, Karpovsky starred in Andrew Bujalski's "Beeswax" and had a supporting role in Lena Dunham's 2010 breakout film "Tiny Furniture." (Dunham also shares a scene with Karpovsky in "Supporting Characters," playing a sound technician.)


Tarik Lowe (left) and Alex Karpovsky in "Supporting Characters"

Karpovsky is once again writer, director, and actor in "Rubberneck," a simmering psychosexual thriller about a scientist who gradually comes undone because he cannot get over a one-night stand with his coworker.

"I wanted to do something really different," Karpovsky says of "Rubberneck." "All of the other movies that I've made have been comedies, or something to do with comedy, and I really love thrillers. It's my favorite genre as a viewer to watch."

The movie is set in his hometown of Boston and the cast is comprised almost entirely of Beantown-area theater actors. Karpovsky says he made a conscious choice to hire actors with little or no film experience so that audiences would not bring any preconceived associations to the film. He credits co-writer Garth Donovan with making sure his directing and performance style were distinct from his past projects. The look of "Rubberneck" is distinct from Karpovsky's previous films, as well, with a solitary feeling inspired by directors like Michael Haneke and Steven Soderbergh.

"We wanted to kind of keep it desolate and misanthropic and hermetic," Karpovsky says. "It's a character driven story, in my opinion, and one of the main features of this particular character is isolation and loneliness."

Some of Karpovsky's contemporaries from the so-called "mumblecore" movement—Greta Gerwig, Mark and Jay Duplass, and most recently Dunham—have found mainstream success after being feted at festivals. Karpovsky's face will soon be just as familiar due to his recurring role in Dunham's new hit HBO series "Girls," an appearance in Mike Birbiglia's Sundance hit "Sleepwalk With Me," and a part in the Coen brothers' "Inside Llewyn Davis," which will be released next year.

"I go crazy easily when I wait for the phone to ring," Karpovsky says of balancing his career as writer, director, actor, and editor. "I just need something to do, because I don't know how else to fill up the day between acting jobs, and there's plenty of time between them. Because I don't play golf, I don't have hobbies, and I don't have a girlfriend, I just don't know what else to do with my time, so I do these little projects just to keep me sane. And sometimes that doesn't work."

The world premieres of "Rubberneck" and "Supporting Characters" will be held Friday, April 20 at the Tribeca Film Festival.



For the full 2012 Tribeca Film Festival schedule and to purchase tickets, visit TribecaFilm.com.