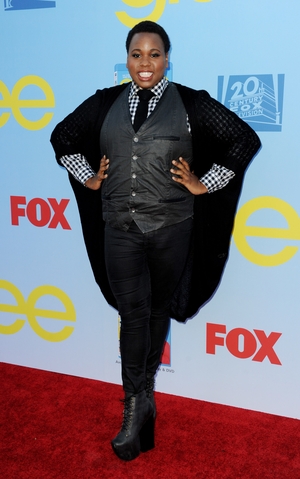 Alex Newell plays the controversial Wade "Unique" Adams on Fox's "Glee." The gifted young singer has been performing for years, beginning in the gospel choir with his parents. When he went to see "Hairspray," his love for musical theater was born, and he's been working toward Broadway ever since.
For his role on "Glee," Newell bypassed the intense auditioning and screen-testing that most of his castmates had to go through by winning his initial two-episode arc through Oxygen's "The Glee Project." Newell credits his cousin with pushing him to film a YouTube video audition for a MySpace competition for a part on "Glee." Shortly after submitting the video, he was contacted via Facebook by "The Glee Project." Initially, Newell didn't think it was for real, but when they contacted him a second time he gave them the information they needed, and it paid off.
So through the "Glee Project" you got the two episode arc. When did you find out you were going to be doing more than just the two episodes?
Alex Newell: I actually did three last season, and I had no idea I was going to be doing more than two. But I found out that I would be coming back on the show over the summer while I was getting ready to move and go to college and I was getting ready to do a show in St. Louis. I remember my agent calling me saying, "I hope you're hope you're not packing for college… and you're not doing the show in St. Louis." And I was like "Okay, why not?" [And she said], "Because you're going to be on 'Glee' next season." I was like "Oh my God" and I started crying; it was really bad, and I started crying some more and my mom thought someone died.
What's it like joining a show that's been on for a while?
Newell: They all genuinely welcomed us with open arms. It's kind of weird for me because I'm not old. I haven't been doing this for years, and I haven't been with this cast forever, but I'm not new either. I'm in this awkward limbo. So when we first started, they knew me, but they didn't know know me and that was very hard. But it's just so strange because I've always known them as Tina and Artie and Mercedes and Kurt. I've never gotten to know them as Chris Colfer and Amber Riley and Kevin McHale or Jenna Ushkowitz. It's really fun knowing them as people now rather than just as characters.
So how did you prepare for your character?
Newell: Preparing-wise, I based Unique off of all of the women in my life. And anything that I watched on television. Sometimes you'll see a little bit of Shangela from "RuPaul's Drag Race" or you'll see a YouTube clip of…Laquisha and I'll add that in there, and my aunt Joanne, and my mother, I'll add her in. All the women in my life have confidence and a strong backbone and that's why I base that off of them. But with Wade, it's everyone that I met that didn't have self-determination with themselves, [or had] that shy timidness, I base him off that…When they come together, it's really kind of fun to watch.
Can you share anything about what's coming up this season?
Newell: "Grease" is coming up and we're going to really see what's going on in Wade "Unique" Adams' head, and see how the character feels about themself. You're also going to see the friendship between Marley and Unique. There's going to be so much drama with them these next two episodes.
Do you have a favorite song that you've sung on the show?
Newell: My favorite song so far would have to be "There are Worse Things I Could Do" because I got to sing with Naya Rivera and Kate Hudson.
You started in musical theater. Do you think you'll go back to that?
Newell: I still want to do a Broadway show. I love it. I love the thought of it. I'm so jealous of Amber right now. I'm so proud of her too. She's doing "Cotton Club Parade" [and] right now they are in rehearsals for it. I want to do that show so bad. It's like I've been working this hard and I would never give up on it no matter what I'm doing. If I decided I want to be a doctor I would still like go and try to be in a Broadway show. I'm going to go to college for a BFA and everything.
Can you think of a difficult audition you've had?
Newell: It was "High School Musical." Don't ask me why I wanted to be in it, I just wanted to be. This was my first actual hard core audition before I knew that I knew how to dance and we got to the dance audition and I was just like, "You know what, I can't do this" and I walked out. It was the first and the last time I have ever walked out of an audition. It was awful, but then I found out that as long as you believe in yourself and you pay attention… it gets better. If you're confident in yourself and you stand there and you apply yourself and focus then nothing can stop you.
Do you have advice for other actors?
Newell: [The] advice that I've always gotten from everyone is [to] never stop being me. Because people will like me for me. If you never stop being yourself, people have no choice but to either love you or just not want to be friends with you. Why would you want to be someone else [when] that person's already taken?