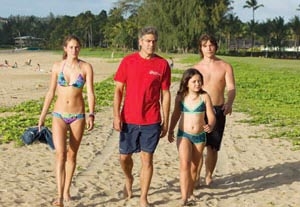 Alexander Payne first met with George Clooney when the writer-director was casting "Sideways." Clooney was interested in the role of struggling actor Jack, which eventually went to Thomas Haden Church. But the encounter sparked in Payne an interest in working with Clooney in the future. When Payne began writing "
The Descendants
," he had Clooney in mind from the start to play Matt King, the land baron who discovers that his now-comatose wife was having an affair. "He was my first and only choice," Payne reveals.
Payne spoke with Back Stage about his leading man, who delivers one of his best performances in an already stellar career.
On choosing him for the role
"I knew he would be right for this. I really dig him as an actor and a star. He's so appealing and so interesting in what he does. Look at the range he's got, from 'O Brother, Where Art Thou?'—which is an extreme comic part—to his deadly sobriety in 'Michael Clayton' and his compelling charm in the 'Ocean's' movies. He's always good; you always look at him. People tell me, 'A half an hour into the film, I'm able to forget it's Clooney. He seems so Everymanish.' But still, you look at him, as opposed to other people in the frame."
On people being surprised by Clooney's performance
"I haven't seen all of his movies by a long shot, so I don't know what else he is capable of that he's demonstrated in movies I haven't seen. Just because the roles he has done, the more popular roles to date, have required him to be within a certain bandwidth, that by no means means the actor is limited. People have to rise to the demands of an individual role. And I just knew he would. I was super curious to see what he would do with it."
On their similarities
"Before we worked together, directors and actors who have worked with him all told me, 'Oh, working with Clooney is a total delight.' We're very different people, but we have quite a bit in common. We're the same age, from the same generation. And we reached L.A. about the same time, in the '80s."
On the idea that directors sometimes cast actors who look like themselves
"You think he's that handsome? [Laughs.] No, no, I wouldn't compare us; he's far more handsome."
Outtakes
For his role in "The Descendants," Clooney was named best actor by the National Board of Review.