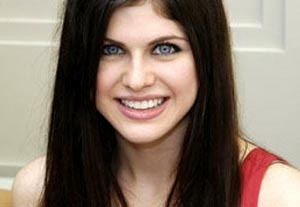 "I've gotten to the point where I've gotten comfortable with my awkwardness," says Alexandra Daddario, although there are no signs of any uneasiness that we can detect.
Raised in NYC, Alexandra went to a performing arts high school while she worked on "All My Children" -- an experience that sounds too good to be true, but isn't. Alexandra has landed her first major film role as Annabeth Chase in Fox's new blockbuster "Percy Jackson & The Olympians: Lightning Thief," in which she gets to sword fight, shoot a bow and arrow, and, in her words, "kick butt."
Chosen as this week's Girl2Watch, Alexandra will be featured in a series of articles, fun facts, and social media tweets through this week for subscribers of
Girl2Watch.com
.
Actor2Watch
:  What was your first real break as an actor?
Alexandra Daddario
: I think that "Percy Jackson" is, but it couldn't have happened without every single other step. You could say that my first commercial was a break because it got me into SAG, or my first television show, "All My Children," was a break because it got me comfortable doing television. Then I did a lead in a horror film and that gave me a break because it gave me the ability to be fearless and take chances.
But as far as the world knowing who I am and having opportunities that I never had before, besides my first commercial, that got me into SAG, I'd say "Percy Jackson."
A2W
: What kind of training did you get?
AD
: I've been acting since I was 11. I've taken tons of classes in New York. I studied with a wonderful woman named Ann Ratray. She's an absolutely wonderful teacher.  And I also studied with Monica May when I was a kid.
A2W
: Can you tell you tell us about one of your toughest auditions?
AD
:  One that sort of stands out is when I was 17, I had my first screen test for a show called "Point Pleasant," and I was extremely excited and nervous. They flew me to California to L.A. to screen test and I had to read in front of – looking back, it felt like maybe 40 people, but I'm sure it was only ten or so, just a room filled with network executives.
And I got so nervous and so scared that I completely forgot my lines and completely blew the screen test. I didn't end up getting it and I think I was the only person testing at that time. They had to go back and try to find someone else. I was so close, and I was very upset with myself for a long time about that.
Then you start to realize that that's just part of growing up, and that's just an experience and that everything happens for a reason. That was very important in helping me get to the next step.
A2W
:  Do you have any tips for novices or is there anything that you wish someone had told you when you were starting out in acting?
AD
: A lot of that, just with life, is I think you sort have to figure it out for yourself. As far as tips go, just be in it for the right reasons. Love film, and if you're passionate about it, then go for it and follow your heart. But surround yourself with positive people. Don't let negativity get you down.
Every mistake that you make or every thing that you might regret, you don't need to necessarily regret it because it can be a step forward. You just move forward and let them go because there will be a lot of bad auditions and there will be a lot of negative responses. But that won't last forever.