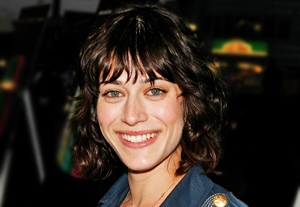 Lizzy Caplan first gained notice as acerbic alterna-teen Janis Ian, a vulnerable soul who hides her insecurities beneath several layers of sarcasm and black eyeliner. Six years later, some folks still associate her with that iconic "Mean Girls" role, but Caplan has moved on, winning a wide range of parts in a variety of mediums. That doesn't mean it has been easy, though.
"I was expecting to be a really big, huge deal after 'Mean Girls,' " she says bemusedly. "But I was clearly naïve, because I didn't work after that for almost a year. It was such a specific character and such a specific look that I think the next thing I ended up doing, I dyed my hair blond and did everything I could to play against that type."
In the post-Janis era, Caplan has portrayed a diverse group of characters—including a free-spirited party planner ("Related"), a ruthless drug addict (HBO's "True Blood"), and the effortlessly hip journalist who romances John Cusack in this month's "Hot Tub Time Machine." It has been a slow build—but with every role, she has managed to make her mark. Even when the part is worlds away from Janis, Caplan radiates that fierce, take-no-prisoners intelligence that made us notice her in the first place.
"I've always been a big advocate of changing the way you look, because that's one of the most fun things about doing this for a living," she says. "People making the decisions, they can't think too far outside the box, so something as simple as changing your hair color can really change the way people look at you. I think it makes your career maybe take a little longer, because you're dipping your toe in a bunch of different categories, but I think that's the fun part of it."
She pauses thoughtfully, then lets loose with a self-deprecating chuckle. "So that's my advice: Dye your hair."
Slow Burn
Unlike some of her acting peers, Caplan didn't emerge from the womb knowing she wanted to perform. She played piano as a kid but never cultivated dreams of becoming a world-renowned concert pianist. "It was just something I did for so long that I got pretty good at it," she says. "I went to a performing-arts high school for piano, and I had a falling out with my piano teacher. It was one of those things I did my whole life, and then I kind of didn't want to do it anymore. I was old enough to make that decision, I guess, without getting a hard time from my family."
Caplan switched to drama, and though she found herself intimidated by some of her ultraserious classmates, something clicked. She nabbed a manager at 15—BenderSpink's Ryan Revel, who still reps her today ("I think he took me on as a favor")—and landed a pilot before she was out of high school. "I was supposed to go to NYU, and I said to myself, 'If this pilot gets picked up, then I will have to stay, and if it doesn't, I will go to school,' " Caplan recalls. "The pilot did not get picked up, but then I had this whole epiphany: I can't let external forces determine my life. So I decided to stay for a year, which has now turned into a decade."
After she landed gigs on such shows as "Freaks and Geeks" and "Smallville," the "Mean Girls" script came her way. And even though it's now impossible to imagine anyone but Caplan spitting out Janis' blistering comebacks, the audition process was brutal. "They did not want to cast me in that movie," she says bluntly. "They wanted a very specific type that was not me."
But Caplan persisted, even going so far as to team up with one of the hair-and-makeup people to replicate what would become Janis' signature look. "We drove to a beauty supply store to put on a cheap wig and ugly makeup, to be like, 'No, see, we can do this,' " she remembers. "I think they needed to see it—the gothyness of it all."
Life of the 'Party'
In the coming months, Caplan will be seen in a pair of decidedly different projects. First up is the big-screen time-travel comedy "Hot Tub Time Machine," wherein she plays an '80s-era writer with a thing for living in the moment. Though she's surrounded by comedic heavy hitters—Cusack, Rob Corddry, and Craig Robinson ("The Office")—Caplan more than holds her own. "I had read the script because a friend of mine was doing rewrites on it," she explains. "I thought it was totally ridiculous and very funny. It's one of those things where it seems like a lot of people are reacting the same way, like, 'Oh, that sounds like the stupidest thing on earth,' and then they find out who's in it, and then it all of a sudden becomes more interesting."
And in April, Caplan will reprise her role as jaded comedian-caterer Casey in the surprise hit "Party Down." She is pleased that the show resonates particularly deeply with her fellow thespians: Most of the characters in the kooky ensemble are working actors. And even though she hasn't had to hold down a survival job in quite some time, Caplan can still relate. "I did a little bit of cater-waitering," she says. "It was just a soul-crushing, terrible experience. I think all of us are guilty of being at parties where somebody's passing around hors d'oeuvres and you just don't even really acknowledge them. So you're kind of this invisible person at these parties, and of course you're doing it in Los Angeles, so a lot of them are for movie premieres and stuff like that. You're surrounded by people that you aspire to be, just ignoring you. It sucks."
But, notes Caplan, even in those soul-sucking moments, you have to remember what you're working toward. Though she probably could have built an entire career playing versions of her memorable "Mean Girls" persona, she's opted to take the trickier, more multifaceted path. And ultimately it's proved to be rewarding. "It's definitely been a long journey, but I'm very grateful for that," she says. "I think every actor kind of believes that they're going to get to star in the first film that they go out on. There's a lot to be said for paying your dues and working your way up, even though it seems to take forever."   
Outtakes
- Born and raised in Los Angeles.
- A veteran of one-season wonders, including "Related," "The Pitts," and "The Class": "I've gotten pretty used to being on canceled shows; it seems to be my thing."
- Admits to being picky about TV parts: "My agents may think I'm too selective at times. I'm so petrified of getting bored on something. It really has to be different or unique in some way, or else I don't see the point in signing a multiyear contract."