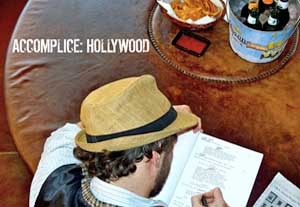 Tom Salamon wants to make one thing clear: He's not a fan of traditional "interactive theater." He's never seen the hit play "Tony 'n' Tina's Wedding," in which audience members become characters in the show, or attended a murder-mystery dinner theater. "Any experience I've had with that type of show has been amateurish and super cheesy," he notes. "It's a tough thing to sell an interactive theater show because everyone has those associations with actors coming up to abuse them—and lots of people don't like that."
It seems ironic, then, that Salamon went on to create "Accomplice," a live event that is equal parts show, game, and city tour. His first creation, "Accomplice: New York," debuted more than five years ago and was so successful it launched a second creation, "Accomplice: The Village." After attending the New York version, actor Neil Patrick Harris urged Salamon to create a Los Angeles counterpart. The two spent months working out the concept that would become "Accomplice: Hollywood," now running year-round in Los Angeles. Audience members travel in groups to the selected locations, meeting a colorful cast of characters while on a scavenger hunt to solve a carefully constructed mystery. 
The idea for the original show occurred five years ago, when Salamon's parents were visiting New York and he and his sister, Betsy Salamon-Sufott, treated them to a walking tour of the Lower East Side of Manhattan. "It was boring and super dry, and the guide was losing our attention," Salamon recalls. "That was basically the catalyst; we thought it would be fun to have a game with actors that took place throughout the neighborhoods. We were amazed nobody was doing it; it seemed like an obvious idea."
Salamon, who was at the time working as a postproduction colorist, had written scripts before, including a pilot for MTV called "Continuing Tales of an Unknown Band," but nothing had been produced. He and his sister wrote a script with a plot revolving around a prison break, in which the actors play parolees whom the audience members end up aiding and abetting. The pair put out a casting call on Craigslist. "I'd never cast anything before, so I was sort of learning as we went along," Salamon admits. "We had some scripted pages, and the actors were asked to improvise a bit." The initial idea was to do the show as a one-time event and see how it worked. "We essentially threw a party where everyone did the show, and they loved it," Salamon notes. "So we stuck with it, and in a couple months, it really caught on. I quit my job six months later."
The original show, "Accomplice: New York," takes place in lower Manhattan and runs April through November. Participants are sent to such locations as a SoHo bar, a street corner in Chinatown, and a wine cellar in Little Italy to uncover clues. Its success spawned "Accomplice: The Village," which is set in locations throughout Greenwich Village and runs year-round, with a plot revolving around recovering a stolen item. All of the shows include food and drink as part of the tour and run two to three hours. Salamon is currently developing a third story in conjunction with the Museum of Natural History.
Streets of L.A.
Salamon now resides in L.A., where he is overseeing the freshman "season" of "Accomplice: Hollywood." Though Salamon had been looking to expand the show to the West Coast, Harris ultimately convinced him. "Neil was completely the catalyst for bringing me out here," Salamon notes. "He was really inspired by it and pushed to make it happen."
Harris was a very active producer; the pair spent about four months developing the story, nailing down locations, casting, and rehearsing. Fairly early on, they came up with the idea that the show would revolve around a troubled starlet named Nikki Desmond who has suffered all the classic Hollywood trials: time in rehab, disagreements with co-stars, brushes with a cult. The duo populated the story with stereotypical La-La Land types, from a motor-mouthed agent and a bitter screenwriter to a bitchy celebrity blogger.
Harris and Salamon cast the show through Back Stage and often developed characters to play to actors' strengths. "You get a sense of how people will be in the scenes, and you play to their strong suits; you let them do what they're good at," Salamon reveals. But it's still a trial-by-fire process. "Sometimes people give great auditions, but it's a really specific talent. It's part improv; you have to be open to a lot of different kinds of people and adept at playing to whatever the audience is like. I put someone in and see how they fly. If in a couple weeks they're sucking, I let them go."
As with any kind of theater, audiences can be a challenge. Tickets are sold in blocks of eight (for "The Village") or 10 (for "New York" and "Hollywood"), and sometimes people don't know each other. "Some people are really into it and engaging and will play off the actors," Salamon explains. "But you can get all different kinds of groups. If it's kids, you have to adjust. Sometimes people just want to listen. That's the good thing about having a group dynamic because some people want to participate and others don't." Salamon says the groups generally work very well together. "Most people who come are super outgoing and come to have fun," he says. "Sometimes you'll get a family of four from Oklahoma and a group of hipsters, and they don't really get along, and it's a terrible match. But more often than that, people become friends because of the show, and I love that." Has the show ever resulted in any romance between strangers? "I don't know about long-term love connections, I'm not sure," Salamon admits. "I know of at least three short-term ones."
In the five years Salamon has been overseeing the shows, he says there have been surprisingly few disasters. Most often, participants become convinced that an innocent bystander on the street is involved in the show. "People constantly walk up to crazy people or weird people or people dramatically dressed or acting dramatically and start asking about Nikki Desmond," Salamon says with a laugh. "Some people will answer yes to anything if they're crazy enough. The next thing you know, there's all kinds of confusion." One time, a man on the street stopped a group participating in the show and began reading from a stack of papers before moving on to read the serial number off his eyeglasses. "The next thing you know, they've ended up at a random location and completely got off track," Salamon recalls.
But more often than not, things run fairly smoothly for cast and audience. One of Salamon's favorite stories involves a casting director who attended the show. "Two weeks later, the agent of one of my actors calls and says the CD saw him in 'Accomplice' and wants him to read for a role on a show," he reveals. "And he got the part. If you think about it, it's a great opportunity for actors. How many actors really get a chance to sit for 15 minutes with a casting director and do their thing? So I felt great about that."
As for future plans, it appears Salamon has plenty of ideas—and cities—to choose from. "Neil has talked about doing a show in Vegas," he says with a smile. "I think that would be great. There's a lot of opportunity there."

For tickets and information on the New York and Los Angeles "Accomplice" shows, visit www.accomplicetheshow.com.