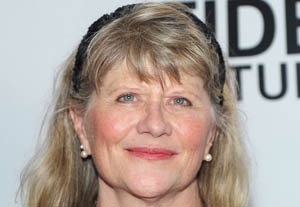 What becomes a legend most? Amanda Wingfield is of course the iconic mother in "The Glass Menagerie," Tennessee Williams' autobiographical play about his family life. Judith Ivey is the deeply respected actor who won Tonys for "Hurlyburly" and "Steaming," starred on Broadway in the revival "Follies," and originated roles in "Park Your Car in Harvard Yard" and "Precious Sons," not to mention her vast screen credits. But as Ivey tells it, Amanda may be the role of her lifetime.
This week the version directed by Gordon Edelstein and starring Ivey begins its run at the Mark Taper Forum in Los Angeles, following the Long Wharf's premiere presentation last year and its move this spring to the Roundabout Theatre Company in New York. It also stars Patch Darragh as Amanda's son, Tom.
When Back Stage spoke with Ivey, the production was in previews at the Taper, having completed about 200 performances on the East Coast.
Back Stage:
How did you get cast in this production of "The Glass Menagerie"?
Judith Ivey:
Gordon called me up and said, "Would you play the part?" It was a part I'd been wanting to play for a long time and of course wasn't old enough for a while. And I always thought that she shouldn't be grandmotherly, that she was, as we call them, children raising children. She's 20 years older or 18 years older, not 30 years older. And I thought she was hysterically funny. And so when he asked me if I'd be interested, I said, "Well there's two provisos: I don't want to be dressed up like a grandma, and I think she's hysterical. So if you don't think she's funny, you shouldn't pick me, 'cause you'll be frustrated by me." He said, "I agree with you on both counts." And that was it. It was a done deal.
Back Stage:
Who had you seen in the role that you admired?
Ivey:
Mary Nell Santacroce, Dana Ivey's mother. It was the only interpretation of the four or five that I've seen where she played her as a mother. And that was very important to me; that was another part of the play that the many interpretations just [didn't deal] with. It was all about her narcissism and her focus on self and her seeming disinterest in her children. The play doesn't make sense to me if it's all about her desire to manipulate these people for manipulation's sake only. I think she manipulates people, but it comes from this desire to care for and to get them on their feet and make sure they're going out into the world and they'll be okay and happy, like any mom. The way she goes about it may not be something we approve of, but there are a lot of parents that don't go about it very well.
Back Stage
: At what point in your life did you say, "Amanda is the role for me"?
Ivey:
I read this play in English class when I was a junior in high school. My mother was an English teacher, and I had her. The way she taught it was to have us read it out loud. And she gave me the part of Amanda. I had just been introduced to acting. I had no interest in going out and becoming a professional actress. But reading that part, I thought, "Wow, if I were an actress, someday I'd want to play this part." It just spoke to me. It just came out of my mouth. And I think a lot of the way I've been performing her now, I did in that English class. That's a really long time ago. But the muscle of it feels the same. And there's no other part, really, that I can say that's true of, in the classics.
Back Stage:
Do you think your relationship with your mother is showing up in Amanda? Also, your relationship with your son and daughter?
Ivey:
Oh, I think it totally informs it. My mother was, still is, very caring, concerned, wants you to be happy. She's not Amanda. She's not in your business like that. She's not telling you how to pick up your fork. But that never letting go of you, that you are my child and I care about you and I'm concerned and I worry and I want your life to be the best it can possibly be, is very much my experience of a mother, and it's written all through this text. It's kind of interesting to me that she has been played as such a shrew and such a negative soul. It's in the text that the love is there, and the choices you can make on a particular line can be full of love. Since we've gotten to do this so much, it keeps deepening that way. And then of course with my own children, that's the hardest part about being out here: My son is 16 and I'm going to miss half of his football games. I'm not going to be there to give him his backrubs when he hurts. I can't help him with schoolwork; he's way beyond me with that, so it's not like I'm missing that part. But it's just the day-to-day of getting up, here's breakfast, I'll be there when you come in and give you a snack and how was today? It's torturous for me, 'cause that's the kind of mother I am. And that's saying something, given that he's a sulky 16-year-old.
Back Stage:
Do you feel any pressure because it's such an iconic role?
Ivey:
I haven't felt that way. Maybe because we started at the Long Wharf; a regional theater production of a classic usually doesn't move anywhere. It was just, this is my opportunity, this is my Amanda. And then it ended up, we want you to come here in New York, then we want you to do it out here [in Los Angeles]. But no, I guess when you wait for something, you're ready to do it. I've picked this play up probably once a month prior to doing this and would go through it and pick a scene. So it's not like, "Oh, what a great idea. I hadn't thought of that." I've thought of it on a regular basis, certainly for the last five or six years, where you start to feel like you were the right age, where it's now time. I wanted to play the "Scottish queen," but I think she should be 20 years younger than I am, so I can't accept that role right now with the way I would have played her. If there's a disappointment, okay, I didn't get to do that one the way I want to do it. I'll have to direct somebody to do it my way.
Back Stage:
Even though you've worked on the character for so many years, what are you experimenting with now?
Ivey:
In the last scene of the first act, where she finds out the gentleman caller is actually going to come, we changed it up from Long Wharf to New York that I would get a little change box and start counting my money and see what I had to pay for everything. And Gordon said, "I want to expand on that." We're still playing with it; it's not set, but the change box comes out, and then I go to my purse, and then I go to Tom and say give me some more. It's this moment of the money that he wanted to emphasize, since we had found it in the New York production, even though we didn't go much further than the change box. It was the idea that they are scraping it together to have this dinner party. And therefore all the more disappointment when he invites somebody who's taken, who can't even make a commitment. That's certainly one physical thing. I think the great thing about [the Mark Taper Forum] space as opposed to the Roundabout: [In New York] we had to make it a proscenium presentation, which to me flattened it and separated the audience from us. It's such an intimate play, and it was glorious last night to be back with the audience around you. So you make those adjustments, because the space dictates the intensity of what you do. We were all commenting to each other last night, "Jeez, they're right there," which was true at the Long Wharf. There was more response. I think the proscenium kind of allowed the audience not to respond.
Back Stage:
When you are on the stage, how much are you living in Amanda's world, and how much are you noticing the audience and what the other actors are doing, rather than what the characters are doing?
Ivey:
It depends on the show. You have to immerse yourself initially in order to find the world and create it.
Back Stage
: And that's in rehearsals.
Ivey:
Yeah. And there has to be an immersion even in performance, but the audience is part of the performance, and so of course you're aware of them. Especially when you're dealing with the comedy of it and you want to be truthful and surprise them because that's what makes them laugh, you're listening. Back to the scene, it's such an incredible scene, when he tells her the gentleman caller is coming; it's a very funny scene, and it's one of the few times you see Tom and Amanda really enjoying each other. Even though there's banter, it's an equal relationship at that point. And it's very seductive for a performer to go for all those jokes, 'cause there's so many in that scene, and the two of us love it. And we got reprimanded last night because it was the Patch and Judy show. We were really going for the humor of it and lost a little bit of, well, what's the tension, what's driving this? And I said, "You know what, I don't know anymore what that is," when I initially go out and find him on the fire escape. I've lost that thread. So we need to revisit that and figure that out, because that's what will hold me through the scene, even though this news comes, and I've got to make it all right, and I want to make it perfect, and he's being such a schlub about it. You need to help me. That part works, but initially it's, "Why am I going out there?" And we came upon something when we started in New York, but it didn't stay, and I think it didn't stay because it didn't play. I think choices sometimes are good in rehearsal, and then you get in front of an audience and it's phony. It's funny to us 'cause we're all on the inside, and then it's not funny to an audience. It was just a momentary choice that you have to discard and move on. But there's constant experimentation. It's kind of the tone that has been set, because that's what makes it magical—in my book, anyway.
Back Stage:
Did you ever decide what that thread was that you lost?
Ivey:
I went out to see if there was any news, and it didn't quite play, because she's so surprised when she finds out that he really is coming. If that was her intent, given her personality, why didn't she just outright say, "So what's happenin'? What's goin' on?" She doesn't do that. She's just chatting with him and hanging out with him. And I think that's kind of an interesting moment, and that's what we're going to go back and explore. I don't know if I necessarily agree that it can't be that much fun at the top, and then where it turns is when she finds out that he's coming, and it's "tomorra," and in all her desire to make it perfect, "God dammit, why didn't you tell me sooner?' And maybe what my diagnosis was, maybe I'm not holding on to the intensity of the upset enough that gives you the change. Or maybe the upset may be…. So anyway, that's what we're going to look at today.
"The Glass Menagerie," presented by Long Wharf Theatre and Center Theatre Group, runs through Oct. 17 at the Mark Taper Forum, 135 N. Grand Ave., L.A. Tickets: (213) 628-2772. www.centertheatregroup.org.