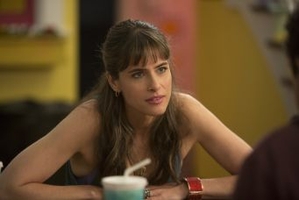 Amanda Peet has been a welcome presence in film and TV for the last decade, but she's doing superlative work on HBO's "Togetherness" as the gorgeous, floundering sister to Melanie Lynskey's unhappily married mother. Whether she's making men fall in love with her or trying to inflate a bouncy castle in a patch of mud while wearing all-white, Peet is doing some of her best comedic and dramatic work. We spoke to her about landing the role, Season 2, and her worst audition.
How did you first get involved with "Togetherness"?
I auditioned for it a few times, and yeah, I begged them basically. [Laughs] They're really big improvisers so I knew the more loose I could be the better chance I had of sort of showing I could handle their style. And I think it's very hard to do relaxed and loose in an audition because it's such an unnatural situation and you feel incredibly judged. So it's like that thing, "Don't think of an apple," and the first thing you think of is an apple. It took me many many many years before I could care more about the scene than the audition.
Wait, how did you beg them?
I just went all out and got dressed up and I think it was very clear how badly I wanted the role.
What's it been like to work in that improvisatory style?
I really like working in that style so for me, it's such a great experience. I feel very lucky. And they definitely know how to make me feel relax and trusting so it's very collaborative and vibrant and playful. They usually have two cameras going at the same time so it's really for the actor. They don't like to hammer a scene.
Does that improvising happen for the darker stuff, too? Your character in particular went to some sad places by the end of the season.
Usually it's both. We stay close to the script and then we let it go off the rails and usually circle back towards the script again. And it's like that whether it's a comedic or dramatic scene.
What can you say about Season 2?
We're shooting right now. We're halfway through and shit's going down! I worship Melanie Lynskey from afar, so it's kind of crazy when I get to do a scene with her. And everybody is kind of amazing, so it's a little bit intimidating but mostly very fun.
This audition worked out for you, but do you have any terrible audition stories you don't mind sharing?
My very first professional audition, I had just signed with my agent and he called me and said, "It didn't go very well." And I was like, "Really?" And he said, "No, they just didn't like your choices." And I said, "Which one?" And he said, "All of them." He's always been very blunt for better or worse. So yeah.
Inspired by this post? Check out our Los Angeles audition listings!