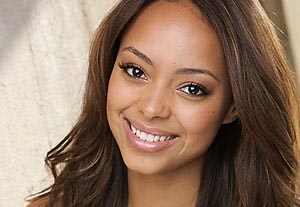 "I wanted to make everyone more involved in school and create memories for everyone," says former student council president and graduate of
the
Beverly Hills High School, Amber Stevens. Daughter of well-known radio DJ Shadoe Stevens, Amber now stars in
Greek
, the number one rated show on ABC Family.
Possessed with a variety of talents – Amber is a genuinely positive person who lifts the spirits of the people around her. She's also incredibly funny, and laughs at herself with ease. Did we mention that she also sang back-up vocals on
American Idol
, and is launching a music career?
Chosen as this week's Girl2Watch, Amber will be featured in a series or articles, fun facts and social media tweets through this week for subscribers of Girl2Watch.com.
In this BackStage, Actor2Watch, exclusive, Amber shares her thoughts on acting and getting roles.
ACTOR2WATCH: What was your first role?
AMBER STEVENS: My first commercial was an Old Navy commercial where I stood in line in front of a club and Fran Drescher was in it.
A2W: Do you have a really bad audition story or moment?
AMBER STEVENS: I was pretty mortified once by reading with the casting director's assistant and they were mouthing all of my lines. It completely threw me off and was really awkward and I didn't know how to act. The audition was just crap!
A2W: What would be your dream role?
AMBER STEVENS: I would love to play Mimi on
Rent
actually.  Because acting is actually a pretty new thing for me, I only started acting like four years ago, so I never did theater before.  I would love to try and do it. And then on top of it to play Mimi and get to sing the songs that Jonathan Larson wrote for that show, I would just be in heaven I think.
A2W: Is there anything you wish you could tell someone that's just starting out in acting?
AMBER STEVENS: One of the best things you can do is take an on camera class where you just learn about hitting your mark, and lighting, and the way you look best on camera. That was all a huge surprise for me, learning that stuff on set, and I'm still getting used to it.  So I think to be a really prepared professional that kind of class would really help.