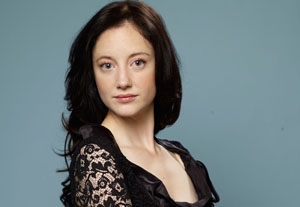 Andrea Riseborough has one of those faces that can meld into whomever she needs to portray, whether playing gal pal to Sally Hawkins' Poppy in Mike Leigh's "
Happy-Go-Lucky
," donning a beehive hairstyle to play a car plant worker protesting sexual discrimination in "
Made in Dagenham
," or appearing as one of the more-experienced grownups in the haunting "
Never Let Me Go
." Offscreen, she's a beauty, but the Brit doesn't see herself that way. "I've always thought of myself as pretty plain," says the humble Riseborough. "I don't bemoan that. I'm actually quite pleased that the symmetry of my two eyes, lips, and nose are fairly malleable in terms of who I can play. My face has always served me well. I have the capacity to look both truly ugly and fairly attractive, which is useful."
For her latest role as
Wallis Simpson
in the new film "W.E.," co-written and directed by Madonna, Riseborough transforms into her most colorful role yet as the American divorcée who famously stole Edward VIII's heart and the king from his throne, marrying him and becoming the Duchess of Windsor. Simpson made up for her plain—some say masculine—looks with high fashion, expensive jewels, and a gregarious personality and is played by Riseborough to the fullest. The standout role will certainly open up further opportunities for the Royal Academy of Dramatic Arts graduate.
Here are five things Riseborough realized from working on "W.E."
1. Thank you, Margaret Thatcher.
Riseborough believes she landed her "W.E." role in large part because of her portrayal of another historical character, Margaret Thatcher, in the 2008 TV movie "
Margaret Thatcher: The Long Walk to Finchley
." Impressed by Riseborough's performance as the future prime minister, as well as her work in other projects, Madonna sent Riseborough the script for "W.E." and requested a meeting. The actor was immediately intrigued, especially with Madonna's choice to tell Wallis' story through a series of flashbacks from the present day, in which a young admirer named Wally explores her idol's personal belongings before they are sold at auction. "I responded to the script very strongly. I felt that that was a brave, bold, and unique idea," says Riseborough, who was also intrigued by how Madonna had created scenes in which Wally and Wallis interact.
2. There was much more to Wallis Simpson than met the eye.
Riseborough knew little about her character in "W.E." before she began researching her. What the actor found surprised her. "My perception was only of perhaps a still-monochrome image of androgyny and couture and this beguiling smile. But when I started to look into her, which happened as soon as I received the script, I found all sorts of vulnerability and flaws, fears, historical truths that didn't seem to match up, and really that the whole thing was almost like a ginormous and endless puzzle of people's perception—a public perception of what a woman was, as opposed to who she actually was."
3. Madonna rocks as a filmmaker.

Says Riseborough of her director, "She was very helpful, invaluable. There was no page unturned. She was so passionate about the story. She'd been working on it for 10 years. So it really was just a huge labor of love, and there were so many images, quotes, anecdotes from dinner parties, deeply personal letters that we had at our disposal. It was quite wonderful."
Throughout the production, Madonna continued to impress Riseborough. Says the actor, "I could not have enjoyed more working with her, because she's so prepared, and every moment had to be vital and was, and that's exactly the way that I feel about my work. We met in a very artistically complicit place. It was a really truly fulfilling experience."
4. She was stunned by the artistry of the costumes in "W.E."
Riseborough estimates that during production there were nearly 80 costume changes, including pieces by Dior that were designed for the duchess but not made until now. At times, Riseborough found herself wearing some of the jewelry pieces that belonged to Simpson, which helped the actor channel her character. "I have a whole different respect for the architecture of couture and for how it affects those around," says Riseborough. "The impeccable turnout and some might have said at times garish—but always avant-garde—tastes genuinely enabled [Simpson] to be noticed—a woman who believed that she really didn't have much to show off physically perhaps." At one fitting, a seamstress working on the film wept at the actor's feet when she saw her creation worn by Riseborough. "It had hundreds of panels around it all sewn together in a truly complex pattern. It was the most complicated architectural feat. It was like rocket science."
5. Learning is part of the job.
"I'm always learning," says Riseborough. "I think that's the most fascinating part about the job, and the most fulfilling part is that, as with anything you're terribly passionate about, you can not only learn day to day but moment to moment."
From her time spent on "W.E.," she says she appreciated the value of seeing life through Simpson's eyes. "When you stop having an objective relationship with the character, and you go past being subjective—but really adopt, preempt, improvise their reactions to the world, their opinions, what they actually did, what they might do, how they would feel about any given thing—you gain a different perspective, as it were, because you harbor a different spirit, a different outlook. You adopt different priorities. It's not to say that you disappear—because, by nature as actors, we are our own tools, and I only have the flesh, bones, experience, intellect, emotion that is within me as a tool to be able to express a character or transform into somebody else in part. But the two things coexist—them and you. So you are afforded the opportunity to see the world through different eyes with any character. And I certainly was afforded that opportunity with Wallis."