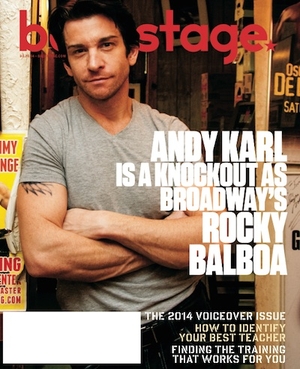 Andy Karl graces our cover this week to chat about Broadway's newest knockout, "Rocky."
---
Andy Karl on His "Rocky" Workout Routine.
"I knew I had to get in shape for the show, so I started training before I even got the role. I put my mind to it, thinking you have to train like Rocky would. That meant getting to the gym, using a lot of weights; I had never worked out so hard in my life. Now I'm one of those guys who drinks protein shakes and talks about push presses.
"There's one guy in the show who's actually a trainer, and we discuss these things. It's so cheesy, but it's interesting for me to go that route physically because it changes your mentality. It's tough, but it's the life of a boxer. There's something Muhammad Ali once said: 'I hated every minute of training, but I said, "Don't quit. Suffer now and live the rest of your life as a champion." ' He knew he wanted to be a champion, so he didn't give up even though he hated it."