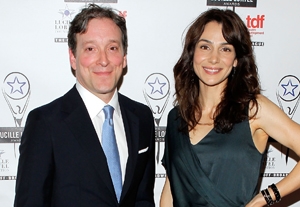 Annie Parisse and Jeremy Shamos play not one but two different couples in Bruce Norris' "Clybourne Park." In the first act, Shamos is Karl Linder, a character taken from Lorraine Hansberry's "A Raisin in the Sun," and Parisse plays his pregnant wife, Betsy, in the 1950s. The second act flashes forward to 2009, and Parrise and Shamos are Lindsey and Steve, a progressive couple looking to build a new home in a struggling community.
Back Stage caught up with the actors at the Lucille Lortel Awards on Sunday night and talked about playing different characters in the same show and tense moments onstage.
"Clybourne Park" started Off Broadway at Playwrights Horizons and moved to Broadway. What was the process like?Annie Parisse:
It's kind of amazing. It doesn't happen a lot, and at the same time aren't all the Tony nominees this year Off-Broadway transfers? All the plays. Go Off-Broadway!
Jeremy Shamos:
I feel like it's really rare to get everybody together.
As an actor, how do you evolve your character as you're moving a show?Shamos:
I feel like it's been really natural and organic the way that it's developed because we all know each other and trust each other. We haven't forced any changes. We've grown kind of as an organism.
Parisse:
It's funny because somebody who'd seen the show at Playwrights Horizons came to see it recently and told me how much the show had changed. I was like, "Really?" It doesn't actually feel like it's changed that much, and so I was actually really surprised to hear that because the process has been so organic for us.
Shamos:
It's like your own baby that you don't see it growing.
In "Clybourne Park," you play different characters in the first act and the second act. How do you prepare for playing two different characters in one play?Parisse:
In this show, I really looked at it as two different plays. It really is like that. For the audience, there are really satisfying relationships between the characters that we play in Act 1 and the characters that we play in Act 2, but from an acting point of view, I just didn't think about it at all.
Do you play on any of the connections between the two acts when you're doing it?Shamos:
I feel like the audience does. I feel like we don't.
Parisse:
I had a weird thought today for the first time, after we've been doing this show on and off for two years, that in a weird way, it's kind of funny that Betsy is deaf because there's something really tone deaf about Lindsey, just in terms of reading the room.
Act 2 is really tense for the audience. What is it like as an actor with all that energy coursing though the theater?Parisse:
It's really fun.
Shamos:
It's exciting.
Does it ever get uncomfortable as an actor?Shamos:
Not really.
Parisse:
Remember that time [harsh joke from Act 2] and that man in the audience was like, "Yeah! Yeah!" That's the only time I've ever been onstage in this show that I was like, 'Whoa, who said that?" The temptation to turn around and say, "Who said that?" was so strong in me, but it's only happened once.

Shamos:
Mostly I feel like the play is so well written that you know even though everybody's uncomfortable, the play is taking care of it. The ship itself is very sound.
Suzy Evans is the Senior Web Editor at Back Stage. Follow her on Twitter: @suzyeevans.