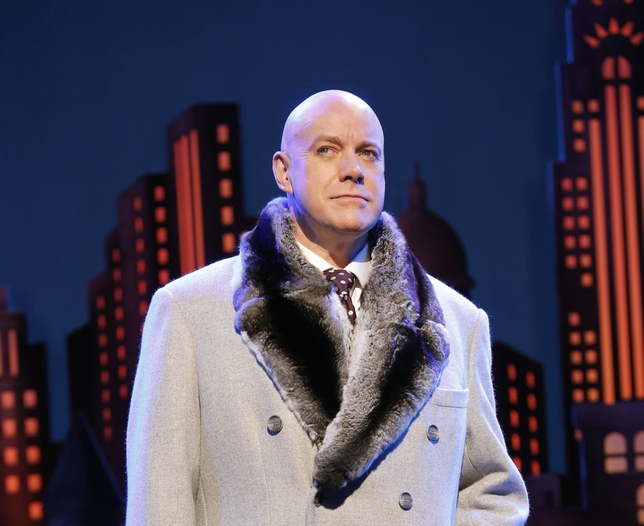 Anthony Warlow is the perfect Daddy Warbucks. It's a good thing, too, as Australian actor Warlow had to deliver credentials to American Equity to gain the necessary permissions to work stateside.
"I understand that it's a big thing being a big fish in a small pond in your own country, but here I feel like a guppy coming into this community," says Warlow, who stars in James Lapine's revival of "Annie" at the Palace Theatre. "But I've been embraced by it and feel very comfortable."
Warlow has been offered many opportunities to work on the Great White Way, including "South Pacific" and "Follies," but obligations in Australia prevented him from making his Broadway debut until now. He has played billionaire Oliver Warbucks Down Under before, but he sees this production as an opportunity to put a different stamp on the role.
"This is like a rebirthing for me on Broadway," says Warlow, who turned 50 last year. "It's a very exciting time for me. There's a lot of people who are making their debuts here, and a lot of people have a real pride for the business and for the production and an integrity. But they're also able to play, and I think that's really wonderful."
You've played this role a few times in Australia. What is it like returning to a role in a different production?
Anthony Warlow: There's an interesting thing that happens where you actually discover as an actor the instincts that you had originally. You find the deep instinct is so strong that you always go back to it, and yet with a different director, you can find other qualities and other areas that you can put your mark on. That to me is a challenge for this production… When I spoke to James [Lapine] about doing this production here on Broadway, he said, "Are you prepared to strip off everything you've done and rebuild this character?" I said, "Absolutely," because that's the challenge for me.
What are some of the new characteristics you've discovered working on this production?
Warlow: The writing in the show is strange for Warbucks. In the original concept, he comes in as this big blustering cantankerous kind of character, who is angry at everything. All of a sudden, he decides (while he's offstage, basically) that he's going to adopt this child, and that's a very big arc to create in front of an audience or not in front of an audience… What James has done is actually softened those moments. And what I've had to do as an actor is fill those gaps while I'm onstage to give the audience the clues that, well, there might be a little bit of a potential adoption going on here. We all know it's going to happen because we know the story so well, but I'm looking at this as if no one has ever seen the production before and that means the storytelling has to be right on its peak. So the choices that one makes as an actor have to be dead on the money.
What is your acting training?
Warlow: My background is classical opera. I started my career at the age of 18. As soon as I left school, I went to audition for a role in Opera Australia's production of "A Midsummer Night's Dream," and I played Puck, which is an acting role in Britain's production but he does have to sing a couple of moments in the show. I'd been learning to sing since I was 11 and literally was picked up by Richard Bonynge, who was the musical director of the company, and he invited me to stay with the company. I stayed with Opera until I was about 25 and then went off to do commercial theater…I was sort of an early crossover artist in Australia. The training basically came from the expertise of the people I was working with at the time as well as building an instinct. What I've done is to be thrown into it first in a theatrical sense and building a technique myself. Find out what works, what doesn't, and that technique works perfectly for me. Fits me like a glove. We are always learning and there's something new every day.
How has it been working with Lilla Crawford, who plays Annie?
Warlow: Lilla is an extraordinary child. She's a chatterbox. She'll be chatting away to me and telling me jokes and asking me to make riddles up, and we get on really well. While she's doing this, direction is being thrown at us. I'm thinking, "Lilla, you've got to start listening to this," and you feel like she's not engaging. And all of a sudden, we do it, and she's dead on the mark. But I did say to her, "Lilla, you know I'm an old man; you've got to be a bit quiet when we're working. I've got to take in the information." She'll say, "OK, but can you make up a riddle about Lindsay Lohan?" She's just delightful. That's the beauty of this show for me because in Australia, the rules are different. We have three casts of children. Over an eight-show week, I might have three or four Annie's. That makes it tough to form a relationship with one child. Here, from day one, I have a great relationship with Lilla onstage and off.
What advice do you have for aspiring actors?
Warlow: It's about respect and knowing the history of the industry that you're about to partake in. That's vital. So many young people in Australia go to the colleges, and learn how to sing a Sondheim song. That's all great. They need to know what went before them so they have a history and an understanding of the tapestry that they're part of. The more you know, the more you can do.