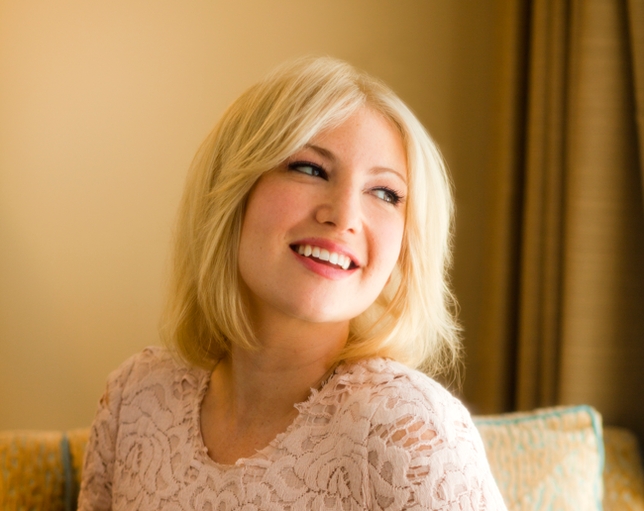 Ari Graynor has proved that she's nothing if not game.
Her newest film—"For a Good Time, Call…," about roommates running a phone sex line—has presented Graynor, 29, with the chance to get up close and personal with members of the fourth estate. Just how inappropriate do journalists get when discussing her performance as phone sex operator Katie?
"All formality goes out the window," she says. "Everyone feels like they're our best friend, which I couldn't love more. People are coming in and asking us to have fake phone sex with them!" And does she? "Anything to sell the movie!" she says with a laugh.
The afternoon of the movie's New York City red-carpet premiere, Graynor (who will also be seen in the upcoming "10 Years") is alternately giddy and contemplative in the Library at Trump Soho, reluctantly refraining from over-caffeinating and greeting her just-arrived parents with the kind of excitement one doesn't expect from the star of a movie about dirty talk—although this one marks a definite turning point in Graynor's career.
The actor who stole "Nick and Norah's Infinite Playlist" out from under Kat Dennings and Michael Cera in 2008 makes her debut as a lead—and scores her first executive producer credit. If talking dirty to interviewers will get the movie and her performance out there, who is she to deny the request? As is so often the case, the sex is just a curtain for something a little more substantial.
In the film, Graynor plays the ballsy Katie, who survives the tough economics of New York City by turning phone sex into a lucrative business venture with her roommate Lauren (Lauren Anne Miller). The premise and follow-through are pure romantic comedy (hate-at-first-sight turns to love), but instead of romance their reward is a rock-solid friendship.
"It is frustrating that people have a hard time telling other female stories besides, Is she going to get the guy?" Graynor says. "And the first thing I thought when I read this was 'How amazing to read a script where the central relationship is not a romantic one.' "
The script was originally written by Miller and Katie Anne Naylon four years ago in the pre-"Bridesmaids" dark ages; studios were still shaking their heads at R-rated female comedies. Frustrated by the closed doors, Miller and Naylon decided to do it themselves. Fans of Graynor's since "Nick and Norah's Infinite Playlist," they had written the role of Katie with her in mind and sent it to her with a note attached asking her to be as involved in the entire process as she wished. Unable to resist the allure of a movie about female friendship, Graynor accepted.
Graynor, Naylon, Miller, and director Jamie Travis sat around a table reworking the script for months prior to the start of production, eliminating anything that might detract from the reality of the relationship between the two women. Low-budget and made on the fly in L.A. over the course of 16 days in 2011, the movie turned out to be right on target in terms of the 2012 cultural zeitgeist. In addition to the DIY movement exemplified by indie smash "Celeste and Jesse Forever," written by and starring Rashida Jones (and in which Graynor has a supporting role), "For a Good Time, Call…" is hitting theaters a month after Leslye Headland's R-rated comedy "Bachelorette" jumped to the No. 1 spot on the iTunes movie rentals chart.
Though Graynor isn't averse to discussing hot topic "funny women"—particularly when she points out that men across the country have been embracing the film at screenings—she won't mourn when the subject is put to rest.
"I'm so grateful to be a part of that conversation, but hopefully people will see that comedy doesn't have to be gender specific," she says. "It shouldn't be an issue that we have a black president. Gay marriage shouldn't be an issue. And women being funny shouldn't be an issue." Graynor brings up the 1980s films she grew up watching starring Goldie Hawn, Bette Midler, and Shelley Long as proof that women being funny in movies is nothing new.
Anyone who's followed Graynor's career knows that women in general and Graynor in particular are funny. She first drew attention as Meadow Soprano's bipolar roommate on "The Sopranos," then earned kudos for her Broadway work in "Brooklyn Boy" and "The Little Dog Laughed." But it was her performance as the extremely drunk and lost Caroline in "Nick and Norah's Infinite Playlist" that made her the go-to actor for a certain kind of brash blonde. Now she's poised to return to Broadway in October in "The Performers" opposite Cheyenne Jackson, Henry Winkler, and Alicia Silverstone. Her year of living sexily for "For a Good Time" has, it turns out, reaped unexpected dividends: "The Performers" takes place in the porn world.
"I am nervous about carving out too big of a niche for myself in the comedy sex worker industry," Graynor says, laughing. "But Peeps is one of the all-time greatest characters, and I was like, 'There's no way this can't happen.' "
Despite her busy film career Graynor has come back to the NYC stage with some regularity, but she doesn't sit around, as she says, "playing the game of chess of what and how." She jokes that there are a lot of reasons to take a job, from insurance to wanting to live in an apartment, before more seriously explaining that every project brings with it a selling point, be it the script or the cast members. She did Broadway's "Relatively Speaking" last season for the chance to work with Woody Allen and director John Turturro; for her next few jobs she wants to lose herself in the character. "A lot of it is just opportunity," she says. "I think it's important to have goals and to have dreams, but you also have to live in the moment of what the reality is. And first and foremost, I'm an actor who wants to work."
She is also, somewhat surprisingly, an actor increasingly unnerved by live performance. As always, she's willing to tackle the uncomfortable. "As I've gotten older it terrifies me more and more," she says. "Onstage was where I felt the most confident and in control and free, and as I've gotten older it's gotten more and more daunting. And I think that's also part of my desire to keep confronting that and pushing through, and trying to find that childlike or youthful ignorance against fear and keep at it. It just makes it that much more invigorating and humbling. All we can do in life is push through the things that make us afraid and try to be better."
---
Ari Graynor on her "Performers" character:
Peeps is all heart. She's kind of wide-eyed and sweet and open, open, open. Whereas Katie [her character in "For a Good Time, Call…"] is someone who's kind of well-defended and has a lot of bravado and confidence and then you see her underbelly, Peeps is the reverse story; she's all heart and just completely open and vulnerable to the world, but surprisingly smarter than people might give her credit for. I just love her. And Cheyenne Jackson and I get to be a couple! He is so good-looking, it's absurd. It blinds your eyes. We shot the poster recently, and we had to shoot it all in nude leotards to make it look like we're naked. So there I am in this incredible red wig and a nude leotard and massive high heels, and there's Cheyenne wearing a bow tie, nude hot pants, and cowboy boots in all of his bronzed glory.