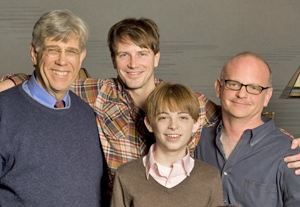 Performing the nine one-act plays of Horton Foote's "The Orphans' Home Cycle" is a daunting challenge. But five of the main actors wouldn't have it any other way. Many have worked together on other pieces by the late playwright, who died in March at age 92. More than a few Foote plays have been helmed by Michael Wilson, who directs the cycle Off-Broadway at the Signature Theatre Company and previously at the Hartford Stage. The three-part production, which plays in repertory, has received raves, and there are rumors it will be heading to Broadway in the fall. Ironically, the work may not have come to fruition at all, because of the economic crisis, says Wilson, who is artistic director of Hartford Stage.
"The world changed September 2008, and it had a terrible impact on theater companies," says Wilson. "We saw many companies close. So people started scurrying to try and figure out how to respond to the crisis. And in the midst of this, Hartford Stage was very fortunate to receive from the Andrew W. Mellon Foundation [a] half-a-million-dollar grant for this project. But I can vividly recall the finance committee meetings of our board where they said, 'What! A three-part, nine-hour, 22-actor, 67-character play in the worst economic crisis since the Great Depression?' Obviously, the Mellon gift was a great boost, but it wasn't going to cover all the cost. It was still a leap of faith that [artistic director] Jim Houghton and Signature Theatre Company made the same leap, and if we hadn't partnered together, we wouldn't be here today. We all felt very strongly that this was something distinctive and special in American theater and had to be done."
All the actors express agreement; perhaps the feeling is summed up best by Bill Heck, who plays Horace, the work's protagonist based on Foote's father. "This is a once-in-a-lifetime gig," he says, adding, "After this, it's all downhill." Set in the fictional town of Harrison, Texas, from 1902 to 1928, "The Orphans' Home Cycle" is a complex family drama that explores such emotionally charged issues as abandonment, responsibility, guilt, recrimination, and love over the course of three generations.
Besides Heck and Wilson, Back Stage spoke with child actor Dylan Riley Snyder, who plays three different children; Pamela Payton-Wright, who performs a gallery of eccentrics; James DeMarse, whose onstage alter egos are a pillar of the society and an alcoholic, abusive landowner; and Hallie Foote, inhabiting an upright matron, an overindulged wife, and a heavy-drinking, mean-spirited broad. Hallie is Horton's daughter and has dedicated much of her career to performing in her father's plays. Indeed, last year she was nominated for a Tony for her performance in Foote's "Dividing the Estate."
Back Stage
: How do you maintain your stamina?
Hallie Foote
: I've found doing these plays for seven months builds stamina. Rehearsing during the day and doing them at night has built that muscle. I did think the other day, "Wow, a matinee and an evening performance of a three-hour play." It's very different from a 90-minute play. You get tired by the second one. And if you're doing a Friday and two shows Saturday and two shows Sunday, it's very tiring by the last one.
Pamela Payton-Wright
: Hallie's husband, Devon [Abner], who is also in the cast and does push-ups with one hand, suggested I do 20 minutes at the gym. I do that two days in a row.

Bill Heck
: I have a cup of coffee before every show. But Hallie is right. The play builds stamina, specifically early in the Hartford rehearsals before we opened. On Sunday after we had done the preliminary rehearsal on the first three plays, we would run them, and then the next Sunday we'd do Part 1 and then Act 1 of Part 2, and then add on an act each consecutive Sunday to start building stamina. Really smart on Michael's part to have us do that.


Dylan Riley Snyder
: For me, if you start tired, you're energized by the end of the performance. It takes me two hours to go to bed after a performance.
Back Stage
: What are the challenges in doing a Horton [Foote] play in general and these plays in particular?

Foote
: My father's writing is deceptively simple. If you work on him, you'll see he's not simple at all, and it takes a lot of digging to get at the heart of things. With these plays in particular, the challenges were logistical, just to get it all physically realized: the sets, the costumes, and the panels that are moving. We have rain coming down at one point. You name it, we've got it: music, lights, all the visuals. Michael had this vision. If he didn't, I don't think we'd be here. My father doesn't insert descriptive language. He thinks that's the job of the producer, director, and actor. He won't tell the actor when to cry. He was an actor, and he thinks it's important for them to have as much freedom as possible.

Michael Wilson
: He also worked with some of the great innovators in theater: Agnes de Mille, Jerome Robbins, Martha Graham, the Russians. He has this sense of American acting developed from the Russians who came over here with the idea of the Method, if you will. But actually, he was very experimental. And he was interested in what designers brought to the process. He has great respect for actors but also designers and directors.
Back Stage
: How do you put an emotional handle on a world that seems so far removed?
Heck
: I don't feel it's removed at all. I've read so many plays set in the present that are not nearly as close to home or to my experience or to my family's experience. This goes right to the heart and is extremely present in what it means to be a person in the world who has to deal with other people.
Wilson
: There's that line, "How do human beings stand all that comes to them?" It's a great line and a great theme in all of Horton's work, and when Bill steps forward and says that, it shatters you. You don't have to look beyond today's headlines and think, "How do human beings stand all that comes to them?" Horton's fascinated with the resiliency of the human spirit and how people go forward in spite of all the things that befall them.
James DeMarse
: My whole experience [with Foote's work] started in "Trip to Bountiful." I played the sheriff in that. It was a difficult connection. He was together, solid, his feet on the ground. I was used to doing fairly neurotic persons in modern plays, pulling their hair out. This was really a challenge to me. And then doing "Dividing the Estate" with Hallie and Michael. And again, the characters seem like real, steadfast people.
Back Stage
: And Vaughn, one of your characters here, certainly is.
DeMarse
: But then there are the little cracks inside that make him vulnerable and universal. All the characters are fighting for something. They're so complicated, deep, and moving. When I leave the theater, they continue to have resonance for me.
Back Stage
: Hallie, what are the issues in playing members of your own family?
Foote
: I've played lots of members of my family, so it's okay. And it's always a compilation and memory, which is only one version of the truth. There's a side of me that feels very impersonally about it. But then I'll be backstage some nights, and I'll get very emotional, especially during "Courtship." I don't know why. I do know why. My grandmother was so brave to stand up to her parents and elope. It must have been terrifying, and yet she had this belief in this man, and she did it. I also think about my great-grandmother and her resilience in terms of her sons. She had three sons who didn't amount to anything, but my father distilled them into one character, "Brother." So I think of that. How did she do it? She was not a sentimental woman.
Back Stage
:  How do you address aging on stage, physically and vocally?
Foote
: Mrs. Vaughn doesn't age that much. It's 12 years, and I don't think her voice has changed. But there's vulnerability in her because she has lost her husband. Emotionally, things have shifted. It's a seismic shift. Her world has been taken away from her.
Wilson
: I was so astonished the other night when I saw Bill playing this very young man on the train, and I almost didn't recognize him. Yes, he has changed his hair, but also there's this openness, this hope, this buoyancy, this youth. It's 1910, and then it's extraordinary how we see him age in nine hours when it's 1928.
Heck
: There are a few external things, such as the hair. And there's his reserve and hesitancy that comes with experience. But that's all born from what Horton is telling you. The man Horton wrote in "Death of Papa" is not the man Horton wrote on the train going to try and reconcile with his mother.
Back Stage
: The plays span 26 years. How do the respective eras inform the way you move and speak?
Foote
: In 1902 the language is more formal. Also, the clothes change. There are the knife-cut dresses, the cinch waist. There's a line to them, and the women wore corsets. We don't wear corsets, but they designed the costumes so that we look corseted in. So you sit a certain way.
Back Stage
: Playing multiple characters is yet another challenge. James, how do you make sure the two characters you play don't get confused?
DeMarse
: I have a little checklist. Where is Soll Gautier? He is on a plantation. What are his ailments? He has problems with his eyes and problems with his body. He's trying to connect the dots of his life. My checklist for Mr. Vaughn is that he's a very powerful man and he took care of his brother and sisters when he was a boy. He came up the hard way, and that is the jumping-off point for me. I can identify with a lot of this.
Foote
: I don't have a list. Maybe I should. I go back to the script. I'm not consciously doing anything physical. But there's a subtle shift [from character to character]. I look different: My hair is different, and that makes me feel different.
Back Stage
: Dylan, how do you find the hook into the three different boys you play?
Snyder
: First of all, Buddy is very wild, so I can't really incorporate him into my other two characters, Horace and Horace Jr., who are more honest and true. Distinguishing them is mainly just thinking about Horton's words. Also, thinking about where they're going, their intentions in the scenes and in the play—that tells me how to play them.
Wilson
: He, of course, has the distinction of playing Horton on stage. Horton is the 10-year-old in "The Death of Papa."
Back Stage
: Will these plays have to be reconceived if they move to Broadway?
Wilson
: At the Signature, we have been blessed with a 160-seat house. It's so intimate you feel you're sitting in the living room of these families. But before we were here, we played a 500-seat theater at the Hartford Stage, and the actors were very adept at opening their bodies and lifting their voices. Part of our work here has been honing their performances to this space. I think, when we move to Broadway, we will be about allowing that openness again, which is not unlike what we did with "Dividing the Estate" when we moved from Off-Broadway to Broadway.

Back Stage
: What advice would you give young actors attempting to launch a career?
Payton-Wright
: Just find what sets you on fire and do it. The money will be there. At least it happened it my case. And most of my work is in theater.
Foote
: I'm with Pamela. Do what you love, and the rest will follow.
DeMarse
: Go to a good school. Get a Master of Fine Arts. In your final year you get to audition for agents, and you can end up with an agent. Keep working, even if it's only a staged reading. Try to get involved in a small theater company; start your own company.
Heck
: You know, there's no template for this—part of what's so exciting about it and also so terrifying. Just do what sustains you. And be aware if it's not sustaining you anymore. I've had friends who've been very passionate actors, who have moved on and feel so grateful that they took that leap. But there's a stigma attached to moving to something else. Everyone says, "Oh, that's a shame," as if you've broken some sort of code. I think that's crap. Find your way.

Wilson
: Horton Foote was an actor. And in his first play that he wrote and starred in, he got great reviews for the writing and bad reviews as an actor. He eventually left acting and became a great American playwright.
"The Orphans' Home Cycle," Parts One, Two, and Three, runs through March 28 at the Signature Theatre Company, 555 W. 42nd St., NYC. Tickets: (212) 244-7529 or www.signaturetheatre.org.