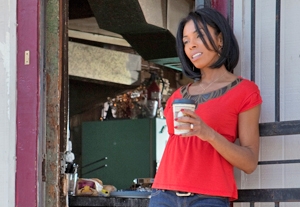 Khandi Alexander is a chameleon. She invests each role with such presence, such verve and realism, that we easily believe her as anything from a downtrodden drug addict to an overly maternal coroner. That need to inhabit such a full range of personas is, says the actor, one of the guiding forces of her career. "I don't like to be pigeonholed; I don't like when people won't see me for something because they don't think I can do it," she says. "I always feel like, at least give me the shot."
She is so up for anything that she'll even throw herself into grueling real-life research. As prep for her current gig as no-nonsense barkeep Ladonna Batiste-Williams on HBO's "Treme," Alexander worked in a New Orleans watering hole during Mardi Gras. "[The producers] took me to a funky, lowdown, gutbucket bar and said, 'You work here, and you're gonna work here for the next 10 days from 3 to 1 in the morning,' " she says with a laugh. "All of a sudden, the customers were like, 'Hey, isn't that the girl from…?' I made a lot of tips, and everybody wanted me to serve their drinks."
The role reunites Alexander with writer-producer David Simon ("The Wire"), whom she last worked with on the critically lauded miniseries "The Corner." Her gritty, multifaceted performance in that show as a drug-addicted mom trying to get clean earned Alexander some of the best notices of her career. "David's a brilliant, brilliant writer," she enthuses. "He really has always written work that, to me, feels very much like a play in its realism. I wanted the opportunity to do that kind of acting again."
"Treme" came on the heels of Alexander's departure from another show: CBS's monster hit "CSI: Miami." After playing empathetic medical examiner Alexx Woods for six years, Alexander felt it was time to move on. And even though she has been a key part of several successful TV series at this point, she still uses back-to-basics technique when it comes to developing a new part. After Simon offered her the role of Ladonna, the actor journeyed to New Orleans and walked around until she found the character—literally. "I walked into a little store, and there she was," says Alexander. "I watched what she bought, looked at what she had on, followed her for a couple blocks, taking note of her hair, her nails, her shoes. I enjoy that because it gives me a level of realism that's grounded in something beyond imagination. I like to be able to have the person in my heart as she really is."
Dancing Queen
Alexander says she has always wanted to act. But, growing up in New York City, she didn't necessarily see "a clear through-line of continuous work for a black woman as an actress." Instead, she trained as a dancer, touring with Bob Fosse's "Dancin' " and appearing on Broadway in the original production of "Dreamgirls." She eventually began studying acting with Stella Adler's Arthur Mendoza, but performing took a back seat to Alexander's burgeoning career as an in-demand choreographer. In the late 1980s and early '90s, she toured the world with Whitney Houston, honing her acting craft during two-month breaks.
"One day, Whitney came to me and said, 'I'm gonna do this movie called "The Bodyguard," so I'm taking some time off,' " recalls Alexander. "I had saved my money—because during my years of being a chorus dancer, I had learned to save my money—so I was prepared. I said, 'I'll give myself two years. If I can't support myself as an actress within two years, then I'll go back to choreography.' "
Within two months, Alexander had booked her first TV series, a Dan Aykroyd–created comedy focusing on bumbling cops. The show didn't lead to instant stardom, though. "We got picked up, and then the L.A. riots happened, and they were afraid to air the show because we were always getting beat up by gang members," she says. "But I didn't look back. By the end of the two years, everything fell into place."
After landing gigs in projects like "What's Love Got to Do With It" and "Poetic Justice," Alexander nabbed a regular role on the absurdist workplace sitcom "NewsRadio" as Catherine Duke, a stylish radio news anchor. The job, which allowed the actor to play opposite late comedic great Phil Hartman, remains one of her favorites—but after four seasons, she realized she was in danger of being typecast if she stayed with the show. Alexander was simultaneously recurring on "ER" as Dr. Benton's strong-willed sister and says it seemed like the decision-makers around town weren't taking notice of her range.
"The auditions that I was getting were exactly like the job I was doing on 'NewsRadio'; it was as if the work I was doing on 'ER' was not being recognized," she says. "So the only things I was being allowed to audition for were small roles in comedies. It broke my heart. No one would see me for anything else. I knew, in order to open up my career, I had to leave or that's all I would ever be given."
Against Type
After departing "NewsRadio," Alexander took on a variety of roles: She sang and danced her way through a commanding performance as Velma Kelly in "Chicago" on Broadway and stripped herself of sparkle to do raw, unflinching work in "The Corner." And even when she has a regular TV gig, she always makes time for theater. During the 2007–08 writers strike, she starred in Dael Orlandersmith's heart-wrenching "Bones," an experience that ultimately led Alexander to leave "CSI: Miami."
"I had always done theater during the entire six years I was with 'CSI: Miami,' " she explains. "But you always know in the back of your head you've got to learn a bunch of lines for the show, so even though you're doing theater, you're divided. During the writers strike, it had been the first time in six years when I could just completely focus on the play. I loved it so much, so I came to the decision that it was time for me to move on."
Now "Bones" is getting a second life: Alexander will reprise her role when the play comes to L.A.'s Kirk Douglas Theatre this summer. "I like to do different things," the actor muses. "Now I'm due for a comedy." And, she notes, even though she has made tough choices to maintain that type of career diversity, she doesn't regret a second of it. "If you choose to be that kind of actor," she says, "you'll have to fight to sustain those kinds of opportunities. I will fight for it."   
Outtakes
- Worked with Phil Hartman twice prior to "NewsRadio," in the films "CB4" and "Greedy"
- Notes that "Treme" co-creator David Simon is not exactly "actor-friendly" when it comes to certain things; "I'm going to have to out him now and tell you a true story," she says, laughing. "He may kill me. There was this incredibly emotional scene I had to do on 'Treme,' and the director of the episode was off with the camera crew setting up shots. I went over to David, and I said, 'I need some help with this particular scene.' He looks at me and he says, 'Okay, look: Don't overact it. But don't under-act it. Just get it right, okay?' And then he busts out laughing. I told him, 'You know what, honey? Don't go into directing.' "