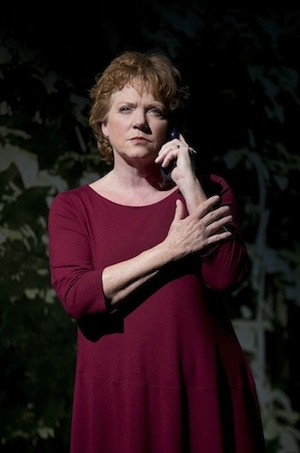 Becky Ann Baker lives across the street from Playwrights Horizons and has been a working actor for more than 30 years in New York. And she will finally make her debut at the theater in Amy Herzog's "The Great God Pan," directed by Carolyn Cantor.
"It's funny because my husband and I always joke that our favorite jobs are short and close to our home," says Baker, who is married to actor-director Dylan Baker. "The play's only an hour and a half, and it's across the street. I guess that puts it at the peak."
Baker plays a mother coping with her son's unknown past and the potential ramifications it might have on their future in Herzog's play, which opens on Tuesday. Baker has played many mothers of late, including Lena Dunham's mother on HBO's "Girls" and Katharine McPhee's mother on NBC's "Smash."
"As an actor my age as a woman, that's a lot of what's written for us," she says. "I also think there's such a variety of moms. It's like saying, 'Oh you play a woman.' It's just such a large spectrum of experiences and stories to tell about women who are mothers."
What has the process of working on this play been like for you?
Becky Ann Baker: It's really exciting to be working with such young women in this business that are so savvy and so smart… [Amy Herzog] uses a kind of economy in her writing; there's so much packed in every scene, but you don't realize it because she's so economical. I just think she's something else. I really do. She reminds me of Richard Greenberg, who I also think writes with such economy. Sometimes when you work on a new play, especially in its first incarnation, there are rewrites or changes or shifts or whatever. This play was just perfectly written. We changed barely anything.
What do you enjoy about working with young, emerging artists in the theater?
Baker: It's pretty exciting. It seems like for a while there I was continuing to work with many wonderful directors, but more in my age range or older. And it just seems like recently, all of sudden, there's this stream of really exciting theater writers that are young and actors as well that are really passionate, articulate, and well-trained. There's this new passion to these actors that are coming out in terms of the theater. I think for a while there, everyone was in that, go to Hollywood, do a TV series, and all these kinds of things. There seems to be a reengagement in terms of the theater and the passion for the work. Even the actors that are doing a lot of film and television seem to be reconnecting with their desire to do a lot of stage work.
Why do you think that is?
Baker: I don't think there will ever be a time when we don't prefer in a way to tell our stories kind of tribally, where we're onstage telling our story to our people…It's just always thrilling to be able to tell it right there in the present and not have it all cut, edited, and not in your control. It's your own experience. To get to experience it firsthand is really kind of thrilling.
"The Great God Pan" is a really intense, unsettling story. How do you keep yourself emotionally healthy?
Baker: There's just so much going on in this play, and I have two scenes before we take the curtain call where I just sit and listen to the rest of the play backstage. I think by the end, it's a very healing play… To me, this play has illuminated how many things we don't know that are the fabric of our lives that we don't recall or were influences when we were very young that we don't even know were parts of our lives.
You've played mothers a lot lately. Do you ever draw experience from your own life as a mom?
Baker: Constantly. I love being a real-life mother. I think it's one of the greatest journeys you can go on. It's filled with the kind of things that this play is, with the ups and the downs and everything.
Both "Smash" and "Girls" premiere their second seasons soon. Will you be returning?
Baker: I was supposed to be in the second season of "Smash." I'm in "Girls" quite a bit. With "Smash," it coincided with actually rehearsing this play. So my real-life husband, who is my husband on "Smash," had to supposedly come to New York to visit our daughter alone because I was in rehearsals for the play but there's some other reason on the show.
What is it like playing an onscreen couple with your real-life spouse?
Baker: It's fun, especially on television because the scenes are such small pieces of things and it's a comedy more or less. It hasn't been too dark for us. That's been just a lot of fun.
What advice do you have for aspiring actors?
Baker: In terms of getting started, that's always just an interesting crap shoot. It's just a mystery to me. Dylan, my husband, went to Yale Drama School so he came out with his Master's, and I always say I went to the School of Hard Knocks. I started as a chorus girl. I started going to open calls and my first show was "The Best Little Whorehouse in Texas" that I got through one of those cattle calls. So just the drive and the passion to keep plucking away and showing up and going to whatever auditions you can get to. Someday you're going to find that crack in the door.
"The Great God Pan" is playing at Playwrights Horizon through Jan. 6. For more information, visit www.playwrightshorizons.org.