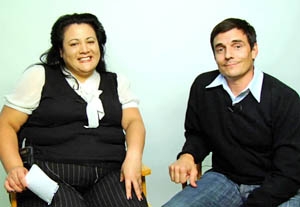 In this week's edition of Behind the Scenes, Back Stage's film editor Jenelle Riley discusses upcoming movies with actor, host and writer Henry Dittman.
Dittman's credits include "Greek," "Brothers & Sisters," and "Party Down." Here, he and Riley discuss whether or not they'll go see several films slated to open in the coming weeks, including "Cop Out" with Bruce Willis and Tracy Jordan, "Valentine's Day," Tim Burton's "Alice in Wonderland," and "The Crazies."
Hear what they have to say in this exclusive sit-down!