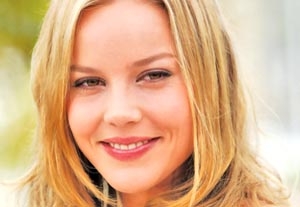 Despite the passage of close to two centuries, Abbie Cornish does not find anything alien in the kind of lifelong love—indeed, obsession—Fanny Brawne felt for romantic poet John Keats even decades following his death. Keats and Brawne were never married, but Brawne wore a widow's black dress for three years and never took off the ring he gave her. "Love is still the ultimate thing," Cornish says. "I can grasp and understand love that's eternal and deep." In Jane Campion's new film, "Bright Star"—a title inspired by the poem Keats wrote for Brawne—Cornish plays the 18-year-old Brawne opposite Ben Whishaw as Keats. Cornish's performance evokes a spirited woman yet paradoxically a lady very much rooted in the early 19th century.
The 27-year-old Australian native, who grew up on a farm in the Hunter Valley region outside Sydney, is perhaps best known for her breakthrough role as the sexually magnetic runaway in Cate Shortland's "Somersault" (2004). Two years later, Cornish again garnered
critical acclaim in the title role of "Candy," portraying a druggie art student in an emotional freefall. The film co-starred Heath Ledger as Candy's lover. "Somersault" and "Candy" were acting challenges and high points on more than one level. Sharing the journey with the late Ledger in "Candy" has great resonance, she says. In "Somersault," Cornish tackled her first leading role in a feature. But playing Brawne is also a source of great joy, while presenting fascinating challenges.
Back Stage: How did you get into the character of Fanny Brawne?
Cornish: The story is centered on the love Keats and Fanny had for each other. So anytime I felt myself searching for answers, I'd go back to their love, and that would answer all questions. I read the letters that she and Keats wrote to each other and his poems, which were such a key into the world of that time. At first I let the character and story wash over me and tried not to judge or calculate it. Each character has a journey. I just dive into that journey and let it be what it is. That's what's so interesting for me as an actor. Taking on a new film, I never know how I'll get into a new character. Fanny Brawne found herself in me, I guess. She was very still and balanced and centered. And when she was out of balance, it was with this overwhelming sense of emotion, and then she'd pull herself back. But she always had such a strong focus and purpose. The physicality for me came from her personality and also the time, the 1800s, and the way a woman would hold and carry herself. There were the clothes she'd wear and the corset. I got used to them slowly. But after wearing them for 12 to 14 hour days with one day off, when I put on jeans and a T-shirt, it felt strange.
Back Stage: Was there ever a moment when you saw the approach to acting in a new light?
Cornish: When I was 16, I played the daughter of the main character on the series "Wildside," a gritty police drama on ABC in Australia. I was in and out and didn't have a lot to do, but in the last few episodes they had a really interesting story line for my character where she goes out with her girlfriend and they get abducted and the friend is raped and murdered. And my character has to deal with the cops and picking someone out of a lineup. I don't know what triggered it, but I knew that when I had to identify someone on that lineup, I would have to go to a certain place and that something had to happen for that scene to work. And I just let go of myself. I remember on "Action" walking into that room and doing something and then hearing "Cut" and not knowing what happened between "Action" and "Cut." It was really an amazing, incredible feeling. It was a huge acting experience for me: to learn how to completely give myself over, let myself go, and be totally free so that things can happen in the moment. If you do your preparation and you know what the scene is about—and what the film is about—at a certain point you have to let it go. All the hard work you've done is going to come out. You don't need to concentrate on that.
Back Stage: Were you able to take the lesson you learned to future projects?
Cornish: Oh, yes. From that day on, something shifted in me as an actor. You know, when I was a kid I really liked the creative arts, and I really enjoyed acting, but I didn't have this big dream of being an actor. I wasn't trained as an actor. So from the very beginning it was this exploration for me, and it still is. And I don't think that will ever end.
Back Stage: How did you get into acting?
Cornish: Just for fun a couple of girlfriends and I had entered a local modeling competition, and I won. Part of the prize was to have an interview with an agent in Sydney. I met with him, and he sent me to an audition, and the first audition I went for I got, and that's how I fell into acting. I played a quadriplegic on one episode of a children's series. The first day on the set I enjoyed myself so much I called my mum and said, "This is so great. Do you think I can do this again?" "Wildside" was my second gig, and then I did a film and fell in love with film instantly but still did TV over the next two years. I've worked steadily, but I finished school. School was important to me.
Back Stage: What standards have to be met for you to want do a project? Is it the whole project or the character you're going to play?
Cornish: It has to be the whole project: the story, the character, the director, and the rest of the creative team. I've always felt like that. And I'm open to experimentation. The film I'm working on now, "Sucker Punch," by Zack Snyder—he did "300" and "Watchmen"—it's this crazy, wacky story about five girls in a psych ward in the '60s, and they band together and try and escape. And it operates on this reality and sub-reality and dream world. So there are all those really tripped-out, crazy things we've been training for two months. And we have to do all these action sequences. This is totally different from anything I've done before. I'd love to do a comedy someday.
Bio Brief
-- Won the Australian Film Institute Young Actor's Award for "Wildside" and Australian Film Institute, Inside Film, and Film Critics Circle of Australia awards for "Somersault" earned Australian Film Institute and IF nominations and the FCCA award for "Candy"
-- Was featured in such films as Ridley Scott's "A Good Year" and Kimberly Peirce's "Stop-Loss"