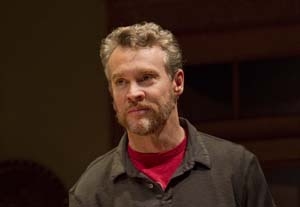 As Tate Donovan tells it, he's had a relatively smooth-sailing career in 20-plus years, never having had to take a day job. He has appeared on Broadway, Off-Broadway, on TV and in film, and he can't help wondering what role luck has played in all this. It's a topic he has been thinking a lot about lately, especially now that he's starring in David Lindsay-Abaire's new play, "Good People," which addresses many themes that have resonance for the actor. Not the least of these is the question of how much choice does anyone have in life—or is it largely dumb luck?
"You need lucky breaks," says the easygoing Donovan before a preview performance. "I don't know why I get work and someone else doesn't. My understudy, Tony Carlin, is a great actor, yet every night I get to go out there and he doesn't. Why is that? I can't believe my luck. This has been a great year. I've directed five different shows on television (see OutTakes) and then step into being just an actor with such good material written by one of the great writers alive today. I also get to work with a great director and great actors—on Broadway. I literally pinch myself each time I come in."
Directed by Dan Sullivan, "Good People" centers on an encounter between unemployed single mom Marge (Frances McDormand), who never left the working-class South Boston neighborhood she was born into, and her ex-boyfriend Mike (Donovan), who is from the same community but has moved on. He's now a doctor, married to an English professor, and living in a wealthy town just outside of Boston. This is not a love story; it's about class and how the past may be a foreign and intrusive world.
Donovan sees a similarity between Marge, who charges back into his life for a job, and some of his old friends who think he can launch them into acting careers. "It can be awkward when they say things like 'Hey, I want to get into showbiz. How do I do that?' Everyone thinks it's so easy because they may have been the funny kid in high school. That feeling of people hitting you up and you're not really being able to do anything for them—I relate to that. It's great to catch up with old friends, and then you want to go back to your life, especially if you no longer have anything in common with these people."
Donovan also connects with the class issues. Though he grew up in the middle-class suburb of Tenafly, N.J., his father, a doctor, came from a working-class Irish Catholic neighborhood in Brooklyn not unlike South Boston. "My father got a full scholarship to medical school during World War II," Donovan says. "Everyone was graded on a curve, and if you failed you were sent out to become a medic on the front lines of combat. Before each test, he had to watch out because some of the guys would beat him up and try to stop him from taking the test. It was very intense, horrifying. There were drugs, violence, and a lot of desperate behavior. My father didn't want his past in his life again, and neither do I." Donovan's identification is so great, he refers to his character, Mike, as "I."
Student and Teacher
Donovan majored in acting at the University of Southern California, an experience he found very useful, though he has since had to unlearn all the heavy-duty preparation those acting classes had insisted upon. "You have to prepare as much as you can and then let it go," Donovan insists. "There's nothing more boring than watching an actor doing what he has prepared. In school, it's 'See? I've done my homework. I'm going to say that sentence perfectly.' Out in the real world, no one cares if you've done your homework. They only care if you're alive."
Along the way, Donovan learned other acting lessons as a director and especially as a reader at auditions, which he views as great training for any actor—if for no other reason than to be viewing the process from the other side. "You soon realize the only real mistakes you can make at an audition are a bad attitude, not caring, and not being prepared," he points out. "If you know your lines, want to do a good job, and do the best you can, you're halfway there. Whether you get the role is so not up to you, it's ridiculous. Actors don't give themselves a break." 
In his director's hat, he has come to further appreciate the actor's worth. "We're much better than we think we are," he insists. "We don't realize what we're giving. We try to be fascinating and control it instead of just letting go and trusting it."
Directing is of growing interest to Donovan, and while he admires a more hands-off approach, there isn't only "one way to skin a cat." Intrusive, touchy directors can be quite good as long as they can "create a place where everyone feels they can do their best work," says Donovan. He credits Sullivan—"who is quiet and wise, an invisible guiding hand"—with helping him do his best work in "Good People."
Accent on the Role
Still, the play presents challenges, starting with Lindsay-Abaire's language. Donovan is familiar with it: He previously played the grieving father in a Geffen Playhouse production of "Rabbit Hole." The stumbling block is that the language is so realistic, he has felt free to paraphrase, and that's a mistake, Donovan realizes. "There's a difference between saying the line as written, 'Tell Denise to give you directions,' and 'I'll have Denise give you directions,' which I've been saying. The line as written is a command. It is aggressive and reflects who the character is. His writing is so specific and attached to thoughts and character. Every syllable reveals something."
One of the more interesting challenges Donovan faced focused on the "Southie" accent. Everyone in the cast has effectively incorporated it into the performance. Initially, Donovan did not want to use it because he felt Mike would have largely freed himself from it. "But, I found once I started using the accent, it fueled the character. It changes your body and you become more urban, more relaxed, more affectionate, and more tactile. Dan said something interesting: 'Women like it. And this guy puts people at ease.' It's my way of saying I'm from the hood. It's chic and an affectation because underneath it all I'm kind of repulsed by the whole thing."
As for the future, Donovan hopes he is as fulfilled as he is right now. Nonetheless, he looks back at his career with a few regrets. He admits frankly that at one time he was not kind to people. "I was full of myself, competitive, selfish, judgmental, and not generous," he says. "When I was a lot younger I was very arrogant. I remember saying to myself in college that if I didn't have an Academy Award by the time I was 30 I would quit. I was so pompous. You think you're so special. Maybe you have to be that way when you start out." Still, he advises young actors to lighten up. "Study, try to be as good as you can, enjoy what you're doing, and be kind to people. It's much more important than you may think."  
"Good People" runs through May 8 at  Manhattan Theatre Club at the Samuel J. Friedman Theatre, 261 W. 47th St., NYC. Tickets: (212) 239-6200 or telcharge.com or www.manhattantheatreclub.com.


Bio Brief:
-Appeared on Broadway in "Amy's View" and "Picnic" and in Off-Broadway productions at Playwrights Horizon, Manhattan Theatre Club
-Was featured regionally at Williamstown, Coast Playhouse, Long Wharf, and Mark Taper Forum
-Had roles in such films as "Good Night and Good Luck," "Neal Cassady," and "Nancy Drew"
-Had a principal role on "The O.C" and recurring roles on "Damages," "Nip/Tuck," "Friends," and "Ally McBeal"
-Has helmed episodes of "Damages," "Glee," "Weeds," "Nip/Tuck," and "Gossip Girl"