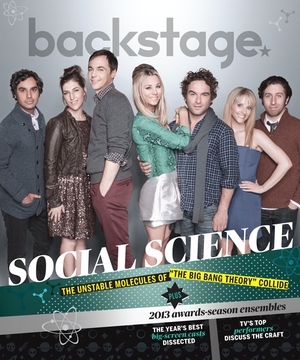 Now in its sixth season, "The Big Bang Theory" has emerged as a solid hit, with two Emmy Awards for lead actor Jim Parsons, and one of the best comedy ensembles on television. But the show took some time to find it's footing, as the actors reveal in this week's issue of Backstage. Simon Helberg, who plays Howard on the show, says, "People were hard on us when we first premiered, sort of like, 'It's just nerds and some ditzy blonde!'" To which his co-star, Johnny Galecki, replies, "Well, in fairness, that's how the show was advertised!"

Also revealed in the roundtable discussion with the cast was how when the actors were sent to their first upfronts in New York, someone neglected to tell Kunal Nayyar, who portrays Raj. "I was told I got the role, but I hadn't gotten the papers, and everyone got flown to New York except for me," he says. "I even remember talking to Simon and he said, 'I just got the call and I'm getting on a plane. I'm sure you'll get a call soon.' But I never got a call." As it turns out, it was a massive oversight and the show's producers were surprised when Nayyar wasn't in New York, and called him to apologize profusely. Still, Parsons quips, "Best trip we ever had!"
Also in this week's issue of Backstage...
From "Argo" to "Silver Linings Playbook" to game changer "Les Misérables," 2012 has seen a bumper crop of award-worthy film ensembles. Backstage talks to film critics about their favorite casts of the last year.
The past year was a banner one for television ensembles. From the clan members of "modern family" to the new kids of "new Girl" to the dysfunctional office politicos of "mad Men," Backstage was fortunate to speak with many of the actors who helped anchor some of the best casts on TV. This week, we look back on the year in soundbites.
For these and more, pick up a copy of Backstage on newsstands today.