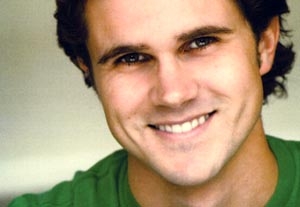 Will Collyer was 5 years old when he went to see his elder brother in a production of
Joseph and the Amazing Technicolor Dreamcoat
at the Palo Alto Children's Theatre. From that day on, he couldn't wait until he turned 8—the age at which the theater allowed children to participate. He grew up singing and acting but didn't settle on performing as a career until it was time for college. When he applied to Stanford University, he listed himself as a math major. On his application to UCLA, he marked theater. During his audition for UCLA, he was asked to recite his monologue while standing on his head. He was accepted at both universities and chose theater. "When they admitted me after that process, I was too shocked and thrilled to say no," Collyer admits.
Though he has numerous TV appearances to his credit on shows like
Numb3rs
and
Jack & Bobby
, Collyer has carved out a name for himself in Los Angeles on stage. He was in the original company of
Bloody Bloody Andrew Jackson
, which premiered last year at the Kirk Douglas Theatre, and has twice appeared at the Theatre @ Boston Court under the direction of his acting teacher Jessica Kubzansky, in the acclaimed productions
Gulls
and
Unfinished American Highwayscape #9 & 32
.
Currently, Collyer is earning raves in the West Coast Ensemble production of
Big
, the musical based on the 1988 movie that starred Tom Hanks as Josh Baskin, a 12-year-old boy who is turned into a grown man overnight. A company member at the Academy for New Musical Theatre in North Hollywood, Collyer was first approached about the part by fellow member Johanna Kent, who is also a member of WCE and in the cast of
Big
. Collyer was excited by the opportunity to work with WCE but hesitant because the tuner had received mixed notices for its Broadway run. After meeting the creative team, including director Richard Israel, Collyer's fears were allayed, and he was eventually offered the part.
It's easy to see how he won the role, despite an initial audition he describes as "less than perfect," in which he forgot some of the lyrics in his audition song. Bringing a boyish charm to the role of Josh, Collyer is endlessly endearing. Though he may remind audiences of Hanks, he never falls into the trap of imitation. As his co-star Darrin Revitz, who plays his love interest Susan, notes, "Will is one of those rare performers who is as generous and openhearted onstage as he is off. His presence is so alive that he puts others on stage at ease: Our job is made easy because all we have to do is listen and watch. I consider myself lucky and honored to fall in love with him every night."
Back Stage: What do you consider your first "big break" in the acting world? How did you get that part?
Will Collyer: My sophomore year of high school, I accompanied a friend to an open call for TheatreWorks, the professional theater that shared the same community complex as Palo Alto Children's Theater. At the time, I barely knew what a monologue was, much less that it should be memorized and rehearsed prior to the audition, so pretty much the day of the open call I picked my favorite speech from a book of monologues I'd gotten from the library and went in, stood in front of the casting director, and read the speech. Somehow, some way, Leslie [Martinson] thought I'd be able to handle the role of Young Charlie in
Conversations With My Father
and called me back for the role a few months later. Doing that show, at 15, sent me on my way. I didn't do another play until college, but that experience was never matched, and when it came time to get serious about a career, acting was without a doubt the most challenging, exciting, rewarding, and awesome thing I could think of. Maybe
Big
will turn out to be my big break? It certainly is the best role I've had in Los Angeles theater, and I feel like I've been riding a wave ever since we began rehearsals.
Back Stage: How are you at auditioning?
Collyer: I'm okay at it. Auditioning is a constant challenge for me, and I'm always working at it. I'm still amazed at how vastly different the work on set is from the work in the audition room. For me, they are two entirely different skill sets. Early on, I was pretty paralyzed by nerves, and I've had to develop all sorts of methods for coping with that. Like telling myself, "I'm not nervous; I'm excited!" Yeah, right.
For a while, I dealt with the nerves by not dealing with them, by sitting on them and stilling myself almost to a point where little, if any, of my personality was coming through. The result is that almost every role I booked at the start was dark, dark, dark. Troubled racist kid on
Boston Public
, troubled spoiled student athlete on
Judging Amy
, troubled shifty undergrad caught red-handed on
Las Vegas
. And the funny thing is, I consider myself a light, happy person!
Fortunately, I've been able to shed that coping mechanism and since then expand the breadth of my reel to include some happy stuff. I've become pretty Zen with the concept that what is meant to be will be—that roles will be coming down the chute for the rest of time, and that I'll find the ones I'm meant to play, or they'll find me, and the rest of those auditions where I don't land the part are just laying the groundwork for the right roles yet to come. Auditioning really is the job. The booked gig is a fun payoff that comes around every now and then. 
Back Stage: Was there any trepidation about filling Tom Hanks' shoes in
Big
?
Collyer: The only time I've felt a twinge of trepidation is when reviews started coming out, and it hit me: "Oh my gosh, people are going to compare me to him. Yikes." Prior to that, the thought never crossed my mind. Well, that's not entirely true. People would ask me what role I was playing, and I'd reply "the Tom Hanks part" as opposed to "Josh," because everyone who knows the movie thinks first of Mr. Hanks' performance, if they remember the name of the character he played at all. I did watch about 20 minutes of the movie back in March, prior to auditions. It was playing on cable, and I caught the scene at the office party and then Josh's loft apartment where he and Susan jump on the trampoline. But that's all I watched. I think it would have been a major trap to study his performance and try to duplicate that. The character and the youthful energy are all there on the page, and we discovered everything we needed in rehearsal. I've been told there are some parts of the show where I appear to be channeling Tom. It's a huge compliment, but I'm not an impressionist, I'm just doing my best to a) be truthful to the material and b) keep the audience laughing.
Back Stage: Were there ever times you became frustrated with the business and considered doing something else? What got you through those times?
Collyer: My best advice is to find happiness and balance in your life outside of acting. For a few years after college, I was so desperate to make things happen, so anxious to get on stage, to get on camera, and so frustrated by my seeming inability to do so. I started believing that booking a job would make me happy—that once that happened, everything would fall into line and I'd be rich and famous and, well, happy. The truth is, only once I found peace in between gigs did I a) start booking more work and b) find comfort in the journey. So I do yoga at the YMCA; my buddies and I play doubles tennis once a week; I have two crazy cats and a bulldog that keep me entertained at all hours; I
love
the house I live in. That's another thing Joe Olivieri, my acting teacher at UCLA, instilled in us days before graduation: love the place you live. Even if it's a little bit more expensive than the shoebox apartment, splurge for the duplex overlooking Silver Lake. It's so important to surviving the long haul. I write music; my best friend Sujata and I take dance class at Valley College—best deal in town, by the way. I fill my life with things that I love outside of acting so there's balance and I carry into the room a fuller, more interesting person. Lastly, do plays. There is so much great theater in this town. Find theaters that are doing work that excites you, introduce yourself to the artistic directors, go to open calls. There's obviously little to no money to be had in most of it, but, gosh, it keeps me happy.
"Big" runs through July 26 at the El Centro Theatre, 804 N. El Centro, L.A. Tickets: (323) 460-4443. wcensemble.org.