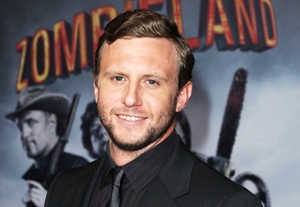 It takes an exciting new talent to breathe life into the zombie genre and show audiences something new, but first-time feature director Ruben Fleischer proves he's more than up to the task. With "Zombieland," Fleischer has not just made one of the funniest and goriest films all year but has also drawn terrific performances out of his quartet of leads. Led by Woody Harrelson as a cowboy zombie-killer, the cast includes Jesse Eisenberg ("Adventureland"), Emma Stone ("Superbad"), and Abigail Breslin ("Little Miss Sunshine") as the sole survivors of a zombie apocalypse.
Fleischer began his career as an assistant to director Miguel Arteta on the films "Chuck & Buck" and "The Good Girl" before branching out to shoot music videos and commercials and landing a directing gig on "The Jimmy Kimmel Show." He came across Rhett Reese and Paul Wernick's script for "Zombieland" when they were pitching it as a TV movie in hopes of launching a series. Deemed too expensive for the small screen, the film now hits theaters Oct. 2 in all its gory glory.
Back Stage:
Had you been looking to direct a feature film for a while when you found "Zombieland?"
Ruben Fleischer:
There was one script, "Psycho Funky Chimp," which Todd Phillips' company had, that was hilarious. It was about the quest for the world's greatest PEZ dispenser. It was as funny and original as "Zombieland." I was trying to make it at Paramount, but I guess they weren't excited about making it. I worked on that for a few years, but it became clear they were never going to make it, so I started reading other scripts and found "Zombieland" and fell in love with it.

Back Stage:
Did you have to pitch yourself as the director?
Fleischer
: I had four or five meetings with various studio executives and the producer, going all the way up to the chairwoman of Sony Pictures Entertainment. All that pitching was good because each time I had a more clear idea about what I wanted to do with the movie and who I might want to cast and how I saw it.
Back Stage:
Who signed on to the project first?
Fleischer:
Woody really was the impetus for the studio making the movie. Once he got on board, it became real. And it opened up a world of casting opportunities.

Back Stage: 
Was he someone you pursued from the start?
Fleischer:
Yes, I basically had to convince him. He wasn't a fan of the genre, and I think he was a little apprehensive—not only about the material but to work with a first-time director. I had to sit down twice with him and gave a whole visual presentation of how I saw the movie and his character. He agreed to do it.
Back Stage
: He wasn't a fan of the genre?
Fleischer:
Well, I think he is now. [Laughs.] I don't want to speak for him, but I know he hadn't done anything like it before.
Back Stage:
You really have a spectacular cast for a horror comedy. How did you go about finding the rest of the actors?
Fleischer:
It was daunting to work with so many talented people; we have two Academy Award–nominated actors, plus a cameo from a third, and when you're working with that level of talent on a first film, it's incredible. But honestly, once we got Woody, it kind of set the tone and defined the approach to the casting. We wanted great actors who are also really funny. My taste goes more toward the interesting, indie actors. Jesse is so cool; I was psyched to get him even if he's less well-known than some people. And Emma is a big surprise too, just because it's a big role and she looks differently, and I think it was a real step forward to show her range and beauty and that she's not just the funny, fat guy's girlfriend. She's really a woman in her own right with a really complex backstory and a really cool character.
Back Stage:
What about the casting of Abigail Breslin?
Fleischer
: I wanted the best actors for the roles and, obviously, you can't do any better than Abigail Breslin if you need a 12-year-old girl. She so far exceeds even what people would expect from her.
Back Stage:
Without giving too much away, the film also features a great celebrity cameo. Was the role written with this person in mind?
Fleischer:
Actually, in the original version of the script, it was for Patrick Swayze. But he got sick so obviously, it wasn't the appropriate direction to go. So they wrote drafts for everyone from Steven Seagal to Mark Hamill to Sylvester Stallone.
Back Stage:
What would you like an actor auditioning for you to know?

Fleischer
: You know, my brother is an actor, so I've seen both sides of it. And it's really painful to have to admit this, but I think you just really know when you see the person. Woody gave me a piece of advice during casting. He said Milos Forman told him to cast the person closest to the character and 90 percent of your job is done. In a lot of these cases, it's just the person is the closest to the character. It's got to be the worst thing for an actor to hear, but you just know it when you see it.
Back Stage:
So you have a lot of empathy for actors?
Fleischer:
I know how hard it is; they prepare really hard and they get up the day of the audition and think about what they're going to wear and drive all the way to audition.  They show up, they probably have to wait around for a good half an hour, they come in, and they get five minutes. You think about all the time that goes into it, and I could never be dismissive in any way. I gave everyone their best shot and really worked with actors because I felt I owed them something for being there. Because it sucks. As a director, you have to audition too. I've written 50 or 100 music video treatments for bands where you listen to the song for three days and write up a treatment and pull visual references and sometimes even shoot tests, and then you don't get the job. So I know what it is to put everything into it, so the least I could do when people came in, even if they weren't right, was give them the respect of letting them show what they can do. And it's educational, because I can remember them in the future. I was up for this pilot, and two of the leads were guys who auditioned for "Zombieland," and I was excited to see them. So even if it didn't work for "Zombieland," I'm now so much more aware of the massive amount of young talent of actors I otherwise wouldn't have known.