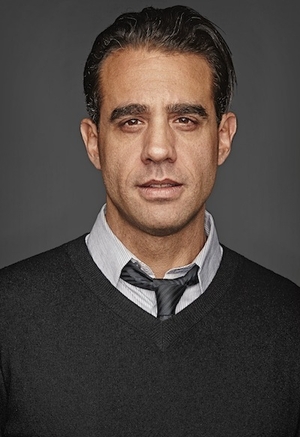 Bobby Cannavale calls Clifford Odets' "The Big Knife" a cautionary tale. While appearing in a different show at the Williamstown Theatre Festival in 1998, he attended a performance of the play and was immediately engrossed in the story of 1940s movie star Charlie Castle, who is beholden to a studio by a 14-year contract and a dark secret. From that moment, the then-28-year-old actor, who had not been to California, vowed two things: He would never become a Hollywood sellout, and one day he would play Charlie Castle.
Fifteen years later, both vows have come true. Cannavale has firmly cemented himself as a fixture of the New York theater community, from his unforgettable, Tony-nominated turn in "The Motherf**ker With the Hat" in 2011 to starring on Broadway earlier this season with his acting hero Al Pacino in "Glengarry Glen Ross." He's made more than a splash onscreen as well, winning an Emmy Award for his stint as Will's boyfriend on "Will & Grace" and most recently appearing on shows such as "Nurse Jackie" and "Boardwalk Empire." Now he's back on Broadway for round two this season, fulfilling the second part of his vow by taking the lead in Roundabout Theatre Company's revival—the first ever on Broadway—of "The Big Knife."
"You can very, very easily buy the idea of a canny Hollywood producer deciding that he can make a screen icon out of Bobby Cannavale," says the show's director, Doug Hughes. The pair worked together on 2007's "Mauritius," Cannavale's Broadway debut, for which he earned a Tony nomination. They connected over a love of "The Big Knife," which led to a reading at Roundabout last year and now this production. "This is his time," Hughes says, "and he's well-aware of it."
But if Cannavale feels any pressure, it's impossible to detect. Behind a green-striped curtain hanging in the doorway of his second-floor dressing room, Cannavale relaxes on a bed on the far wall. He immediately perks up, saying that he's trying to make the mattress look less bed-like—joking that otherwise he'll be described as "lounging." He's particularly enthused to be speaking to Backstage. After all, it's how he got his start.
"That was my only source to the business," he says. "I auditioned for everything through Backstage when I didn't have an agent. I have a real love for the magazine."
Obviously he hasn't needed the casting notices for a while. And though he's made a name for himself playing tough guys, the actor speaks with a childlike enthusiasm about the craft, and he's quick to convey his joy at finally having the chance to tackle Charlie Castle.
"The role is obviously just a great role for an actor," he says. "You're onstage the whole play, and it's an incredible arc. It exhausts you and fills you up at the same time. I just love it."
To prepare, Cannavale buried himself in books, reading all of Odets' plays, notes on his plays from the New York Public Library, and "The Time Is Ripe," Odets' published 1940 journal that Cannavale says should be required reading for any actor.
"The guy is merciless on himself," he says of the playwright's artistic mindset. "This tortured-artist thing that he had of wanting to be contradictory things at the same time and his struggle with that. That was great preparation for me."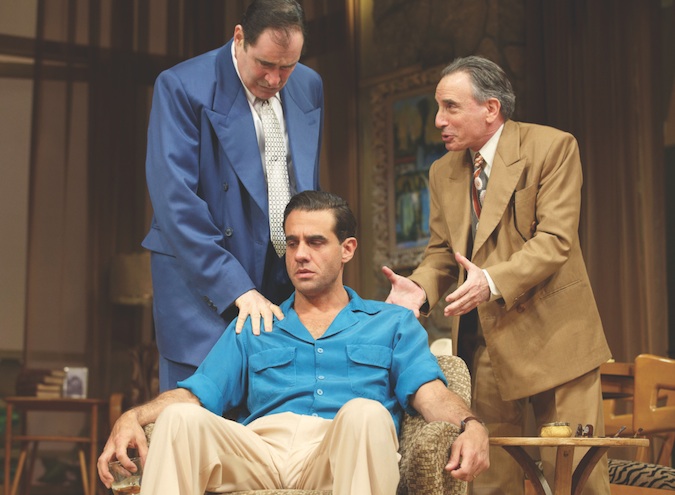 While he's playing an actor in "The Big Knife," Cannavale says he doesn't identify with Castle aside from also being an idealist. In the play, Castle says, "I'm an imitation now of what I was 10 years ago," mourning the loss of his acting credibility after succumbing to the glitzy allure of Hollywood.
"Bobby's balanced his life far more ably and admirably than Charlie Castle does," Hughes says. "With a lot of care and a lot of strategy, very, very conscious decisions have been made, which have given him an honored place in the world he really craves to be admitted to, which is the world of the New York theater."
Starting out, however, Cannavale's career strategy was "Just say yes."
"Until you have too many choices and then you can pick and choose," he adds, explaining that his former father-in-law, late director Sidney Lumet, gave him the advice. "As long as you're in the world, then you're an actor. Just because I wasn't getting paid to do a play didn't mean that I wasn't an actor."
From a young age, he did everything he could to be around the theater, hanging out at the Public, Naked Angels, and Circle Repertory Company, playwright Lanford Wilson's company where Cannavale became a member. He met Wilson through a production of "The Normal Heart," a job he landed through Backstage, and Wilson became an invaluable mentor who, Cannavale says, "taught me everything."
And he still stays in that world. As a member of the Labyrinth Theater Company, he often does workshops of plays, and he says there are many people he wants to work with and roles he'd like to play. (He admits it's obvious, but Stanley Kowalski in "A Streetcar Named Desire" is at the top of his list.)
"The fact of the matter is, I get to play great roles onstage," Cannavale says. "I don't get offered great roles in movies. I'm not going to do a four-scene role in a movie when I could play Ricky Roma on Broadway with Al Pacino. It doesn't make any sense. But not everybody does that. Some actors would take the four scenes, or they'd take the pilot. I've turned pilots down to do a play on Broadway just because it's my gut telling me, 'It's the role. Take the better role.' "
It has paid off. Though he says he probably would not have chosen to do two plays in one Broadway season, he couldn't say no. ("After years of trying to get this play done, I would have done this play in the basement," he says of "Knife.")
But his constantly growing fame hasn't changed his priorities. His almost-18-year-old son Jake calls twice over the course of the conversation, and though Cannavale's apologetic, it's clear what's important to him. He answers the phone with a loving "Hey, baby," and proceeds to explain how to use a toaster oven, reminding Jake to turn it off and tidy up before he leaves the house. "We're like an old married couple," he says with a smile.
A quote on the wall of his dressing room reads, "I may not have gone where I intended to go. But I think I have ended up where I intended to be," and with "The Big Knife," Cannavale has come full circle. He used to be a reader at the Roundabout, which led to his being cast as an understudy in "A Flea in Her Ear." He went on for a month and landed a TV show and Williamstown. "If I hadn't been a reader at Roundabout, I would have never gotten to Williamstown and seen 'The Big Knife' and done it all these years later," he says. So how can actors follow in his footsteps?
"Just show up. Just go to everything. Audition for everything," he says when asked for words of wisdom. "You just never know what's going to happen, where it's going to lead to.… I don't think I've regretted anything that I've done acting-wise. Any of those free plays, any of those plays nobody came to. They all led me somewhere."
("The Big Knife" photo by Joan Marcus)