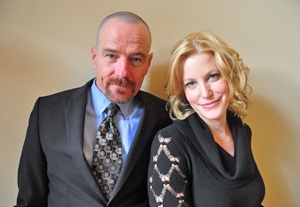 Anyone who recalls Bryan Cranston as doofus dad Hal on the Fox comedy "Malcolm in the Middle" knows the man is committed to his craft. Standing around in tighty-whiteys while Hal's wife shaves his back hair, speedwalking in a skintight bodysuit and aerodynamic helmet, and showcasing dazzling choreography in "Dance Dance Revolution," Cranston solidified himself as one of TV's top comedians with his go-for-broke, vanity-free performance. Yet even Cranston's biggest fans couldn't have been prepared for his complex, gut-wrenching turn on AMC's "Breaking Bad" as Walter White, high school science teacher, loving husband and father, and Albuquerque's top methamphetamine producer.
"Breaking Bad" was created by Vince Gilligan and features precisely the perfect blend of taut drama and clever satire one would expect from a former writer and producer of "The X-Files." Gilligan worked with Cranston on a 1998 episode of the Fox hit in which the actor played a desperate man whose head will explode if he isn't driven at 80 miles per hour; from the start, Gilligan wanted Cranston for the "Breaking" role of an average family man who, after learning he has lung cancer, uses his talent for chemistry to manufacture meth in order to provide for his pregnant wife and handicapped son. Though Gilligan would have to convince those who only associated Cranston with "Malcolm," the gamble paid off. Cranston has rewarded Gilligan with a fierce and powerful portrayal—and earned two Emmy Awards in the process.
For Walter's patient, put-upon wife Skyler, Gilligan tapped Anna Gunn, of HBO's "Deadwood." An accomplished stage actor, most recently seen in the L.A. production of "Time Stands Still" (now on Broadway with Laura Linney in the role), Gunn has appeared on dozens of TV shows, most notably in a recurring role as a district attorney on "The Practice." But in Skyler, Gunn has finally found an onscreen role worthy of her talents. Though intelligent and insightful, Skyler remained unaware of her husband's secret life for most of the show, though she suffered the consequences of it. After giving birth to their second child in Season 2, Skyler finally began to unravel some of Walter's lies, leaving him at the end of the season, when his cancer went in remission.
"Breaking Bad" returns for its third season March 21, and although the state of the Whites' union may be in question, audiences can count on a few things. One: Walter's protégé Jesse (Emmy-nominated Aaron Paul) will still be calling him "Mr. White" after all this time. Two: Things are going to get very interesting now that Walter realizes he enjoys his new profession. And three: Cranston and Gunn will continue to deliver sublime performances as the most messed-up—yet relatable—couple on TV.
Back Stage
: How did you come to be cast on "Breaking Bad"? Anna, did you audition?
Anna Gunn
: Oh, yeah. I was having one of my winter bouts of bronchitis; I get bronchitis at least twice a winter. And when Sharon Bialy, who's a friend of mine, was casting it, she kept trying to bring me in, and I kept having to back out because I was so sick. Finally she went, "I don't care if you're coughing up a lung. Get in there!" So I went in, and at the time I read the script it was still set in California. Where was it?
Bryan Cranston
: Riverside County.
Gunn
: Right. And I read; she put me on tape and said, "Great. Are you ready to go back to New Mexico?" Because she knows I'm from Santa Fe. I hesitated, but my parents still live there, so I get to go home to what I consider my home state and work. Then I went in and tested for the network with Bryan, who had obviously already gotten the role. I think there were three or four choices.
Cranston
: Five. There were five young ladies. And I didn't remember your name, but I talked to Vince after the audition and said, "There was a brunette who was pretty good and a blonde was really good. The blonde was my favorite."
Gunn
: Strangely, at the time, I was brunette.
Cranston
: I didn't remember any of their names. But he said, "That's great because that's the one we like the best, too. Her name is Anna Gunn, and that's who we're gonna hire."
Gunn
: It was an unusual audition because we were supposed to be in bed together, and I had to indicate I was performing a hand job on him.
Cranston
: The audition was, she has to jerk me off.
Gunn
: Yeah, it was a nice audition scene.
Cranston
: I'd done an audition years ago, before "Malcolm," and I was testing with a girl who grabbed my package, because it said to in the script. And I could feel everyone get really uncomfortable, and I thought it was distracting; it created this weird atmosphere.
Gunn
: So Bryan helped me figure out a little motion that indicated what was going on.
Cranston
: I said, "I'm going to sit in an armchair with an arm to it so it's something you can physically grab hold of."
Gunn
: And it was really helpful. It ended up being a fun audition; we got some time to actually work.
Back Stage
: Bryan, I believe you were willing to audition but ended up not having to?
Cranston
: Vince was the champion for me to get the role because I had worked with him on "X-Files" and played a character who was a real son of a bitch but there was something slightly sympathetic about him. He remembered me from that and wanted me for this role from the very beginning. We met each other early on, and he said, "Well, they—the powers that be—are worried." And I said, "I don't blame them; we're talking about a completely different guy than they saw on 'Malcolm in the Middle.' I'll test for it." Vince was like, "I don't want you to test, because what if they see something they don't like?" I knew there was always a risk if you go into it. But I put it off and put it off and put it off. One day, I picked up my daughter from school and took her bowling, and while we're bowling I get a phone call from Peter Liguori, who was then the president of Fox. He said, "Listen, I have a part for you in a pilot. It's a show called 'Nurses,' and you'd be playing the chief resident and the father of the main nurse." I read the script; it was okay. But quite frankly, I could see other actors who would be better in the role than I would. Anyway, I put them off and then had this thought. I went to my agency and said, "Here's the situation: I have the offer to do 'Nurses,' but what I really want is 'Breaking Bad.' Is it possible to get word out—without getting word out—that I was offered a pilot at Fox?" They knew who to talk to, and sure enough, word got out. We kept putting Fox off, and they needed an answer; they had a deadline. We came up to the evening before the deadline, we were sweating it out, when Sony called and said, "The role is his if he'd like to do 'Breaking Bad.' We're offering it to him."
Gunn
: I like hearing Bryan tell stories like that because I think he's very smart about the way he approaches the business aspects of this profession. He's obviously an amazing actor, but he also has a very good sense of guiding his career. You don't passively sit back and say, "Oh, let the wind take me where it will."
Cranston
: I don't think passivity is the way to go. Most actors aren't passive in their work, but for some reason in the business part, they are. Someone will tell me a great story, and I'll say, "You should write that; it would make a great play." And they'll say, "Oh, I don't know how to write." Don't think of writing a play as if you're going to be the next Pulitzer Prize winner. Write the play because it's a good story you can tell, and you'll be involved in something rather than waiting by the phone. I wrote and directed a little movie called "Last Chance," and I look at it now, and there's so many things I would change if I could, but I did it because I wanted to be creative and nobody told me not to. The energy of it just pushes you into that area, and you become proactive and have more control of your destiny. I don't know why actors pull back and are reticent to be aggressive.
Back Stage
: Bryan, what sort of research did you do to play this scientific genius?
Cranston
: I wanted to know what my character knew, so I spent two full days at USC following the head of the chemistry department. I needed to reacquaint myself with that world, which I had disdain for in high school. Now I think it's fascinating. I went through and asked a lot of questions and tried to wrap my head around it because it was outside of me. And no actor likes to feel like they're outside of their character; they want to bring it in so they feel comfortable. I knew I would have lesson plans as the teacher, and it's very hard to memorize if you don't know what you're saying. So first you have to get a grasp of what it is you're saying, and then the repetitiveness of going over it and knowing it helps. I think the most nervous I've ever been as an actor is when I've been caught lazy—and I'll admit that I have—and you have to struggle through.
Back Stage
: Anna, your character is smart yet she has to be oblivious to a lot of Walter's actions. Has that been difficult to play at times?
Gunn
: It really has been one of the fine delicate lines to tread, and there's been lots of conversations with Vince with me saying, "How could she not know?" My job is to be my character's advocate. So there have been scenes where we might not change anything in the lines, but it's incumbent upon me to simply not clock certain things. Also, what I finally got to is she really wants to know what's going on with him but at the same time the woman's about to have a baby. And frankly, that takes precedence. At a certain point I think she finally says, "Fine. I've got bigger fish to fry."
Back Stage
: You've both been on series that came to end. What is that feeling like—is it scary? Or is it a relief in some ways?
Cranston
: We were very fortunate to be on well-written shows, and that's the most important thing. It was hard because you become family. I saw these boys grow up over seven years. Erik Per Sullivan, who played Dewey, was 5 when we started. He's in college now. And the relationship I have with Jane Kaczmarek has always been strong and loving, and I cherish that. It was sad when we were shooting the last scene of that last episode. There were no dry eyes, because this thing we loved so much was going away. But it's what we as human beings have to experience.
Back Stage
: Was it harder with "Deadwood" because you didn't know you wouldn't be coming back?
Gunn
: Yeah, we felt a little cheated. We had basically been given every indication we'd be picked up for another season, and then things obviously changed. None of us felt like we had reached the end of that story. Also, there was some panic. We had counted on another season, so there was lots of house-buying going on, and I was pregnant with my second child. It was a little disconcerting. But this came along four months after I gave birth to my second daughter.
Back Stage
: Can you recall your worst audition experiences?
Cranston
: One time I put my fist through a wall. I was being interrogated, and I knew this was a two-way mirror, and I was yelling at the cops on the other side and—boom!—put my fist through the wall. I did finish the scene, but it was horrible. They were like, "Thank you! Do not come back!" I actually sent them a wall repair kit with my picture on it and an apology.
Back Stage
: Did you get the part?
Cranston
: Uh, no.
Gunn
: I remember very early on when I first got out to L.A. and I was auditioning for a movie of the week. I came in to read, and it was a very emotional scene that I felt I poured my heart into. When we finished, there was a silence, and the producer picked up my headshot and looked at me and said, "This is supposed to be you?" I went, "Well, it's supposed to be. Perhaps I'm a hologram."
Cranston
: You said that? You were a wiseass. I like it.
Gunn
: Well, I was so deeply hurt, it just came out. The casting director was sitting behind him and had to stifle her laughter. Then I actually said, "And I believe my audition is now over." And I got up and walked out of the room.
Back Stage
: How do you go about dealing with rejection like that?
Gunn
: For me, it's sometimes that I am so dumbstruck by that kind of thing that I don't know what to say. That was one time where something actually came out of my mouth.
Cranston
: Most people are very kind, actually. Because if they look at it properly, they hope you're great. Then their search is done. So by and large, most people we audition for are really nice people. It's just a numbers thing.
Gunn
: It really is. One of the things I did in my early 20s is, I was a friend of a theater casting director, Jim Carnahan in New York, and he came out to read some people for a play. I wasn't right for it, but he asked if I would mind being a reader. And it was so interesting to get the behind-the-scenes point of view of things. It was one of the smartest things I ever did, because I realized most of the time it has nothing to do with how well you read when you come in. It just doesn't. We'd watch people come in, and we'd say, "They were great, but they're just not the right match."
Cranston
: "They look like my cousin. I don't like my cousin."
Gunn
: Yeah, just weird stuff like that. Also, there were times somebody would come in and be right yet talk themselves out of the job.
Cranston
: You start to see how an actor can self-destruct.
Back Stage
: How do they do that?
Gunn
: By either asking questions or being given direction and not listening to the direction. You can see they're not ready to absorb it.
Cranston
: Or, quite frankly, looking needy. Actors will never get a job if they need the job. If you send off a message of neediness, I'm thinking, "Why does he need this so much? I'm not comfortable with this." You have to convey a sense of confidence in what you're presenting so that the person making a decision says, "I believe she can do this job. I believe in her. She's it!" And gets excited about it. Even if you walk out that door and collapse, that's your job. The best advice I ever heard—and took it to heart 18 years ago—is to go in and know what your job is. Your job isn't to wonder who else is in the room or how long this is taking or what you're doing tonight. Your job is to create a character, interpret the script, and deliver that interpretation. Once you're done with that, you are done, and you should walk away. You have to go and be devoted in your energy and giving as much as you can without having an attachment on the outcome. If you're spending all your energy agonizing, you don't have energy to sustain a long-term career.
Gunn
: That's very true. And what we do now, specifically on camera, is the same thing. You create and defend your character, and then you give your work over and say good-bye. It is somebody else's job to cut it and put it all together.
Cranston
: And sometimes you're happy and sometimes you're not. But ultimately it's a collaborative art form.
Back Stage
: What do you do when you're on a set and someone doesn't have a sense of collaboration?
Gunn
: Bryan slaps them.
Cranston
: We've all been around people who make a working condition worse. I think those experiences during a rehearsal period where it's not been a good experience, I hope people will go—as I did—"If I'm ever in a position to influence a set or a working condition, I know how I would want to have it run." So that it's embracing and open, and you don't have to have fear of making choices or taking chances. You can have disagreements and frustrations, but some of the crap we've all been through is hellacious.
Gunn
: I think from the beginning, we sat down and Bryan took all of the cast out for lunch and we were delighted to realize we were with relatively normal, sane people, and that's always helpful. It's bothersome when you see people who have a sense of entitlement and make other people suffer because of it.
Cranston
: Quite frankly, at this stage in my career, I don't want to be around people who are not of the same ilk that I come from. I want to be able to enjoy the work, and if you take the joy out of acting for me, then I retire.
Back Stage
: Have you ever been let go from a job?
Cranston
: Oh, yeah. I was on a soap opera for two years in New York, and I was talking to my agency about not re-signing. I was like, "It's been a great two years, but I do not want to do this anymore." And I get called into the office 13 weeks before the end of my contract, and they tell me, "We're not renewing your contract." It was like being dumped by a girlfriend; all of a sudden I was like, "No, but wait, I love you! Let's make this work!" It was devastating because you always want to go out on your terms.
Gunn
: I've been hired for a couple pilots and then replaced when it went to series. That stings. But eventually it's one of those bumps in the road. I did the whole "What is wrong with me?" thing. But I was lucky that I had a relationship with people connected to the things, so I could ask for illumination. And it really came down to the same things that happen in the audition room, which is I just didn't match up with the person or they wanted a different flavor. So in both those situations, they told me it really had nothing to do with me. So you learn to roll with those punches.
Outtakes
Bryan Cranston
- Earned three Emmy nominations for his work on "Malcolm in the Middle"
- Appeared in the films "Little Miss Sunshine," "Saving Private Ryan," and "That Thing You Do!"
- Had recurring roles on "Seinfeld"—as a dentist who may have molested Jerry under anesthesia—and as the annoying neighbor on "King of Queens"
Anna Gunn
-  Made her Broadway debut in "The Rehearsal" opposite Roger Rees at the Roundabout Theatre in 1996
- Film roles include "Enemy of the State" and "Without Evidence," with Angelina Jolie
- Appeared as Isabella in a 1997 production of "Measure for Measure" at the Ahmanson Theatre, directed by Sir Peter Hall and opposite "The Waltons" star Richard Thomas as lustful judge Angelo; Gunn jokes, "John Boy took my innocence."