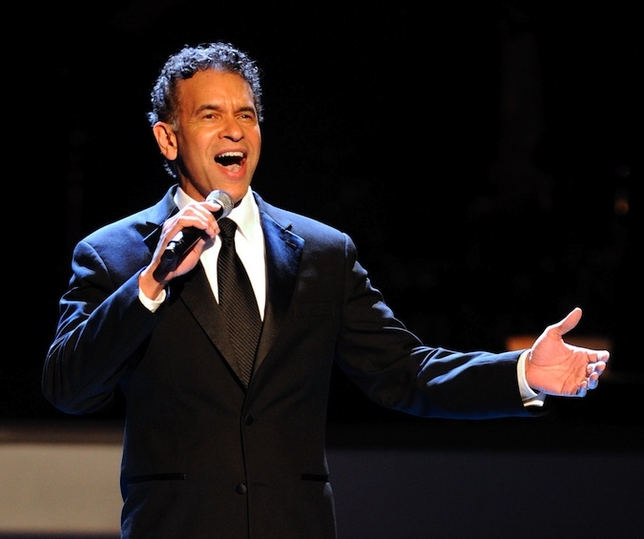 Brian Stokes Mitchell knows what his fans want. They want to hear him sing classic Broadway show tunes.
"I didn't do that on my last album," says Mitchell, whose second album "Simply Broadway" was released Oct. 30. " The ones that are on ['Simply Broadway'] are pretty much Broadway tunes that everybody knows and that's one of the reasons I wanted to do the album."
The Tony winner chatted with Backstage about performing characters in the studio, the art of recording, and his five tips for acting success.
This is your second album. How is it different from your first?
Brian Stokes Mitchell: The first album was an expression of me and how I appreciate music. I took Broadway songs as jumping off points for that album. I put in a lot of world music beats and a lot of jazz as well, and I did it in unusual ways. And this album is more traditional. 'Simply Broadway' is really Broadway tunes. I've done some rearrangements of them. Only the savviest listener will probably know that I've rearranged anything. I want them to sound new and fresh but in the spirit of the original. If I was playing the characters, how I would I approach them?
Many of the songs are character-driven songs, such as "Soliloquy" from "Carousel" and "If I Were a Rich Man" from "Fiddler on the Roof." How do you perform a character on the album versus doing it onstage?
Mitchell: You have to do with sound with what you can do onstage with gesture. When I was singing the songs, I was actually acting them out with my body as well and that translates over the microphone. But what was really important was to make sure what I was feeling when I was singing in the studio wasn't sounding a different way than I was feeling. Without seeing a visual, you don't want to give the wrong message or say the wrong thing. Sometimes I did 30 takes of one song. Most of what you hear are complete takes of one song. Tedd and I recorded in the same room at the same time…I wanted to preserve that 1950's quality. It was inspired by Bill Evans and Tony Bennett recordings when they were in the same room recording and the immediacy to that. That's what I wanted to capture.
You've performed some of these songs before.
Mitchell: Very few. It's been kind of an unwritten rule of mine that I don't want to record anything that I've sung before. But I made an exception on this album. What I love about piano and vocal is it's incredibly pure and it gets down to the essence of the song because you're not distracted by an orchestra. When it's just a piano and a voice, it's about the purity of singing the song. I think only two of the songs I've recorded before. One is "The Impossible Dream" because everybody loved that song so much, but you hear it in kind of its purest form. And the other song was "Some Enchanted Evening" and we kind of reinvented that arrangement as well and made it more delicate.
What is it like returning to characters you've played onstage before in a recording setting?
Mitchell: It's kind of like putting on a comfy old coat. And one of the nice things about it is you sometimes find new ways to wear the coat. Because now you've done all the character work and sometimes putting a character away in the closet for a while allows you to rediscover it and find new ways to wear it.
What do you enjoy about recording?
Mitchell: It's meticulous and you can make it exactly what you want. Performing in the theater is a very ethereal profession because you do it once and it goes out into the ether and it goes into people's minds and that's the only place that it ever exists. And it never exists truly; it only exists in the way that people think they remember it. But it's a really powerful way to tell a story and to pass something on. But once you're done, you leave the theater and it's over. You may have had the greatest performance of your life, but only that group of people got to see it. With recording it's preserved forever. That's what's nice about it. You can refine it and change it and make it exactly what you want it to be. You can take the time with it.
What advice do you have for actors?
Mitchell: You have to really really want it. It's one of the hardest professions you can choose. People who are artists professionally are not artists because they want to be artists; they have to be artists. They're compelled to get that creativity out and to share that with others. Don't give up. You just have to keep working at it.
Here are Brian Stokes Mitchell's "5 T's" for acting success.
Talent: You need raw talent to be successful.
Timing: You need timing, which is luck, being in the right place at the right time.
Technique: You have to go to school and really learn how to get through eight shows a week.
Tenacity: You've got to really want it because you're going to get more no's than yes's. I've lost more parts than I've gotten parts. I've lost most awards than I've gotten awards. You have to really want it because you are the product.
'Tude: You have to have a good attitude. Make yourself someone that people want to work with and work with again. People get full of themselves and it becomes so about them, they're not fun to work with. They're not fun to be around. They're too high maintenance There's too many other actors to choose from.
"Simply Broadway" is available on iTunes, Amazon.com, and CD Baby.