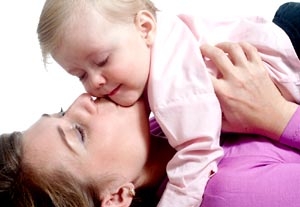 Los Angeles actress Sarah Bloom has an announcement to make, and she wants to entire world to know: She had a baby. Her son, Luca, recently turned one-year-old.
For her, giving birth is a point of pride. But as an actress, it can also become a liability.
"I remember somebody saying to me, 'Most women in the industry try to hide the fact that they've had a baby,'" she said. "Why would I do that? He's the most precious thing in the world to me, I just want to shout it from the rooftops."
Actresses who have just given birth and try to return to work find themselves with a split focus: juggling the needs of a newborn with the demands of an acting career.
For Bloom, she went on her first audition 16 weeks after giving birth. The first job she booked, an independent film, came five months after having her baby.
She quickly saw the difficulties attendant to bringing Luca to work.
At the time, she was nursing and had to take a 10-minute break to feed the baby. This led to some contention with the director, who told her that she was being "unprofessional" and "putting restrictions on the shooting schedule."
"I fed [Luca] during a scene shift when they were resetting the cameras and lighting—something that takes 30 minutes at least," she said. "I was really mad... and I let [the director] know that he was out of line."
Like every other working mom, having to occasionally bring the baby to work is not unusual. L.A. actress Clarinda Ross had her first child in 1988. A single mother at the time with a special-needs child, her only source of income was her job.
She booked her first post-partum gig when her daughter was only four months old. If she could not find childcare in time, Clarinda would take her baby along.
"I remember at the Alley Theatre which was in Houston, Texas, I was the first actress to ever bring a kid with me," she said. "And I was like, 'You're kidding, this is 1989. It's not 1950.'"
During the mid-1990s, she noticed a lack of proper childcare that could accommodate the actor's busy schedule. That was when she decided to help form the Tri-Guild Task Force on Childcare for the Working Actor, which she chaired from 1999-2001. It was a coalition of Los Angeles actors from SAG, Actors Equity, and AFTRA. The goal was to find affordable and quality drop-in childcare for actors.  (Ross is still involved with these issues; she now chairs the Western Regional Board's Parent's Committee for Actors Equity.)
"We wanted to still be professionals and work, but we wanted to be great moms," she said. "Most daycare or childcare in America is structured around a 9 to 5, forty-hour work week. Which, of course, is not our work week."
Ross utilizes an in-home service that's based in Los Angeles, which allows her to drop her children off at sporadic hours. Yet such services are not common, even in actor meccas like Manhattan.
Rebecca Kim Jordan, a Broadway director and choreographer, has been forced to utilize a myriad of childcare sources for her daughter, including relatives, neighbors, friends, fellow actors, and paid babysitters.
"One of the things that my mother said was, 'I knew you were creative, but I think your creativity is in finding childcare,'" she said.
And that's why she believes for any actor going back to work, having a support network is essential. In case the odd audition came out of the blue, the actor would have a set list of people to call.
"It really does take a village [to raise a child]," she said, "Create an environment around [you] that is supportive, that you have neighbors who can help, in-laws or parents... sister, best friend."
Jordan is the Second Vice President of Actors Equity and chair of the Eastern Regional Board's Parent's Committee. Currently, the committee is trying to create affordable childcare for actors in Manhattan, a plan that's still in the fundraising stages.
For a touring actress who might be away from their child for an extended period of time, the childcare issue can become even more complicated.
Sharon Wheatley is a Broadway actor and a mother of two. Her first job after giving birth took her to Cleveland.  She would come home during her off-days, but it was still stressful for her.
Since then, Wheatley made a personal rule for herself: "The longest that I will be away from my kids is 10 days."  When longer scenarios arise, she negotiates with the producers to allow her family to come along.
"I don't necessarily go for more money when I'm negotiating, I go for perks. I go for, 'I need a bigger apartment. Instead of a one bedroom, I need a two-bedroom,'" she said. "I try to tread lightly because I'm aware of the fact that there are other parents out there who are also negotiating."
Jordan has taken her daughter on tour. She negotiated for her nanny's airfare. Such negotiations, she advises, should be treated with sensitivity.
"If you have the clout to be able to do that and your agent is supporting and willing to, I think it's the way to go," she said. "It's getting harder and harder and the revenue stream is going down and producers have to budget tighter."
Wheatley adds that some battles are worth fighting.
"I hang onto the fact that people negotiate hard for their dogs," she said. "If people can negotiate for their pets then certainly I can negotiate for my child."
For actresses who choose to become a parent, there is that lingering question: Did having a child substantially change their career trajectory? That's a question Wheatley has not been able to answer.
"The question I have, and I'll never be able to know, is how much work I've missed out because I'm a parent," she said. "How many auditions have I not been called in for because people make an assumption that I'm not willing to go out of town... or that I'll be too difficult to negotiate with?"
Even with all the challenges, Clarinda Ross recommends returning to work as soon as possible. "You have your ingénue phase and you have your leading lady phase and those years are your best hireability. So you need to get back as soon as humanly possible for the sake of your career," she said.
Despite the juggling act that can come with going back to work after having a child, the two sometimes dichotomous tasks can be beneficial to the actor.
Bloom finds that her acting skills are better now that she is a mother.
"Having a baby gives you such a greater wealth of experience. It provides you with such richness as an artist. It's incredible," she said. "From my perspective, I am so much a better artist for having a baby and for having those experiences."
Resources
Actors Equity: 
www.actorsequity.org/NewsMedia/misc/ChildCare.asp
Actors Fund: 
www.actorsfund.org/services-and-programs/resources