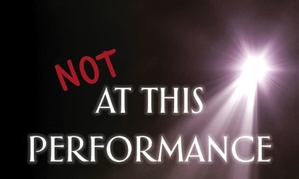 Some of the hardest working performers on Broadway never take the stage, but thanks to the "Not at This Performance" concert at 54 Below, understudies will get the chance to perform roles they never went on for.
Jake Boyd ("Carrie," "Rock of Ages"), Corey Mach ("Godspell"), and Alysha Umphress ("On a Clear Day") chatted with Backstage about their experience on the sidelines.
Backstage: What is the experience of being an understudy like?
Jake Boyd: It's different understudying something like "Carrie" versus what I'm understudying in "Rock of Ages" now. Because "Carrie" I was in there from day one so I got to see the entire process. But, with that experience, it was very much they didn't have time to focus on me because it wasn't my time yet, and for all the work that I had to do, basically I had to do on my own, practice at home, and watch because the first time that I went on, no one had even paid attention to me at that point.
Corey Mach: I've understudied before ["Wicked," "Rent"], but ["Godspell"] was definitely different because there was really no show when we all started rehearsal. We kind of worked loosely off the original script when it was originally on Broadway, but we really didn't have a ground plan. For the understudies—there were four of us—we were just pretty much lost the whole rehearsal process. We really didn't start any documenting or writing down or highlighting until previews started, because that's when the show was actually starting to get set a little bit. It wasn't easy at all.
Corey, you covered Hunter Parrish, who was the star selling that show. What was it like going on for him?
Mach: People are there kind of to see him. And even more so, I think, with Corbin Bleu who replaced him. You have a huge audience of people just absolutely coming to see, not "Godspell," but Corbin Bleu and "Godspell." When they see this other random kid, who is making his Broadway debut as Jesus Christ, you just have to kind of convince them that you can do it, that you're good enough, that you can carry it off as well as that other person even though he's a superstar. So it's really all about those first five or 10 minutes on stage where you just really need to give everything you got to get them on your side.
What was your relationship like with the actor your understudied for?
Mach: I taught Corbin the role. He's the nicest guy ever, nicest guy in the world. I would work with him again in a second.
Alysha Umphress: Sarah Stiles [who played one of the roles I covered] is actually,a friend of mine. We met socially before we were cast in shows together. We had a great relationship and also we couldn't be more different in type. I don't think I'd ever be considered for a role that Sarah Stiles would be considered for in a million years. So the fact that I was covering her was sort of a stretch. So the whole time in rehearsals, I was kind of thinking, "I can't do what she's doing." I kind of had to be like, How I am going to make this work for me? And with Melinda, Jessie Mueller's role, I'd done a lot of those readings of that piece so I knew the role really well, and I had, in a way, originated it. So I kind of had my own approach. So when she came on in the show, I was blown away by what she did and I think she's amazing, but I was like, "Well, I would do those things a little bit differently."
As an understudy, did you feel the freedom to interpret the role differently?
Mach: It really depends on the show. Sometimes you have the utmost freedom to do whatever you want when you're on stage and kind of make the role your own, but I have to say that in other times you are expected to go on stage and do exactly what the other person is doing, which is incredibly frustrating.
What did being an understudy teach you as an actor?
Boyd: I absolutely know that I can do anything. I've never done anything like this before in my life—I've only ever learned just one role, how I am going to learn five? I don't stress out about auditions anymore. It just helps you focus on what you need to do and you just cut out all the wasted time because you have to get down to it.
Umphress: You just know that you have to be ready and have it done. Because you're like, "I probably won't ever go on, but then I have to be ready to go on."
Does it every get discouraging?
Mach: I think so. And other things that you don't even think about, like the Tonys. I couldn't perform at the Tonys. I couldn't participate with the cast on like "Leno" or "Letterman" or the cast recording. It's the things that you don't really think about when you are so excited to be part of the experience but you're kind of left in the dust for some other things as well.
Umphress: You just put in all the work and nobody ever sees it except for your stage manager.
Would you recommend being an understudy to another actor as a career choice?
Boyd: Once, maybe.
Mach: Sometimes it works for people and they make their living out of it. I have a friend on the "Wicked" tour. It's his seventh year as a swing on the "Wicked" tour. His family is out there. He has his wife and his kid, and it's just how he makes a living.
Umphress: He probably has so much money!
What advice would you give to an actor who is going into being an understudy?
Boyd: Do your homework and breathe.
Umphress: Maybe not have delusions of grandeur as far as like, "Oh if I ever go on, people are going to see me [and] be like 'Oh my god, that's amazing! That's how the role should have been played!'" You're literally just there to save their ass because a show lead isn't there. So, it's like all you can really do is know the material and get through the show and do the best that you can.
Mach: Also not to get sucked in. If you don't want to be an understudy forever, you have to start turning things down where people are constantly offering you understudy positions, which is something you don't want to get stuck in. You don't want to be doing that for the rest of your life.
"Not At This Performance" will be at 54 Below on Sunday, Jan. 20.