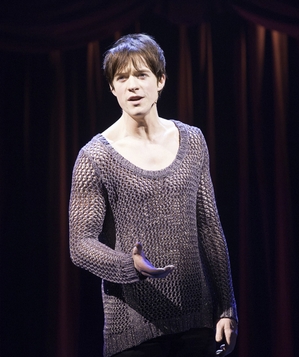 Matthew James Thomas doesn't know if he's equipped to play Pippin.
"I've often felt like, 'Am I good enough to play this role? Can I do this? Can I do this?" Thomas shared with Backstage. But luckily for the British actor, that's the point of the character.
"That's what this thing's constructed as," he continues. "And Bob Fosse and Roger Hirson and Stephen [Schwartz], that's what they were playing at. That's why they didn't want that original production filmed because they knew that it was something you couldn't capture in one go. It's something that evolves and changes."
Loosely based on the life of the son of Charlemagne, "Pippin" follows its title character as he navigates his own coming-of-age alongside a group of "players." This production, which began at the American Repertory Theater directed by Diane Paulus, starts performances on Broadway on March 23. The A.R.T. cast, including Patina Miller, Terrence Mann, Charlotte d'Amboise, Rachel Bay Jones, and Andrea Martin, will move to the Main Stem, producers confirmed on Monday. "They're brilliant people," says Thomas. "But they're just brilliant human beings and sharing the space with them is like a lifetime honor award."
Thomas made his Broadway debut in "Spider-Man: Turn Off the Dark" as the Spider-Man alternate, and his friend and "Spider-Man" co-star Luther Creek shared his love of "Pippin" and director Diane Paulus with Thomas, and he was immediately keen to audition for the show.
"The one thing you have to do is put your feet on the ground, breathe, and be present," Thomas says of what working with Paulus has taught him. "It's the nature of the project to kind of throw you off-guard, and sometimes it can do that in not such a positive way if you're not careful and you're not making sure you're completely present. It's easy eight times a week to fall in and just take it as it comes, but not with this show. It's kind of impossible to do that."
We chatted with Thomas while the production was still in Cambridge, Mass., about landing the role, preparing to take on a musical theater icon, and how he trained his dog to act.
First things first, there is a dog in the show that shares your last name. Is that your dog?
Matthew James Thomas: Yeah, that's my puppy! I always kind of wanted to train a dog… I realized that he was so moldable and could do anything for my love or a treat. I turned [one trick] into lots of different tricks and things and so in two months time, he'll be able to sing and dance and spin around on his back feet!
He's adorable and very good in the show.
Thomas: Did you hear that, Porridge? She says you're very good in the show!
How did you get cast in "Pippin"?
Thomas: I got a phone call from my agent or probably an email, I can't remember, saying, "Do you know they're looking for Pippin?" And I had heard that they'd already done this once, and I'd missed out on it because I was doing something else at the time. They were in the last stages of casting and I don't how it slipped past me 'til then. I went in the room. There were like five or six other boys, very recognizable faces I see very often at the same musical auditions. I heard them sing the songs. They were singing "Corner of the Sky" and whatever else. I got these five sheets of material, and it was like almost the whole musical for me…I was like, "Oh my god, how am I going to do all of this?"
Were you familiar with Pippin before this show?
Thomas: I have to admit no, I wasn't. I knew some of the music, but I had no idea what any of it meant. Like the songs meant something completely different to me, and now, singing them as Pippin in "Pippin," I've realized it wouldn't have mattered even if I did know the story because they change every time I say them anyway.
What's the process been like working on the show?
Thomas: The thing with "Pippin" is not to over think it too much. If you try and overthink or plan and over-analyze—it's like with any role really, but this one specifically—you can run into sogging wet newspaper. It's just too exciting to do that. It's nice to be bounced around and surprised at almost every line that comes out of your mouth. And that's what Diane's allowed me to do. At first, I was nervous. At first I didn't understand. When the piece was handed to me and I was put in a position, it was almost like I was left to my own devices, but very slowly and surely, I've realized that [Paulus is] just allowing me to create complete ownership of the role and go on my own journey with it while carefully crafting the walls around me that I can play in.
You've also gotten to work with the composer and lyricist Stephen Schwartz on this process. What's that been like?
Thomas: It's great. Stephen's in rehearsal and he'll come up to me and say, "I just want you to feel comfortable." And of course, I'm scared because so many people have sung "Corner of the Sky," and I'm very particular about what I want to do and at the same time I want to make sure that I respect the work and the people who love the show…I only hope people like it and connect with me because I feel so strongly that this music was written to sing and really sing. And Stephen is just wonderful to have around because he's so respectful, much like Diane, about giving me ownership over this very old and well-known score. He's managed to make me feel like it's the first time it's been sung. As much as I know that isn't the case, I'm very grateful for his support.
Do you identify with the Pippin?
Thomas: Oh god, I mean, yeah. You can't be a human and a guy and not connect with Pippin…I often feel like Pippin. I come offstage sometimes like "Oh my god, I've got to do this next time! I've gotta go there. I'm going to make this choice." Everyone's like, "Calm down, you're going to do this for a long time" and I'm like, "No, no, no! You don't understand. I want to go now!" I come offstage, and there are so many things I want to try out every time. And it's the most exciting thing on earth. I can't put that into words.