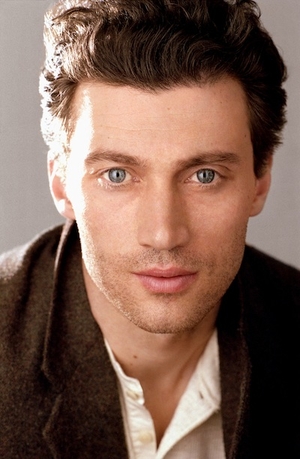 Five years ago, Bryce Pinkham made an acting five-year-plan of sorts.
Just out of the MFA program at Yale, Pinkham gave himself half a decade to pursue acting professionally, and at the end of that time he would reassess. If you'd asked him at that time whose career he would most like to emulate, he would have said Jefferson Mays.
Five years later Pinkham is headlining the new Broadway musical "A Gentleman's Guide to Love & Murder" alongside his acting hero Mays.
"It's better than I ever could have dreamt to be honest," says Pinkham, sitting in a booth at Brooklyn Diner on West 57th Street. "It's truly absurd."
And he's not going anywhere soon. In the show, Pinkham plays Monty Navarro—the "gentleman" from the title—who learns that he is ninth in succession to become the Earl of Highhurst, and he goes on a quest to murder the eight people (all played by Mays) ahead of him in line.
"It's almost like 'Downton Abbey' meets 'Sweeney Todd' meets Gilbert and Sullivan," Pinkham says of the show, which is inspired by the book "Israel Rank" by Roy Horniman and has book and lyrics by Robert L. Freedman and music and lyrics by Steven Lutvak. After earlier productions at Hartford Stage and San Diego's Old Globe, the musical, which is directed by Darko Tresnjak, begins previews on Broadway Oct. 22.
Embrace your bad side.
This isn't Pinkham's first turn at being the "bad guy." In "Ghost The Musical" on Broadway, he played Carl, the jealous best friend with questionable motives. "It's a unique kind of challenge because the easiest thing to do would be to play one's idea of a villain," explains Pinkham. "The more difficult portrayal is a more human portrayal, a three-dimensional human being, which ultimately is always the goal."
Identify with the character.
Pinkham says he tries to relate to the character so he won't judge him, and in this case what Pinkham relates to is the idea of being the underdog—something he thinks all actors can understand. "There is always somebody who has more success," he says. "There's always somebody who's getting better parts than you or is doing whatever better than you…It's easy for me to identify with that feeling of, 'Uhhh, I just want to be up there and I'm down here.' And finally he gets there, and people are sort of like, 'How have you come so far?'"
Find your niche.
And frankly, Pinkham is asking himself the same question. Aside from persistence and belief in himself, Pinkham says that one thing that has carried him along in his career is finding his niche in the community. For Pinkham that place has been musical theater, which he never explicitly trained in aside from doing community theater growing up. In fact, he started doing theater because a teacher told his parents they needed to find an outlet for his "reckless creativity."
Pinkham made his Broadway debut in a small role in the cult-hit show "Bloody Bloody Andrew Jackson," and most recently donned sparkle shorts and tap shoes in a featured part in the musicalized "Love's Labour's Lost" in Central Park this past summer.
"Sometimes you have to wait for the business to tell you where your foot in the door is, and I did not go to Yale School of Drama because I knew I was going to do musical theater in New York," says Pinkham. "That's just where I've gotten work, so I'm happy with that and it's led me to this moment where it's a show I'm excited to be a part of… I'm glad I sort of listened to the business in that way."
Decide if grad school is right for you.
But would Pinkham recommend getting an MFA to other actors? "Grad school is for you if you are interested in the longterm investment," he says. "If you want to go to grad school because you want an agent or you want better auditions in New York, it's three years of your life and potentially thousands of dollars in debt. It's a big investment, and you have to be willing to watch it play out."
Don't beat yourself up.
Pinkham's career has risen fairly quickly, but that doesn't mean there haven't been speed bumps along the way. In fact, Pinkham first auditioned for "Bloody Bloody" to play Andrew Jackson, and after what he thought was a great audition, he didn't get the part.
"At the time, I remember thinking 'Oh man, I didn't get that,'" Pinkham says. "I was beating myself up about it. I thought that was a good audition. Well, it was a good audition. They chose the better person for the role."
Every audition is meaningful.
But that audition let to director Timbers casting Pinkham in a small role in "Beyond Therapy" at Williamstown Theatre Festival, and then when "Bloody" came to the Public, he joined the cast and later worked with the same creative team on "Love's Labours."
"Every audition is meaningful even when it doesn't feel like it," says Pinkham. "I once had a teacher who said, 'The way you do anything is the way you do everything.' I try to carry that into every audition. Even if I'm not right for this role, which happens a lot, I try to reframe it as an opportunity for me to show them the type of actor I am and the type of work I do and the caliber and the level and the commitment and the passion and the joy that I can bring into a room."
Create your own work.
Even the most successful actors will have downtime between jobs, and Pinkham encourages actors to keep exercising their acting muscles by making their own work. One of the ways that Pinkham does this is through his clown alter ego, Little Frances Puddle, and he even wrote a college thesis on physical comedy—an interest he says stemmed from his time playing sports. In fact, when he was in elementary school, he had two big career goals.
"For my fifth grade yearbook, I was asked, 'What do you want to be when you grow up?' I said, 'I either want to be a second baseman for the San Francisco Giants or a performer on Broadway,' " Pinkham remembers. "I better get out the old baseball mitt."