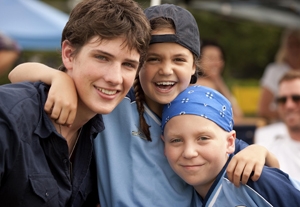 Perhaps best known for playing the sympathetic kid sister May Belle in "Bridge to Terabithia," 10-year-old Bailee Madison has already rolled up an impressive list of credits. But she started her career as a toddler, doing commercials—as did her mother and sister—before landing "Terabithia" when she was 6. That film was also a significant learning experience, not simply because of the skills she mastered—from taking direction to blocking to close-ups. She also came to understand how having the right attitude would make her attractive to casting directors and colleagues. It's a lesson she says has served her well in all her subsequent projects.
Her current credits include roles in "Brothers" (with Natalie Portman, Jake Gyllenhaal, and Tobey Maguire), "Phoebe in Wonderland" (with Felicity Huffman and Elle Fanning), and Nickelodeon's "Merry Christmas, Drake & Josh." Madison can now be seen in the film "Letters to God" as the best buddy of a youngster who has terminal cancer. It is a co-starring role.
"Movies are teamwork," the young actor says. "Everyone has to be on the same page. It's like a soccer team. I also learned how important it to just be comfortable and believe in yourself." She acknowledges that's easier said than done and appreciates the good fortune she has had. For starters, her appearance in "Terabithia" led to a manager, who helped her book many more roles. Madison also talks about the important support her mom offers, describing her mother and manager as "Team Bailee."
Madison's advice to youngsters wanting to act—or their parents—is to "know that it's a tough business and you got to bring shields." She's talking about being able to stand up for yourself but also stay "grounded, humble, and thankful for what you have." She also advises aspiring young performers to have patience. Success does not come overnight, and although she moved ahead faster than she could possibly have imagined, she says, she had plenty of rejections before "Terabithia."
Madison insists, despite appearances to the contrary, she has the typical life of a fourth-grader. When she is on the set, she has a tutor, but when she is home in Florida, "I go to a regular school, have play dates, and do all the normal stuff kids do."
Still, she is keenly aware that most kids do not befriend youngsters stricken with cancer in preparation for a film role. But that's precisely what she did to understand something of what her character might be feeling in "Letters to God." "The most challenging thing about the role is that I don't have a friend dying of cancer," she says. "It was also very challenging for me to face kids who are very sick." The experience was so affecting that the actor has now become a spokesperson for the Starlight Children's Foundation, a nonprofit organization dedicated to improve the lives of children with terminal and chronic illnesses.
Undoubtedly, this is going to be a good year for Madison, who is featured in five upcoming films—including "Invisible Sign of My Own" (with Jessica Alba), "Betty Anne Waters" (with Hilary Swank),  "Eloise in Africa," (an animated film), and "Don't Be Afraid of the Dark," directed by Guillermo del Toro and co-starring Katie Holmes and Guy Pearce.
Madison says she has every intention of continuing to act, even into adulthood. She can't imagine her life without it.