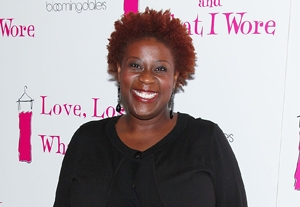 Capathia Jenkins
is the new kid in town. The seasoned stage actress arrived on the scene for the Broadway production of "
Newsies
," much to her surprise.
"My agent called me in December and said they wanted to see me for 'Newsies,' and I thought, 'Really?'" Jenkins remembers. She didn't see the show in its world premiere at Paper Mill Playhouse last fall and was curious about the direction of that production. However, composer Alan Menken, lyricist Jack Feldman, and bookwriter Harvey Fierstein have reenvisioned the character, and Jenkins is excited about making the part her own.
"She's more a singer," she says, adding that she loves the new song "That's Rich," which Menken and Feldman added for the main stem. "She literally has more of a presence."
Back Stage spoke with Jenkins about her preparation for "Newsies" and how she manages longevity in her career.
Back Stage: Were you surprised to be called in for the project?Capathia Jenkins:
I was. My first question was, "Who played this character at Paper Mill? Who was she?" [My agent] was like, "They're going in a completely different direction. They're trying to change her up a bit." So I thought, "OK." The thought of stepping into something and making it my own is really appealing to me.
Back Stage: Were you familiar with the 1992 film?Jenkins:
Yes, I was. I remember liking the movie back then and then I saw [the Paper Mill cast] perform on "
The View
." When I saw them do their thing, it reminded me of old time musical theater where it's like huge production dance numbers. Jeremy [Jordan] sang a little bit of "Santé Fe," and I just remember smiling to myself and thinking, "Oh man, they got it right on that." And now I'm in it.
Back Stage: How are you making the role your own?Jenkins:
In my research and thinking about playing her, the year is 1899, and I'm thinking about my ancestors and who actually had entrepreneurial skills back then. I know about Madam C.J. Walker, who was the first African-American millionaire woman. But that was like 1905 or 1906. We're fudging the years just a little bit. Medda owns a burlesque theater. She's running a tight ship but she has a sweet spot in her heart for Jack Kelly, played by Jeremy. In this particular production she's instrumental in helping the newsies get a fair shake. She knows people in the community, in particular Roosevelt. I say Medda has friends in high places and probably a couple in low places. She's that kind of broad. But she's got a heart of gold, and she's a well-respected figure in the community.
Back Stage: How does your research into your ancestors' history affect how you're playing Medda?Jenkins:
I knew I wanted to play her sassy and in charge. And for me, the knowledge that that there were people of color back then who did own things and could pull themselves up by their bootstraps and could own a theater and have a mortgage and run a business. That was just important for me to know so that I can view her as something real as opposed to, "I'm just going to play this sassy woman who wouldn't have even been around in 1899."
Back Stage: What is it like coming in to a cast that's already been together?Jenkins:
I've really never done that before. I've always done the readings and the workshops and the road to Broadway. They've already done the heavy lifting at Paper Mill, which is why now they get to come to Broadway. I'm just trying to do my best to rise to the occasion and add a little bit of what Capathia has to offer to this already amazing thing.
Back Stage: What advice would you give to the young cast?Jenkins:
My biggest thing is staying true to yourself and really trusting your instincts. That has served me well. When I learned to trust my instincts was actually at my Broadway debut. I was auditioning for "Civil War." I had gone into my final callback and every woman that went in before me was doing a different thing with the song. They were all sort of belting it out and going for it. I got really nervous and started to doubt myself.  I didn't prepare it that way. I was going to sing this song sweetly and really small. And then I got in the room and I was like, "I'm just going to go for it." I remember finishing and Frank Wildhorn saying, "That was absolutely delicious." And then I got it. Now I know I can trust my instincts and stay true to who I am and not try to be anybody else.
"Newsies" will play through August 19 at the Nederlander Theatre, 208 W. 41st St., NYC. (866) 870-2717 or www.ticketmaster.com.