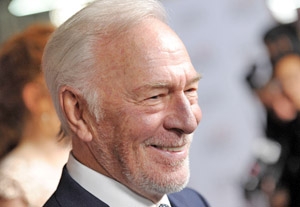 Veteran actor Christopher Plummer admits he would like to have done more contemporary plays, but opportunities never presented themselves. "Perhaps I'm not suited for them," he says. "So I go straight to the revival of the classics. In a short life span, why not do the best?" Plummer's award-winning career has spanned more than 55 years, and he is indisputably one of the most respected classical actors on either side of the Atlantic. He is also a steadily employed film actor, perhaps still most widely identified with the role of Captain von Trapp in the 1965 blockbuster "The Sound of Music." Over the decades, Plummer has appeared in dozens of films and will soon be seen as the irascible gambler and title character in Terry Gilliam's "The Imaginarium of Doctor Parnassus."
Most recently Plummer played Leo Tolstoy in "The Last Station." Centering on the final years of Tolstoy's life and his tempestuous marriage to Countess Sofya (Helen Mirren), the movie has brought Plummer nominations from the Screen Actors Guild Awards, Golden Globes, and Spirit Awards. "We had a blast," says "The Last Station" writer-director Michael Hoffman. "Christopher is incredibly hard-working and extremely prepared. But then I'd say, 'I think we should try it like this.' He'd stop and look at me, arch his eyebrow, and say, 'Really? Do you think an audience would like that?' And then he'd take my note and do exactly what I wanted but 10 times better than I could have imagined. It was really remarkable. And it was pretty common, this rhythm that we had. We had a good intuitive understanding of each other. He's a fun guy and really funny, warm, and generous."
But the actor says he doesn't much like talking about the craft of acting. "It sounds like I'm presuming to know all about it," he says. "I'm now quite old, and I still have a huge amount to learn. Besides, if we don't have some mystery about our profession, what's the point?" On other topics the affable Montreal-born actor is more forthcoming.
Back Stage: How do you pick your projects?
Christopher Plummer: There are several factors, including money, but hopefully quality. "The Last Station" was a really good script. I don't believe a film about Tolstoy had ever been done before, and I was fascinated by Tolstoy. Thank God there was some humor. Of course, I always wanted to work with Helen. It's so easy when you work with someone who takes work seriously up to a point and then with a grain of salt when it matters. I need to work with actors who are thoroughly professional but who can relax and have fun doing it.
Back Stage: What do you look for in a director?
Plummer: I've been directed by the greatest directors of the 20th and 21st centuries, including Tyrone Guthrie and Elia Kazan. They were totally relaxed in their certainty about themselves. So they didn't have those little moments of insecurities that you see in a lot of mediocre directors who create problems because they're not sure of what they want. All the great directors are so much fun to work with. Also, if they've hired you, they trust you and leave you alone to do your work.
Back Stage: Have acting styles changed over the years?
Plummer: Yes, and that's because the world has changed. It was the mid-'60s when I noticed audiences were no longer getting the subtleties and nuances of plays. Some of the laughs that would have been a certainty only five years earlier were not coming. People who had money were now uneducated, and, also, there were a huge percentage of foreigners in the audience who missed the subtleties in our language. We began seeing more musicals. When people go to musicals, they don't have to think that much. With straight plays you are forced to think and use your imagination and be familiar with the language.
Back Stage: Do you think the acting became more presentational as a result?
Plummer: Yes, imagination was no longer exercised. But when acting is at its best, I don't think there is a change of style. Listen to the recording of Edwin Booth doing Othello. There's a reality there that's very contemporary. Acting at its best is always ahead of its time.
Back Stage: Is there anything analogous today to the theater royalty that existed on both sides of the Atlantic when you launched your career in the '50s?
Plummer: No, sadly enough. There are some sensational actors who have remained theater actors as well as film actors, but they're few and far between. Now we have movie stars playing on Broadway and in London, some of whom have had no stage experience at all. And the only reason you can hear them is because they're miked. I never used a mike on stage. I grew up in a time if you weren't heard in the back row when you whispered, you were fired. You had to learn how to throw your voice at its softest. 
Back Stage: What do you think of acting training today?
Plummer: I don't know, because I don't watch classes. But in an odd way, actors who have survived television have had quasi theater training. Television is a word medium, unlike the large screen. Not that most of these actors end up in theater. They want to be stars right away. I was lucky. We had stage stars, and you were considered a stage star if your name was above the title. From the age of 26 on, my name was always above the title in theater.
Back Stage: What roles are you most proud of?
Plummer: When I think of "proud," I think of "fun." Well, I had huge fun doing "Cyrano," both the stage play and the musical. I had a great time doing Iago, Lear, and Henry V. I refuse to have a miserable time, and if it looks like one is going to have a miserable time on certain projects, then you try to do things that will make it pleasant. In the old days it was drink, and that helped a lot. Or the leading lady is quite cute. So you have an affair. You'd do anything to distract you from the horror you were working on.
Back Stage: Boozing and womanizing is not PC today.
Plummer: Nothing is PC today. It's miserable now with all the rules. It's so puritanical I can't bear it.
Back Stage: If you were starting out today, do you think you'd be an actor?
Plummer: No, it would be a bad idea. The competition is unbelievable, and the stakes are unbelievable.
Back Stage: What do you think you'd be doing instead?
Plummer: I might like to be an architect. I gave up wanting to be a concert pianist long ago. I still play and think I'm marvelous when I've had a few drinks and may be playing to an empty room.
Back Stage: If you could redo your career, what would you do differently?
Plummer: I might have stayed in England a little longer, but we all got out of there in the late '60s because of the huge taxes that had been imposed. If that had not happened, I would have stayed and would have enjoyed myself a little more by getting more of an English experience. But other than that, no, I've been extraordinarily lucky. I'm working now more than I ever did before. Perhaps they were waiting for me to turn
really old to lumber me with huge responsibilities.
Outtakes
-Appeared in "The Man Who Would be King," "The Insider," "Syriana," and
"A Beautiful Mind"
-Is the great grandson of former Canadian Prime Minister Sir John Abbott
-Was a leading member of the Royal National Theatre and the Royal Shakespeare Company
-Made his Broadway debut in 1955 and later won Tony Awards for his performances in "Barrymore" and "Cyrano"
-Wrote the well-received autobiography "In Spite of Myself: A Memoir"