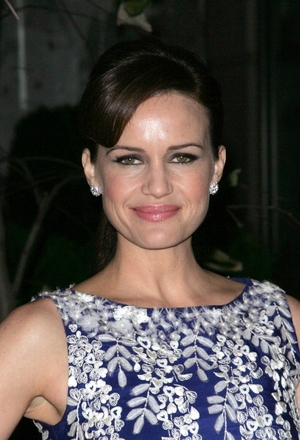 Carla Gugino is known for her role as reporter Susan Berg on the USA miniseries "Political Animals," and most recently appeared on "New Girl" as Schmidt's kinky boss, Emma. Gugino chatted with Backstage at the African Children Choir Fundraising Gala on Monday night.
You appeared in the past couple episodes of "New Girl" as Schmidt's boss, Emma. What was it like?
Carla Gugino: I had a great time. It's such a good group, and they're all really game, and the show is sort of wild and crazy in the way that it comes together, and it was just a lot of fun.
It must have been so much fun working with Max.
Gugino: He is really such a great actor, and he's fun, and immediately it was just very easeful.
What's coming up next for you?
Gugino: I'm shooting a film right now in Brooklyn, about which I can't even talk about at the moment, I've been told. But that is what I'm doing right now. [And] I have a film called "Hotel Noir" that is coming out soon.
Do you have any advice for aspiring actors?
Gugino: Just keep doing what you love, and finding ways for people to get to see you do it. Just keep training so that you can be in a position that in the moment when you're called upon, you're ready.