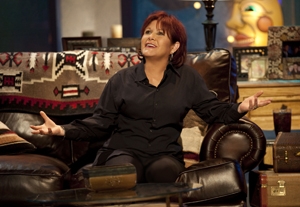 For a long time, Carrie Fisher didn't want to be an actor. After watching her famous parents, Debbie Reynolds and Eddie Fisher, battle "post-celebrity stress disorder," there wasn't much that appealed about emoting onscreen for all the world to see. So how did Fisher end up becoming one of the most iconic cinematic faces of the 1970s and '80s?
"It was an accident," says Fisher, her trademark bone-dry wit on full display. "I stubbed my toe and got into 'Star Wars.' " Her fiercely memorable performance as Princess Leia made her a star, but Fisher always preferred creating her own bons mots to reciting someone else's. After Fisher's debut novel, 1987's "Postcards From the Edge," garnered commercial and critical success, she segued into a much-lauded writing career, penning books, screenplays, and the occasional scathing celebrity roast. Her writerly talents are more than evident as she discusses her long, strange career: She's hilariously candid and quick with the quips, dubbing her "Star Wars" convention appearances "celebrity lap-dancing" and suggesting her own interview questions ("You didn't ask me how big my breasts are").
Fisher also delivers barbs aplenty about her life and work in her hit autobiographical one-woman show, "Wishful Drinking." Armed with a candid air of self-deprecation, she details, among other things, her fractured family, her struggles with addiction and bipolar disorder, and the ridiculousness of that now-famous Princess Leia hairdo. After playing to loudly appreciative crowds all over the country, the show also served as the basis for Fisher's best-selling memoir and a feature-length documentary, premiering on HBO this month.
So how does the actor feel about portraying, well, Carrie Fisher? "I don't think I'm very good at it," she says bluntly. "I'm getting better now. The danger is to just start reciting shit, so it's about keeping it alive and playing it one by one to audience members so it sounds like it just occurred to you. And if you can keep that alive, then you can also improvise."
And improvise she does: Every show is just a little bit different, and Fisher makes audiences feel as if they're getting a personalized tour of her unique, colorful journey through life. That said, the core material is something she has been working on for quite a while. "I've been doing speeches for a long time in various mediums, either giving people awards or getting mental illness awards," she says. "I mean, I had a bunch of the 'Star Wars' material already because of the award thing: I was giving George [Lucas] and Harrison [Ford] and everyone awards. So, you know, I had to write speeches."
She may have felt assured about the material, but Fisher didn't initially possess the striking confidence it takes to go onstage every night. "I had really bad stage fright, but that had more to do with singing," she muses. "My mother put me in her nightclub act when I was very young, and if I hit a wrong note, I just beat myself up mercilessly. But I was depending on an instrument that I wasn't quite completely in control over, whereas I do feel I have more control over my personality—by now." She pauses, mulling this over, then chuckles heartily. "Certainly, that has not always been true."

To the Business Born
Fisher grew up in the shadow of her celebrity dad and mom: '50s crooner Eddie Fisher, whose scandals occasionally outshone his singing career, and Reynolds, the sweet-faced star of hits like "Singin' in the Rain." Fisher remembers being photographed "from when I was hours old" and got an up-close-and-personal look at what the changing winds of public perception can do to famous figures. "What goes up must come down, and celebrities can go up really, really high," she says. "So the comedown is painful."
Still, she eventually attended London's Central School of Speech & Drama at her mother's urging and was cast in "Star Wars" when just 19. At the time, she had only one other film credit to her name: a small role in the Warren Beatty starrer "Shampoo." "So I did this one movie, and then I was sent up for 'Star Wars'—that's the first movie I'd ever been 'sent up' for, and it was the second movie I'd ever done," she recalls. "I knew it was going to be this kind of cool movie, but I certainly never expected it to do what it did. I thought it would be like a little cult movie that happened over to the left."
Even now, she doesn't quite understand the franchise's mass appeal, though she appears at various science-fiction conventions and fan events celebrating its astounding longevity. "Some people really have made 'Star Wars' the focus of their lives," she marvels. "I don't really relate to that, though there are very few days that go by where someone doesn't remind me of 'Star Wars.' I would not make it the focus of my life, but you know, if you're gonna have a focus, better that than, I don't know, a horror film or something."
Rosemary and Time

Though writing has taken up the bulk of her time in recent years, Fisher still makes the occasional acting appearance. She stole scenes as a mild-mannered nun in "Jay and Silent Bob Strike Back," popped up as a gossipy reporter on "Entourage," and was nominated for an Emmy for her deft work as washed-up comedy writer Rosemary Howard on "30 Rock." The latter role was especially fun, Fisher notes, because she's a fan of the show and the writers tailored the part to her.
"The only thing I suggested was, in [Rosemary's] apartment, they had put prescription meds everywhere," Fisher says. "I said, 'You know, only a few would be around and the rest would be hidden. Nobody's going to invite people over and have, like, 25 bottles of medication all over.'"
Her criteria for accepting a role these days are fairly straightforward: "It's the ones that don't have an accent, any weeping, or require any acting that's too far away from me." She also prefers a limited schedule—a couple of days at most. "It's a hobby," she explains. "The hours are bad, and you have to look good. I've gained weight and all this tragedy, and I don't have to think about that as much—even though I do—until I'm put in the position of being a public figure. And then it's like I've misbehaved."
To combat that, Fisher maintains a healthy sense of self-awareness: It's a trademark of "Wishful Drinking" and of much of her writing. And it is something she has kept in her arsenal since the "Star Wars" days. As she says, "I wanted to make fun of me first before you got there."
OUT TAKES
-Other acting credits include "Hannah and Her Sisters," "When Harry Met Sally…", "Austin Powers: International Man of Mystery," "Sex and the City," and voice work on "Family Guy"
-Won the Los Angeles Pen Award for best first novel for "Postcards From the Edge"
-Recently performed "Wishful Drinking" in Australia. "I give [audiences] permission to join in, and they really join in there. They actually had to calm some people down who kind of wanted to be in the show."