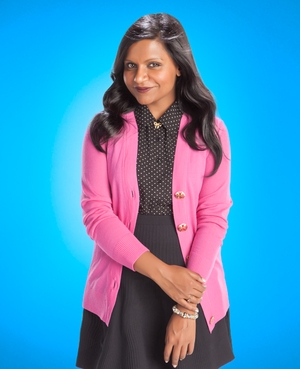 From her years on "The Office," Mindy Kaling knows the value of a good ensemble. The cast she's put together for "The Mindy Project" is a company of lovable veterans, exciting newcomers, and one very special journeyman actor in his first network series regular gig.
Character actor and Backstage columnist Stephen Tobolowsky ("Groundhog Day," "Glee") plays the head of the medical practice where Kaling's character works. In other roles, Kaling cast many people she knew. Anna Camp, who plays Mindy's best friend, Gwen, appeared on "The Office" as Pam's sister. "I'd always been a big fan of Anna," Kaling says. "She came in through casting, but what was funny is she's the kind of actor who is in so many great guest arcs like 'The Good Wife' and 'True Blood' that she wasn't someone I thought would be available for this. I was delighted to see that she was." Zoe Jarman also appeared on "The Office" and will appear on the show as an office receptionist who looks up to Mindy. Ike Barinholtz is "someone I've had my eye on for a while"; though he came to the show as a writer, he was soon cast in the recurring role of a male nurse.
Perhaps the biggest casting coup was Chris Messina as Danny, a fellow doctor who verbally spars with Mindy on a regular basis. The actor, known for such films as "Julie and Julia" and the upcoming "Argo," proves adept at lighthearted comedy. Kaling met Messina through "Office" co-star John Krasinski; they appeared in "Away We Go" together. Kaling says the role of Danny was written specifically for Messina. "I find him so watchable," she says. "One of the highlights of this whole process is working with him. He's like an old-fashioned movie star, so appealing and masculine." The pair share a great chemistry, and Messina makes a wonderfully dry counterpart to Kaling, with her manic energy. "The most charming thing about Chris Messina is he claims on a regular basis he's not funny," she says with a laugh. "Our dynamic seems to be like a man who's walking very quickly and a girl who's chasing after him chomping at his heels saying, 'Hey, wait up!' It's been really fun to play out."
Mindy Kaling is on the cover of Backstage this week! Pick up a copy on newsstands on Thursday!