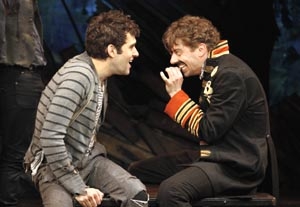 Christian Borle is exuberant. But then who wouldn't be under the same circumstances? For starters, he's enjoying a star turn in the Off-Broadway hit "Peter and the Starcatcher," based on Dave Barry and Ridley Pearson's novel, a prequel to Peter Pan.
In a stylish and commanding comic spin, Borle plays Black Stache, who will become the infamous Captain Hook. He recently completed a run in the Signature Theatre Company's critically acclaimed revival of "Angels in America" and has now landed a principal role in Steven Spielberg's "Smash," a TV pilot currently shooting in New York City.
"Smash" centers on a Broadway musical—from inception to completion—with all its highs, lows, and personality conflicts. To add just the right note of authenticity, the creative team is made up of theater veterans, writer Theresa Rebeck and director Michael Mayer.
"I'm up at dawn and hopping into a car and bopping all over town for whatever locations," Borle says with pleasure. "It's exciting, glamorous, and thrilling. I play Tom Levitt, the composer in a successful songwriting team. It's great fun. I have to pretend to play the piano. If I could go back and kick my 10-year-old shins and say, 'Don't quit the piano,' I would."
Borle has little doubt the show will have appeal beyond insiders and aficionados. "There is a lot of music in pop culture today," he comments. "We see it in shows like 'Glee' and 'American Idol.' There is also an audience for behind-the-scenes showbiz stuff. 'Smash' taps into reality shows. I personally am reality-showed out, not that I'm vehemently against it. I have weaknesses: 'The Amazing Race,' " he laughs. "But there's also room for good scripted drama."
So, would "Smash" have a greater shot at being picked up if it were a reality show? Borle is not convinced, admitting his own ambivalence and expressing his discomfort at watching public auditions, such as the televised casting calls for "Legally Blonde," in which he starred on Broadway. Auditions are painful enough when they take place in private, he suggests. Still, such shows are part of the culture, and these public competitions demonstrate that some performers can score first time out, he notes.
"If you can make it that way, great for you. But I think it's more rewarding to have success at the end of a long career," he continues. "Of course, there are performers in these competitions who have the chops. So I can't dismiss anyone just because he got success that way. But it's uncomfortable when you have people fighting and kicking and knocking down doors for decades and then see people winning the lottery."
Borle's career has not been a crapshoot. Consider the Broadway credits under his belt: "Mary Poppins," "Thoroughly Modern Millie," "Footloose," and "Jesus Christ Superstar." He has no shortage of Off-Broadway and regional credits, either. Still, being a regular on a TV series—if it gets picked up—would move his career to another level. Though at this point, it's a waiting game. "Pins and needles," he admits frankly.
Actors Just Want to Have Fun
A Pittsburgh native, Borle had his sights set on a tennis career, but he was small for his age and couldn't compete with other high school kids who were tall and more developed. His next step was trying out for musical theater productions in his school. It was a completely random choice, but in short order there was no going back, he says. Borle went on to earn his undergraduate degree in theater from Carnegie Mellon University and has worked fairly steadily ever since. There were a few dry periods when he bartended and served as an elf in Macy's Santa Land. "You have moments, when you think you'll never work again," he recalls.
So far, that hasn't happened, especially following his appearance in "Monty Python's Spamalot." It was a career turning point and an artistic watershed, thanks in large part to director Mike Nichols and fellow actors Hank Azaria and David Hyde Pierce. "I learned a lot about comedy just working with and watching Hank and David," he says. "They were generous to their audiences, allowing the audiences to laugh, whereas my impulse was just to keep going. I finally realized audiences were not hearing what I was saying because they were still laughing. I learned to relax. I also learned that I was there to service the audience. Mike Nichols, of course, is a genius, and the way he talks to actors is profound. I was playing the historian and [acting as if I were] doing my senior-year-of-college character work. Mike Nichols said, 'Start as you. You've got the mustache and wig. The audience will get it.' "
Borle is not big on acting "methods," short of having a good time on stage. "While I always want to be believable, I don't get lost in the role," he says. "You have to be in control and have fun. With each new show it's finding ways to relax and enjoy myself while it's happening. Being in 'Peter and the Starcatcher' is one of the most fun times I've ever had. I laugh so much, my stomach is literally hurting." That said, there are challenges, from the physical strain—"I'm a walking bruise"—to accepting the broad comic style of playing an archetypical character like Hook. "I'm skating along the edge of being over-the-top, while trying to maintain my dignity as an actor."
On the "Smash" pilot, his challenge is dealing with the finality of doing a scene, watching it disappear into the can, and knowing he'll never have a second shot. "This is strange for the perfectionist," he says. "In theater you have another crack at refining it and making it better. What I'm trying to do now is to trust everyone around me and let them be the guides. At the same time, I want to be fearless enough to create while it's happening without thinking, 'This is the one; this is the one they'll use.' "
Playing to Your Strengths
Unlike many young musical theater artists, Borle does not aspire to leading-man status. He fully accepts that he is a comic character performer. "The mentality after college is that you're brave and fearless and can do everything, especially if you've played those parts in school," he recalls. "About 10 years ago, I took a class where we'd perform for casting directors, who over an eight-week period gave each one of us evaluations. These evaluations said what roles we should be playing and what songs fit us best. It was okay that I was perceived a certain way. It sharpened my focus. I don't know if I'd call that branding. It was just a way of looking in the mirror in a more truthful way and playing to those strengths."
Borle's long-term dream is to tackle Sweeney Todd. "When I was 15, 4 feet 11, and my voice had not changed, I was singing the whole score." Still, he admits his process of choosing theatrical projects has evolved since he first started making inroads in 1995. "When you begin, you do anything," he says. "You never know who you'll meet or what you'll learn. Over the years I've been fortunate enough to gravitate towards certain creative people. With 'Peter and the Starcatcher' I've been so lucky. I bonded with the writer, Rick Elice, and it has been one of the most exciting and charged creative relationships I've had. Moving forward that's the kind of experience I would look for in my theater projects."
"Peter and the Starcatcher" will be playing through April 24 at the New York Theatre Workshop (NYTW), 79 E. Fourth St., NYC. Tickets: (212) 279-4200 or
www.nytw.org
.
BIOBRIEF
– Received Tony, Drama Desk, and Drama League nominations for "Legally Blonde"
– Earned a Clarence Derwent Award and a Drama Desk nomination for "Spamalot"
– Appeared Off-Broadway at Lincoln Center Theater and City Center (Encores)