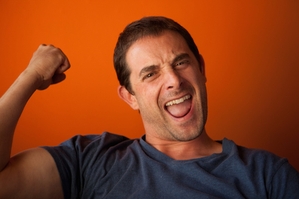 A grade school teacher-turned-major Los Angeles casting director, Jeremy Gordon credits his career to simply being in the right place at the right time.
"A good friend of mine was a producer for Full Moon Features [and] I was very lucky to have been given a casting director job right out of the gate. I started as a CD but on low-budget nonunion horror films and I did that for about two years while I was teaching and sort of fell in love with it.
"I never really wanted to be an actor," Gordon admits. "Once I got to L.A. and got through all four years of college to be an actor I decided it wasn't for me. But I feel like this was the calling—this was the reason why I fell in love with acting and the business all those years ago...so I could be a better casting director."
Twelve years later, Gordon owns and operates Jeremy Gordon Casting, and has worked on countless projects including "We're the Millers," "Spork," "The Wolverine," and the upcoming short "Sons of the Devil."
Gordon chats with Backstage about the benefits of working on short films, acting advice, and living in Los Angeles.
On the benefits of working on short films.
For many, the idea of a short film isn't as exciting as the prospect of a feature-length project, but Gordon's aware of the pros of the genre. "I feel like one of the reasons why I love films so much as opposed to television—though I do love TV also—is that the projects change. Every few months the project is different and with short film it's even more so.... You're only on it for a week, two weeks, whatever it is," he says.
And though the budget might seem like a con, it's an exciting challenge for the seasoned CD. "They can't afford a lot. You're in, you're out; you still have to find the most amazing cast with less. There's less money for the casting, there's less money to pay the actors (if there's any money to pay the actors), and we still have to get the most amazing actors who are willing to work for little or no money."
Lastly, short films usually mean newbie directors. "The directors are usually less experienced and this is usually one of their first projects," Gordon says. "They're doing it to get themselves to the next level so I get to work with a lot of new filmmakers which I find very exciting—starting new relationships and see how those build in the future. But they're so open to your input and your experience and to sort of be guided in a certain way."
On one of the biggest misconceptions people have about CDs.
"People forget that it's not really our decision," Gordon says. "At the end of the day we're just the door—we bring people in. We know a whole slew of actors, we bring people in, we know who's gonna be right, we have our opinions that we might try to nail thinking this one actor is correct, but at the end of the day it's not our decision. I feel like a lot of actors and a lot of people think that the casting director hired the wrong person, but it was 30 people who had to approve this actor."
On the most important thing to do when you move to L.A.
Just as many actors and industry professionals are already aware, and just as many reading this will someday know, uprooting your life to move to Los Angeles and pursue your dreams isn't easy. "The biggest advice I have is to not feel rushed," says Gordon. "Everybody wants to be repped by CAA the second they're here and they wanna be starring on their own television show in the first year.... You have to put in your dues; You have to come here and take your baby steps and make sure you're doing everything 100 percent as great as you possibly can so that we can look at you in a positive light.
"So actors that come here and they're brand new and they just graduated college and they barely have headshots and they're trying to score auditions or they're trying to get in front of casting directors in workshops.... If you rush it and you're not putting yourself in the best light, then that is how we view you. Just take your time. Get settled into L.A. It's a crazy city to get accustomed to without the entertainment industry—just getting used to the city and getting into acting classes and meeting the right people.
"Everything will come in due time and you have to be booking smaller projects and not be afraid to go into short film or indie projects or low-budget whatever. Just put in your time and learn how to finagle the business."
Be sure to check out Gordon's free Facebook group, Casting Directors for Actors, and follow him on Twitter: @JeremyCasts.
Inspired by this post? Check out more advice from our Backstage Experts!