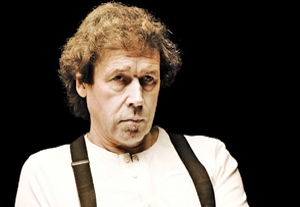 Stephen Rea, born in Belfast, Northern Ireland, admits there are American dramas that are culturally alien to him and require research. But that's not an issue in the plays of Sam Shepard, one of Rea's favorite playwrights. Indeed, Rea has been featured in Shepard's work in Dublin, London, and New York for more than 30 years. Rea is currently co-starring in Shepard's "Ages of the Moon," now playing Off-Broadway at the Atlantic Theater Company. "When you're acting in it, you feel more like a musician than an actor," Rea says. "You don't feel hidebound by mere character and situation. The performances are freer and more open because of it. At the same time, this play requires such precision and concentration. There's nowhere to hide."
Set in rural Kentucky, the two-hander (also starring Irish actor Seán McGinley) is a dark, comic piece about two old friends who are lost souls. They reminisce, they quarrel, and, fueled by excessive boozing, their emotions escalate to murderous rage. Both actors are wholly convincing as downtrodden Kentuckians bordering on hillbillies in a Beckettian universe.
Best known for his Oscar-nominated performance as the sexually ambiguous soldier in Neil Jordan's 1992 film "The Crying Game," Rea says he loves to do accents and hear different sounds coming out of his mouth. "If the music of the line sounds right, then everything is okay," he says, noting that listening and instinct are other essentials for good acting. "You use 'methods' if instinct fails you."
A Handle on Modern Acting
Rea always had his sights set on an acting career. After majoring in English literature at Queens University of Belfast, he joined the Abbey Theatre in Dublin, Ireland. But, he says, his on-the-job acting training left him with much to re-learn—such as walking, moving, and being physically expressive. The legendary theater was at that time "calcified," he says.
Still, his appearance at the theater launched his career, and he went on to perform at London's National Theatre and Royal Court, among other venues. Rea has worked steadily, initially in theater and then, following the success of "The Crying Game," mostly in film. He says he prefers movie to theater gigs because once the film is in the can, it's over and done, whereas performing in a play is a long, drawn-out process evoking "a mixture of dread and anticipation," he says. "Each night you know you've got to do it."
A major artistic turning point in his life was his work as Clov in Samuel Beckett's "Endgame" at the Royal Court. The actor recalls it cluing him in to the nature of modern theater: "I asked Beckett if Clov's line, 'I leave you,' meant he was leaving to go to the kitchen or leaving for good. Beckett said, 'It's always ambiguous.' Instead of the actor having one very clear intention, he has more than one intention. He is not sure. Clov is not sure. He wishes he knew. That's the modern dilemma. I probably wasn't very good in it. But I've always felt if you do Beckett, you will improve as an actor. Most material after Beckett seems easy."
Rea is very much identified with the films of Jordan, having appeared in 10 of them. The filmmaker, says the actor, is first and foremost a writer, and Rea is drawn to his "storytelling with its twists and turns, and the elements of surprise." As a director, Jordan excels because "he doesn't know anything about acting and doesn't try to improve your performance," Rea says. "I think that's a virtue. I certainly think it's a virtue when people don't stick their noses where it's not required."
Generally, he favors directors who trust that the actor knows what he or she is doing and basically "go away." Rea loathes directors mouthing abstract theories. In his view directors have far too much power. He describes the director as "the pinnacle of the hierarchy, though he's not the pinnacle of experience. The actor is the agency through which theater passes. But for some unknown reason, the responsibility has passed into the hands of someone who doesn't necessarily know anything about it." In London the director has now relinquished his power to the designer, Rea continues, noting that unless it's a very great designer, the design has largely morphed into decoration, and the actors' job is to navigate around the decoration.
Message Received
Rea likes to work with actors who want to have fun and act the play, rather than fulfill lofty notions in their performances. He also has little use for actors who are on stage or film to promote their careers or some idea of themselves. "Great actors are always trying to find the play," he asserts.
The quest for fame and fortune, at one time viewed as most pronounced in the States, is now international, though American actors still tend to be very ambitious and a little over-serious about their careers, he says. Rea talks about the lasting legacy of Marlon Brando, whose mark can still be seen on many actors. But before Brando, Rea points out, Cary Grant was very influential.
"And I think I'd like to be Walter Matthau," Rea offers matter-of-factly. "I love him. You don't always have to be a moody guy in a T-shirt. You can be a rumpled, disgruntled guy in a suit. He was the best. He had his own method, but he wasn't going around getting upset over things. He could deliver."
Rea says he is toying with the idea of relocating to New York now that his sons are in college. (One is studying animation, while the other is majoring in literature.) "Audiences have far more regard for me here than in Ireland," Rea says. "That's probably because I'm there and they feel, 'Oh, it's him.' The people in Ireland are one-dimensional; in England, they're closed. People here are open. I find New Yorkers immensely respectful and courteous."
Rea says there are no plays he is dying to tackle. Abruptly assuming an upper-crust, nasal British accent, he intones, " 'I'm preparing to do King Lair!' Well, I'm not. In the last two years, I've done two Shepard plays and one by Sebastian Barry. I'm open to more of that. As an actor, you live and die by the quality of your material. It's the material that purifies the acting."
After "Ages of the Moon" completes its run, Rea will star in a Shepard movie about which he reveals, "It involves my getting onto a horse."
"Ages of the Moon" runs through March 7 at the Atlantic Theater Company, 336 W. 20th St., NYC. Tickets: (212) 279-4200 or www.atlantictheater.org.
Bio Brief
-Was nominated for a Golden Globe for "The Crying Game" and a Tony Award for "Someone Who'll Watch Over Me"
-Was a founding member of Field Day Theatre Company with Brian Friel and is an associate artist of the Abbey Theatre
-Sam Shepard wrote "Ages of the Moon" for Stephen Rea and Seán McGinley