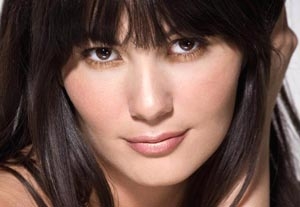 "I've always had a big mouth and I've always spoken my mind," says Celeste Thorson, and thankfully what comes out of it is worth listening to.
A woman of many talents, Celeste trained at the renowned Institute Allende in San Miguel De Allende, Mexico, where she learned sculpture, bronze casting, and other artisanal methods in the same traditional way that her mother and grandmother did.
She's also a serious political activist who pounds the pavement with petitions in hand, and has just co-written a screenplay about the nineteenth century African-American actor Ira Aldridge. A successful model, Celeste currently serves as one of the hosts of "Destination X," a travel show in which beautiful women do dangerous things in exotic places.
Chosen as this week's Actor2Watch, Celeste will be featured in a series or articles, fun facts and social media tweets through this week for subscribers of
Girl2Watch.com
.
Actor2Watch
: What was your first real break as an actor?
Celeste Thorson
: I'd honestly have to say "Destination X," because before that I was really modeling and it was so nerve-wracking to try to get that job.
The audition process was highly competitive. It was based in Hawaii, so I did all this research on Hawaii so that I could make myself knowledgeable and act like I knew what I was doing. I was up against people who grew up in Hawaii, so it was tough to create a presentation where I was hosting and talking about some place I had never been.
Once it got to the last two or three girls, I really had to kick it into overdrive. I did this whole poster presentation, like a Science Fair project of showing, "This is what I would do if I was on your show in Hawaii. I would go here, I would go there."
It was the hardest I've ever worked to get a job in my life. I was just ecstatic when I got it because I knew I'm going to be going on a paid to do all these things that I love to do.
A2W
: Who have you studied with, and who do you train with?
CT
: I've studied with a lot of the big studios in L.A. D.W. Brown has been really helpful because it has allowed me to think on my feet, and I found Meisner to be a more authentic way of communicating in character.
But at the same time, once you get on set, there's a whole different thing going on and it's not just about how you're feeling, but hitting your mark and doing all the technical aspects. So doing Larry Moss' studio or Ivana Chubback's studio—that helped with that.
Sometimes I feel like you get stuck in one acting class or studio, and you get comfortable with everyone, and it's not really like being on set when you have to meet new people and act with new people that maybe you've never really spent time with before, and you have to create that kind of camaraderie right off the bat. I think it helps to be able to go to different studios than just sticking with one.
A2W
: How do you use Twitter and Facebook for your career?
CT
: It's always fun to hear from new fans and keep in touch with long-time supporters. Most of my updates go up on Twitter first, since it's easier to personally respond to questions there. Even though social media can be overwhelming, I enjoy interacting with fans on various sites like Care2, Twitter, Facebook, and MySpace.
A2W
: What role do your agent and manager play in your career?
CT
: My agent is so amazing—Alex Fox from CESD. He's really phenomenal. He's such a sweetheart. He's always really encouraging to me and he gets me out for some really amazing roles.
I'm always grateful for his hard work. He plays a huge role in my career and in my life, just as kind of a coach in the sense of really always being encouraging and helping me keep focused and everything. He's just a really amazing person.
I'm really lucky to have my agency. There's a number of great agents there that are always looking out for me and keeping me in mind. I think that they really have helped shape my career and my focus to not get caught up in too many of the Hollywood parties and just stick to the craft, being in class, and keeping professional and just following the career aspect of it.
A2W
: Any horrifying audition moments?
CT
: I'm still traumatized by doing this bikini shoot up in San Francisco when it was freezing cold outside by the Golden Gate. I was just shivering and shaking, and there was wind drifting through my hair and I had goose bumps. They're like, "Be sexy, be sexy." I'm like, "That is humanly impossible right now." Oh, my God. It was awful. To this day, I can't do cold shoots at all. I just won't do them. I'll pass.
A2W
: Do you have any advice for people starting out?
CT
: I would say do your research. If you're looking for a job, a new acting school, or an agency, whoever it is—do your research on it to make sure that they are in line with your vision as well. Don't just jump on the first one that comes along.
It's much like dating. You have to weed people out in this industry. There's a lot of scammers and schools that want to take advantage of you. Just make sure it's the right kind of workshops, the right kind of places where you're spending your money.
Also, just have a really good support team. Build a good team of cheerleaders that are going to help with morale, because that really helps with going into auditions in the right state of mind.