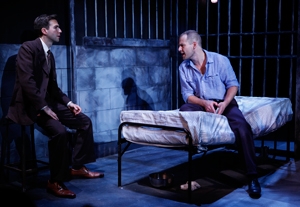 Most people know of "Murder in the First" as one of the more serious films in the Kevin Bacon canon. Inspired by a true story and written by Dan Gordon, the film examines the murder trial that shed light on the inhumane treatment of prisoners at the Alcatraz prison.
Gordon has now adapted his film into a play, which will open at 59E59 Theaters on June 6, and is directed by Michael Parva. Drama Desk- and Tony-nominated actor Chad Kimball ("Memphis") leads the cast as convict Willie Moore, the role Bacon played in the movie, and British actor Guy Burnet ("Hollyoaks") makes his New York stage debut as Moore's attorney, Christian Slater's role in the film.
Despite the play's weighty subject matter, both actors were full of laughs as they discuss accents, dieting, and Burnet's odd connection to Slater.
Have either of you ever seen the movie?Chad Kimball:
I've never seen it.
Guy Burnet:
I meant to see it, but I never did. I'll probably watch it the night before [Laughs].
So if you've never seen the movie, what drew you to take on these parts?Kimball:
I used to do a lot of plays in college, but here in New York I've only done musicals. Then I took a nice vacation from "Memphis" for about five months, visited my family, and didn't really know what was next. I've always kind of been blessed to be able to work in musical theater. I don't differentiate between musicals and legit work, but I thought this would be a really nice change of pace. This is an emotional black hole of a character. There are no up-tempo changes. Plus I get to work with a guy like Guy. We have a really great rapport.
Burnet:
What are you talking about?
Kimball:
It's nice to see how they work across the pond. I'm learning a ton about English acting.
Has the role been physically demanding for you, Chad?Kimball:
Only in that I can't eat the things I want to eat. In a musical, I could burn through 1000 calories, but I'm not dancing here!
Guy, Christian Slater also starred in the film version of "Murder." You worked with him recently, right?Burnet:
I was telling Chad, there's a whole story here. I was in England doing "Hollyoaks" and the movie "True Romance" was on TV. And it made me want to go to America.  I hadn't done theater in nine years, and I begged my manager, I told him "Get me to New York!" I wanted to be in a theatrical production. So I came to America and did a film with Christian. I was doing a scene with him and it hit me. I said, "Two years ago I left my job and came to America because I watched 'True Romance'!" He probably thought I was crazy.
Kimball:
Hey, tell him what you did when you came in [to read for the role].
Burnet:
Right, I came in to audition and used my American accent, and left. The next time I did the same thing, and they kept asking me all these questions. Finally, I asked, "Is this audition over?" and dropped the accent. They were shocked that that wasn't how I really talked!
Kimball:
Can I toot your horn for a minute?
Burnet:
I'll toot yours if you toot mine.
Kimball:
You don't get it. That's an expression in America. It means I want to give you a compliment.
Burnet:
Oh. [Laughs]
Kimball:
When we first met, I knew he was a Brit, but he was talking in his American accent. And then during the intermission, he stopped, and then went back into his accent. Your American accent is too good man. I giggle when I hear your normal voice.
Burnet:
Well I'll tell you something you don't get much of. A lot of people put on a show of being selfless. Chad genuinely is the least selfish actor I know. He is so considerate of other people. Other actors will try to upstage you, even subtly. Chad is the complete opposite. And he's just brilliant. He does Willie brilliantly. He's incredibly engaging onstage.
What do you hope the audience takes away from this play?Kimball:
They're calling it a drama, but it's not a dirge. There are a lot of light moments that stem from the drama. And it's about their relationship. And it's about equality more than it asks questions about the death penalty.
Burnett:
Harry, the central character, fights for a lot of political issues that the show encapsulates. He's fighting for a lot of issues liberal leaders are fighting for today.
Kimball:
That all makes sense except for you calling Harry the central character. It's a tag team of protagonists. [Laughs] The play isn't preachy, though. There are subtle undercurrents. 
"Murder in the First" opens at 59E59 Theaters on June 6. For tickets and more information, visit www.59e59.org.